A bike rack for every occasion!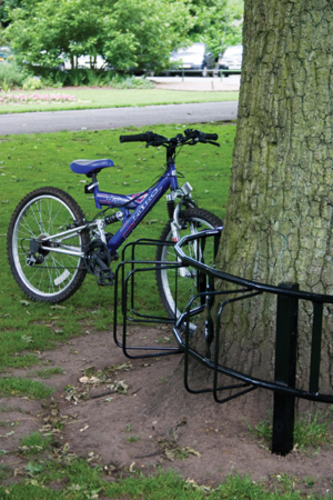 Barriers Direct has just launched their largest range of bike racks ever to ensure there are enough places to park up! World Bicycle production has risen dramatically in the last half century. Less than 20 million bikes were produced in 1950 a figure which rose to 60 million by 1980 and now stands at over 100 million and Barriers Direct now provides racks to suit every situation!

The new and innovative "Round Tree" cycle stand permits the creation of bike parking areas in unusual places, such as round a tree or pole. The larger racks are circular, while the smaller ones are square and both are supplied in two halves for easy assembly.

Barriers direct has been providing cycle parking solutions for many years and has put together a range to suite local authorities, architects, designers, commercial and industrial organisations, as well as solutions for the home.

A 15-minute bike ride to and from work five times a week burns off the equivalent of 11 pounds of fat in a year. Cycling is fast becoming one of the most popular forms of transport, with 3.1 million adults per month, in England, cycling at levels of intensity that are beneficial for their health. While cycling is keeping the population fit; it is also reducing carbon emissions!

Janine Carhart, Managing Director of Barriers Direct says: "Cycle stands are one the top sellers of all our security equipment, wall mounted stands being the most popular type. The Sheffield cycle stand has also now been recommended by the Cycling Touring Club (the UK's national cyclists' organization) too which is good news for cyclist – and hopefully more bike stands being around will persuade people to cycle instead of drive around their cities."

For more information visit http://www.barriersdirect.co.uk or get in touch by calling our freephone number: 0800 0288010
Or email us: contact@barriersdirect.co.uk



This press release was distributed by ResponseSource Press Release Wire on behalf of Leapfrogg in the following categories: Transport & Logistics, for more information visit https://pressreleasewire.responsesource.com/about.