Classics Illustrated is back!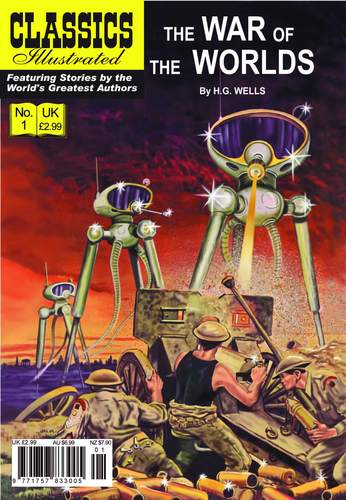 The famous comic strip adaptations of great stories from Children's literature – is back!

in WH Smith from 25th September

Classics Illustrated will be back on the bookshelves again after 40 years! Famous throughout the world from 1941 Classics Illustrated is a comic strip series of books featuring adaptations of literary classics such as Oliver Twist, Robin Hood, The Man in the Iron Mask, Romeo and Juliet and A Journey to the Centre of the Earth. All the illustrations have been digitally enhanced to give a fresh feel to the original highly acclaimed drawings.

Classic Comic Store Ltd is re-launching these enduring classics at a time when graphic novels are gaining a huge following. Jeff Brooks, Managing Director is a collector and authority on classic comics and graphic novels. Brooks comments - "These timeless novels remind us of the great adventure stories from our youth and still impart their magic today. At a time when we see children reading less and our literacy rates are a great worry, the graphic novel has the potential to get reluctant readers engaged in these wonderful stories, and hopefully encourage them to go on to read the book."

The series splits into two age groups, Classics Illustrated for the 8 to 14 year age group, bringing to life the works of Dickens, Shakespeare, Verne, Wells and Louis Stevenson. Classics Illustrated Junior, for younger readers adapts classical fairy tale and folk stories from legends such as Hans Christian Anderson and the Brothers Grimm in comic form.

Michael Rosen, the Children's Laureate comments "I like these illustrated Children's Classics. I'm a great fan of comics and the comic strip and I think these books offer a good way for young readers to get into some of the greatest stories ever told. My three-year old was particularly keen on the Goldilocks one, and has asked for it again and again!"

W.H. Smith is taking both series from 25th September. The first in this monthly series is The War of the Worlds – the original was acclaimed for its striking art and exceptional cover – it is now brought up to date with stronger clearer colours and higher definition, whilst remaining true to the original. Snow White and the Seven Dwarfs is the first in the Junior series. They will also be available in selected Borders and other high street retailers and independent newsagents.

The graphic novel, described as a novel whose narrative is conveyed through a combination of text and art, in comic-strip form is fast gaining popularity, sales of this genre have quadrupled in the last four years. They can play an important part in encouraging reading as quite complex stories can be portrayed in a visually exciting and 'text light' format.

Brooks concludes – "These classic novels have introduced several generations of children to the greatest characters in literature – Oliver Twist, Long John Silver, d'Artagnan, Quasimodo and Hamlet, to name just a few – our hope is that Classics Illustrated will engage new readers and encourage literacy in readers who might be daunted by the perceived challenge of pages of pure text."

Classics Illustrated will retail at £2.99 and Classics Illustrated Junior at £2.50 Discounts will be given to schools. Subscriptions and individual copies will be available from the website from 1st September.

www.classicsillustrated.co.uk

Background

First published in America in 1941, the original series ran until 1971 with over 1 billion sold worldwide; it is estimated that some 3 million were printed per month in over two dozen languages. From 1943 they were distributed to American GIs via the Red Cross and over 5 million were sent to US soldiers across the world. Original copies are highly collectible.

For further information, photographs, interviews or review copies please contact:

Sue Eyles
Bluebird Associates Ltd
Tel: 01628 638001
Email: sue@bluebirdmedia.co.uk

or

Jeff Brooks
Classic Comic Store Ltd
Tel: 07836 388534
Email: Jeff.brooks@btinternet.com


This press release was distributed by ResponseSource Press Release Wire on behalf of Bluebird Associates in the following categories: Children & Teenagers, Entertainment & Arts, Leisure & Hobbies, for more information visit https://pressreleasewire.responsesource.com/about.