Blyton is back: New stories and adventures for a new generation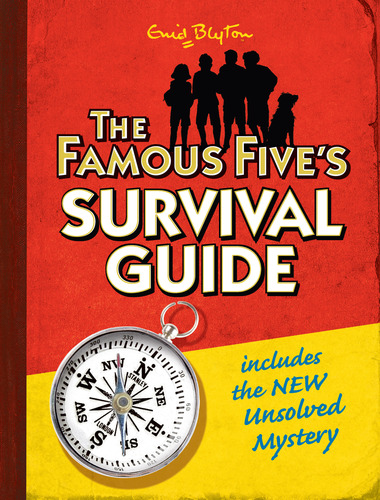 Blyton is back: New stories and adventures for a new generation

• Solve the mystery the Famous Five never did with the 'Survival Guide'
• Return to the magic faraway tree for a new spin off series 'The Enchanted World'

24 August 2008: Chorion, owners of the Blyton publishing estate, has announced today a new content development programme that will see some of Blyton's famous characters feature in brand-new adventures. This is the first time Chorion has undertaken a programme like this, which will see 20 new books released to the UK over the next 18 months, since acquiring the estate in 1996. All the new books will remain true to Blyton's classic storytelling style and values.

The Famous Five's Survival Guide (Hodder – 4th September 2008, £15.99): This is a brand new Famous Five mystery and adventure survival handbook in one. As you would expect from a classic Famous Five adventure the Survival Guide is packed full of stolen treasure, problem solving, traps and traitors. The story is told by the grown up Julian, Dick, Anne and George and is about the only mystery they (and Timmy the dog) never solved when they were kids – The Mystery of the Royal Dragon of Siam. Included are their personal diary pages and all the clues they collected about the mystery at the time. As the Famous Five tell their story they also share their guide to solving mysteries and adventuring in the great outdoors with tips on cracking codes, using a compass, building an escape raft and camping. The Survival Guide is also linked into www.famousfive.com to give readers the chance to test their mystery solving skills and uncover the treasure for themselves. The perfect book for all fans of mystery, adventure and the Famous Five.

Enid Blyton's The Enchanted World (Egmont – 1st September 2008, £4.99): Based on Blyton's original masterpiece – The Faraway Tree – the new five-book spin-off series follows the adventures of Silky the Fairy (from the original series) and her four new fairy friends Melody, Petal, Pinx and Bizzy on a mission to save the magic faraway tree from the evil troll Talon. The new stories are aimed at girls aged seven upwards but can be enjoyed by all ages. Written by Elise Allen, a writer whose style is reminiscent of Blyton's, the new stories transport the reader on a magical adventure and include all the classic Blyton story ingredients – cliff-hangers, fantasy, friendship and fun. The stories are told in a contemporary tone but stay true to the original world Blyton created back in 1939.

Other stories in development for 2009 are based on The Wishing-Chair, Malory Towers and The Secret Series. The Enchanted World and The Wishing-Chair stories are told using modern language whilst Malory Towers, The Famous Five's Survival Guide and The Secret Series are told in Blyton's original tone.

Jeff Norton, Director of Brand Development at Chorion said: "Blyton's stories have been enjoyed by millions over the years and there is a huge demand for more of her magical storytelling. Blyton was passionate in her advocacy of child literacy and as the guardians of her estate we see it as our duty to continue that legacy. By creating new stories that capture Blyton's values of imagination, wonder, thrills and happy endings, we hope to complement her original and ongoing titles and bring joy to millions more children in the years to come."

To enjoy Blyton off-the-page children and parents can visit http://www.famousfive.com and http://www.blyton.com/enchantedworld for games and activities.

ENDS

For more information/images contact Four Communications: Emma Robertson/Hayley Hope; enchantedworld@fourcommunications.com; T: 0870 420 3236; M: 07971 411 471

Notes to editors:

Enid Blyton's Enchanted World Five-Book Series:

• Book 1: Enid Blyton's Enchanted World: Silky and The Rainbow Feather
• Book 2: Enid Blyton's Enchanted World Melody and the Enchanted Harp
• Book 3: Enid Blyton's Enchanted World Petal and the Endless Bloom
• Book 4: Enid Blyton's Enchanted World Pinx and the Ring of Midnight
• Book 5: Enid Blyton's Enchanted World Bizzy and the Ultimate Teddy Bear

Enid Blyton, (1897-1968), wrote over 700 books which are estimated to have sold more than 500 million copies worldwide. Her books remain timeless classics which are adored by children throughout the world. Enid Blyton was voted the best-loved author of all time in the 2008 Costa Book Awards beating the likes of J. K. Rowling, Roald Dahl and J.R.R. Tolkien to the top spot. Blyton's Famous Five series contained 21 titles which have sold over 100 million copies worldwide to date; annual sales are 1 million. The original Faraway Tree series contained: The Enchanted Wood (1939); The Magic Faraway Tree (1943); The Folk of the Faraway Tree (1946) & Up the Faraway Tree (1951).

About Chorion: Chorion is a leading provider of quality family entertainment for the global marketplace. Chorion brings a combination of brand management savvy and creative vision to the development of classic literary copyrights across all media. Chorion's portfolio includes classic children's brands such as Mr. Men and Little Miss, Beatrix Potter, Paddington,Noddy, OLIVIA, and The World of Eric Carles well as art and lifestyle brands such as Country Diary and Rough Guides. Chorion also manages the literary works of Agatha Christie, Raymond Chandler and Georges Simenon, among others. Chorion's new animated television productions include The Mr. Men Show, now airing on Cartoon Network (US), Five's Milkshake! ( UK) and France 5; Famous Five: On the Case, co-produced with Marathon Media; and OLIVIA, destined for Nickelodeon (US) and Five's Milkshake! Spring 2009; Chorion's hit Noddy series continues to air on leading broadcasters around the world. Perennial favourite drama series Agatha Christie's Marple and Poirot were co-produced with ITV in the UK and PBS in the US. Chorion acquired The Copyrights Group Ltd, a leading independent licensing business, in November 2007. Chorion has offices in London, New York, Tokyo and Sydney. www.chorion.co.uk.

About Egmont UK: Egmont UK Ltd. is the No.1 publisher of children's character books in the UK and it is part of the Egmont Group, which operates companies in more than 20 countries across Europe and Asia.

• No. 1 Character Publisher: 47.5% volume share, 41.3% volume share (BML 2003-2006)
• No. 2 Magazine Publisher with 21% Market Share (Seymour and average RSV values) through WHS News
• No. 3 Publisher Share within Children's books: 8% volume share, 6.8% value share (BML 2006)
• Within Activity books we are No. 1 publisher by value, and number 3 by volume (BML 2006)
• Annuals: Egmont No 2 with 24% market share (BML 2007)

Egmont UK sells approximately 22 million children's books and more than 11 million children's magazines each year. Egmont aims to produce its books in a responsible manner, because it wants to be as proud of the way it makes books as it is of the books themselves. This means: Making sure that it prints on environmentally friendly paper; ensuring the factories it uses look after their workers; going the extra mile to guarantee that Egmont's books are safety-tested to the highest standard.

About Hodder: The Famous Five's Survival Guide is published by Hodder Children's Books - an original, award-winning and innovative publisher of fiction books for children of all ages. Hodder Children's Books is home to a cross-section of prize-winning writers and illustrators and to some of the brightest new talents in fiction for children and young adults. Brands from Enid Blyton to Felicity Wishes and authors from Hilary McKay to David Almond and Robert Muchamore, sit side-by-side on an unparalleled list. Hodder Children's Books is an imprint of Hachette Children's Books, the second largest publishing group in the UK. Its four imprints – Franklin Watts, Hodder Children's, Orchard Books and Wayland – offer an unequalled range of titles, and between them publish many of the most respected books in children's publishing. www.hachettechildrens.co.uk. Hodder PR: Victoria Stonex; 020 7053 6656; victoria.stonex@hachettechildrens.co.uk.

This press release was distributed by ResponseSource Press Release Wire on behalf of Four Communications Group - Duplicate in the following categories: Children & Teenagers, Entertainment & Arts, Women's Interest & Beauty, for more information visit https://pressreleasewire.responsesource.com/about.