Dragon and devil worship espionage thriller flies off shelves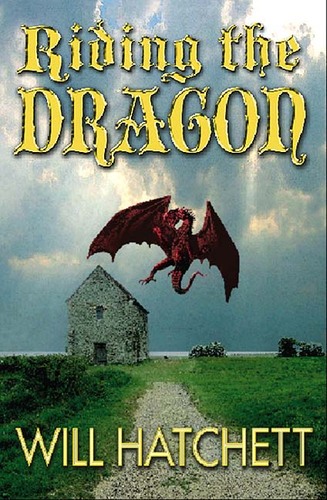 Will Hatchett likes his job. He is the editor of an environmental news magazine. But he thought of making his life even more interesting. Sitting on the bus each morning he wrote a novel – a strange tale of conspiracy in which devil worshippers try to take over the world. Now the book, Riding the Dragon, is selling in healthy numbers on Amazon.

Riding the Dragon is a fast-paced supernatural thriller. It is set in 1939, in the opening days of World War Two. The premise of the book is simple. Prominent Nazis and British pro-Germans attempt to summon the powers of Satan to earth, to help them win the war. The book's hero, Austin Endicott is a commercial pilot, working for Imperial Airways at Croydon Aerodome. Austin stumbles into the plot after his daughter is kidnapped by occultist Aleister Crowley, who intends to use the innocent young girl in his diabolical plan. Austin enlists the help of his friend Harry Hawkins, foreign editor on the Daily Express, to help him unmask the traitors.

Hatchett says: 'I am a bit of a conspiracy nut and I also like fiction combined with fact. In my book, made up characters mingle with Crowley, the maverick Labour MP, Tom Driberg, Maxwell Knight, a senior figure in British intelligence in the 1930s and the deputy Fuhrer, Rudolph Hess. The story is based upon real events, including the flight of Rudolph Hess to Scotland in May 1941 and Operation Mistletoe, which was a true-life attempt to use witchcraft to help the Allies to the win the war. The dragon referred to in the title is Austin's totem. It assists him on the astral plane in his battle against evil.'

The book, Hatchett explains, draws in its style and themes on the largely forgotten novels of Dennis Wheatley – whose energy and imagination he admires, but not his racism – and also upon classic British pulp horror, published in 1960s and '70s. There are also dashes of John Buchan and Ian Fleming. He adds: 'I wrote the book on the number 63 bus on the way to work and I have respectfully dedicated it to the drivers on that route, even though they rarely smiled or said thank you.'

'People are interested in the occult,' he adds. 'They like conspiracies and they like dragons, so, in a way, the success of this book is not surprising. I think that they also like old-fashioned technology – biplanes, vintage cars, typewriters. I carefully researched the book to make sure that the details were right, including the weaponry. It is best to write about things that you have seen, so I used locations that were easily accessible from my house and that I could explore. That's why, as well as London, the book is set in the Kent and Essex countryside.

'In particular, the climactic scenes take place in the remote Essex village of Bradwell-on-Sea, next to the Blackwater Estuary. That's where one of the main characters, Tom Driberg lives. Bradwell-on-Sea has an old airfield and it's the location of one of the oldest churches in Britain, in a lonely and exposed spot on the coast, so it was perfect for my story. I could easily imagine the Devil coming to earth there.'

He continues: 'I have often been asked this question, but no I have never practised witchcraft of any variety, although I am open to offers.'

Author: Will Hatchett
Title: Riding the Dragon
Publisher: Honor Oak Publishing
Available, from Honor Oak Publishing, 7 Buckley Close, Forest Hill, London SE23 3EQ also from Amazon

Published: 1 May, 2008
Price: £6.99
Pages: 224
ISBN: 978 0 9552207 1 8

The book can be bought from Amazon at

http://www.amazon.co.uk/Riding-Dragon-William-Hatchett/dp/09...

Will Hatchett is available for interview. You can email him at w.hatchett@virgin.net or phone on him on 0207 827 5908 or 07951 241 822

Jpegs of the book cover and author are available

Notes to editors:

Will Hatchett edits a weekly trade magazine. He is also the author of Rural Drives: a journey through English housing policy, published in 1998. He lives in London with his daughter and grandson. In his spare time, as well as writing, he plays in a rock band. He is the first person in his family to have written a novel.


This press release was distributed by ResponseSource Press Release Wire on behalf of Honor Oak Publishing in the following categories: Men's Interest, Entertainment & Arts, Leisure & Hobbies, Media & Marketing, for more information visit https://pressreleasewire.responsesource.com/about.