Experts advise parents ibuprofen is best to reduce fever in children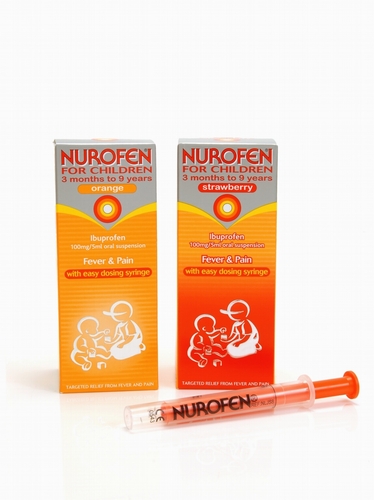 New study on BMJ.com shows young children's fever is reduced for longer by giving ibuprofen first

A new study(1) published on BMJ.com today suggests that giving a child a product, such as Nurofen for Children, can reduce their fever for longer.

Whilst fever is a normal part of childhood illness, it affects around 70% of pre-school children every year.(2) A team of researchers from the University of Bristol and the University of the West of England in the UK carried out a study in which children received either a combination or paracetamol plus ibuprofen, just paracetamol, or just ibuprofen.

The research shows in the first four hours, temperature is reduced faster and for longer in children given ibuprofen than those given paracetamol; and that the two medicines in combination were not markedly better than just giving ibuprofen. The study concludes that those wanting to achieve faster and more prolonged fever relief in the first four hours should use ibuprofen in preference to paracetamol.

The researchers say: "Doctors, nurses, pharmacists and parents wanting to use medicines to treat young, unwell children with fever should be advised to use ibuprofen first and to consider the relative benefits and risks of using both medicines over a 24 hour period."

Paediatrician, Dr Dipak Kanabar, from Evelina Children's Hospital in London, comments, "In children, we recognise that ibuprofen has a very good effect in fever and pain control compared to agents like paracetamol and other non-steroidal anti-inflammatory drugs, as it controls these symptoms for longer periods of time. This study confirms that ibuprofen is the preferred and superior choice for fever management in children."

Cassandra Parkin, Senior Brand Manager for Nurofen for Children, comments: "It's very interesting to see the results of this study and it supports the wealth of research we have which demonstrates the benefits of ibuprofen for treating children's pain and fever. Not only does Nurofen for Children work quickly and effectively, but it also lasts for eight hours, meaning parents can be confident they are helping their child to get better as soon as possible."

Nurofen for Children is the number one selling children's ibuprofen product(3) and is suitable for babies and children from 3 months and is available in orange and strawberry flavours – voted the best-tasting by children(4). It also comes with a unique dosing syringe which makes it much easier for parents to administer the medicine to their children.

For more information and advice on treating pain and fever in children, visit www.nurofenforchildren.co.uk.

For further information, please contact:

Kam Pearce or Ed Purkis
020 8939 2482 / 020 8939 2488
kam.pearce@virgohealth.com / ed.purkis@virgohealth.com

References:

1. Hay, A. D. et al. Paracetamol plus ibuprofen for the treatment of fever in children (PITCH): randomized controlled trial. BMJ 2008;337:a1302

2. Hay, A. D. et al. The prevalence of symptoms and consultations in pre-school children in the Avon Longitudinal Study of Parents and Children (ALSPAC): a prospective cohort study. Fam Pract 2005;22:367-74

3. Nielsen Scantrack, Total GB, 52w/e 2/08/08, The Nielsen Company

4. Nurofen for Children was voted the best-tasting ibuprofen suspension by children themselves. Project Scrumptious, 2003, data on file, Reckitt Benckiser

Nurofen for Children contains ibuprofen. Always read the label.

This press release was distributed by ResponseSource Press Release Wire on behalf of Virgo Health Ltd in the following categories: Children & Teenagers, Health, Women's Interest & Beauty, Medical & Pharmaceutical, for more information visit https://pressreleasewire.responsesource.com/about.