Mum creates clever way to get families talking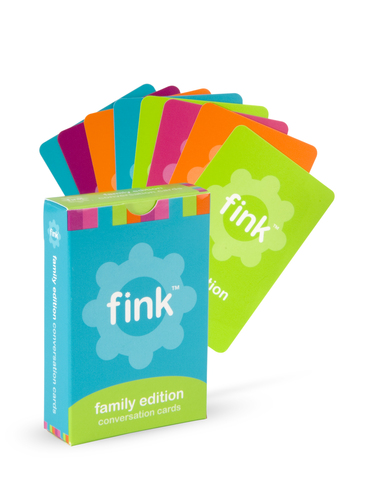 Fink™ Cards nurture kids' communication skills and strengthen family bonds

11 September 2008 – A mother on a mission to get families communicating, has created a simple yet highly effective tool that encourages families to get talking around the dinner table. Fink™ Cards (Family Interaction Nurtures Kids) are a pack of 54 thought-provoking conversation cards that transform mealtimes by providing a series of questions the whole family can answer.

The cards ask questions like 'Who inspires you?', 'What is your favourite day of the week?' and 'If you could choose a superpower, what would it be?' The purpose is to get the whole family to share views and ideas, develop listening and communication skills, and gain mutual understanding and respect for each other.

Today's busy lifestyle means children are getting more screen time and less personal interaction with parents. This lack of quality family time has been cited as a key reason for many of today's social issues from crime to eroding moral values, poor eating habits and anti-social behaviour.

Yet, when Lisa Warner, a mum of four, came up with the idea of question cards ten years ago, it was simply to help her family mealtimes become less chaotic.

"The older kids didn't want to leave the TV for five minutes, the younger ones didn't want to stop playing with their toys and were fussy about food. Every mealtime was stressful with my husband and I yelling at the kids. I wondered why I bothered to even set the table," Lisa explains. "Then I had the idea to create question cards that were fun so that the kids would look forward to sitting around the table giving their answers. They loved it – particularly hearing mum's and dad's answers – and our mealtimes were transformed."

Having seen the long term positive affect regular family discussions have had on the development of her children, all of whom are now confident communicators with a very strong family bond, Lisa wanted to help get other families talking. She believes this will have an impact on some of the problems facing children today.

Using the principles of her homemade cards from years before, she created Fink™ Cards. The cards serve as a conversation starter and can easily be modified for children as young as two. The key is to let everyone have a chance to speak and be listened to. As interesting discussions take place, there is an opportunity for the family to really get to know each other. This shared time brings a family closer and offers children a deep sense of security and stability.

Yvonne Wake (BSc. MSc), a Public Health Nutritionist at Roehampton University, London and who has recently written a paper on nutrition and the role a family plays, agrees that it's important to eat meals together as a family.

"Talking to children over dinner is a great way of gaining trust and they are more likely to talk about things that could sometimes feel uncomfortable. Regular meal times altogether give children the opportunity to discuss problems with family members; it relaxes and encourages them to wind down. From an emotional standpoint, research shows that children who frequently eat with their families have better results at school, are less depressed, less likely to drink alcohol, smoke, or use marijuana than children who eat with their families less than twice a week," says Wake.

Fink™ Cards cost £4.99 and are available from www.finkcards.com. They also make ideal stocking fillers or table presents for Christmas and help get over any awkward silences at the Christmas dinner table with less well known family members.

~ENDS~

Notes for Editors:

Some key reasons why family mealtimes are important (provided by the Raising Kids Back to the Table Campaign website - http://www.raisingkids.co.uk/bttt/home.asp):

• Strengthen the family by providing opportunities for communications and building relationships. 1

• Enable children to have longer conversations with parents, which can increase their linguistic abilities giving them an edge in the classroom. 2

• Are seen as a marker for other positive family attributes and play an important role in helping teens cope with the stresses of adolescence. 3

• Lead to better nutrition as you have more control over quality and quantity of the family's food choices. 4

• Enable children to adopt their parents attitudes to food and acceptable table manners. 5

• Foster family traditions and help shape and give meaning to cultural heritage. 6

• Children value the contact time. When Oprah Winfrey conducted a 'Family Dinner Experiment' in 1993, five families volunteered to eat dinner together every night for a month, staying at the table for a half-hour each time. At first, sharing meals was a chore for many families and the time dragged on. But, by the end of the month, the families were happy and planned to continue dining together most evenings, if not every night. The greatest surprise for parents was how much their children treasured the dependable time with their parents at the table.

Sources:

1. Focus Group Report by Nancy Lee, Nutrition Education Network of Washington July 1996.
2. 'Using 'rare' words at mealtime can enlarge children's vocabulary' by Carolyn Sanford
3. Suppers on! Adolescent adjustment and frequency of family mealtimes by Bowden and Zeisz 1997)
4. Harvard study pub. March 2000 Archives of Family Medicine
5 Is Family Mealtime Important? by Leah Davies, www.kellybear.com
6. Family Mealtime by Elaine Bowen, West Virginia University Extension Service

About Fink™ Cards

Fink™ Cards where created by Lisa Warner (aged 38). Lisa lives in Northampton with her husband Glenn and their four children Naomi (18), Beth (15), Chloe (13) and Harry (12). The family started using 'home made' question cards to encourage conversation at meal times when Harry was just 2. Since then, the family has flourished with all four children being confident communicators and the family dynamic is vibrant, loving and alive. Lisa left her previous job in which she assisted in the running of the Warner family business Promote UK to create Fink™ Cards.

For more information

The family is happy to be interviewed as a group – they're a lively, chatty bunch! High resolution images of the family and the cards are available. Contact Melissa Talago of Peekaboo Communications on 01635 248 496 or melissa@peekaboocoms.co.uk for further information, images or interview requests.


This press release was distributed by ResponseSource Press Release Wire on behalf of Peekaboo Communications in the following categories: Children & Teenagers, Men's Interest, Health, Women's Interest & Beauty, for more information visit https://pressreleasewire.responsesource.com/about.