Green Awards 2008 - Has your campaign made a difference?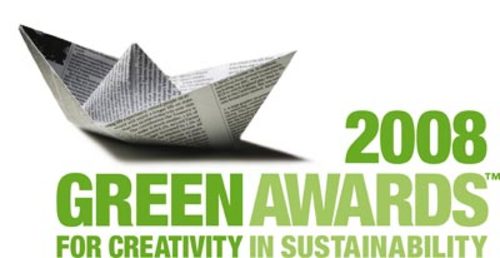 FOR IMMEDIATE RELEASE
GREEN AWARDS PRESS ENQUIRIES: 0207 608 5220

Green Awards™ 2008 Deadline Extension!
Just under one more week to go to enter!
___________________________________________________________________________________________

12 September 2008 London - Organisations wanting to demonstrate their commitment to communicating sustainability and green issues now have until Wednesday 17th September to enter the third annual Green Awards, the industry standard awards.

Whether they're companies, government bodies, charities, or campaigners, the Green Awards offers a golden opportunity to demonstrate how entrants use creative communications to push social, environmental and economic sustainability.

The Green Awards recognise excellence in 13 categories ranging from PR to outdoor. This year two new categories have been introduced to acknowledge the expanding breadth and depth of green communications:

Campaigner of the year – recognising the individual employing the best use of campaign tactics to make an impact, and; International Campaign – which recognises campaigns reaching across any two or more countries.

The 2008 judging panel will consider design and media along with sustainability of approach and messaging.

The panellists' expertise reflects the criteria with judges including: Baroness Peta Buscombe, Chief Executive of the Advertising Association, acclaimed Inventor Trevor Baylis, Rufus Radcliffe Head of Marketing Channel 4 and Ethical designer Katharine Hamnett.

At last year's Awards, British Sky Broadcasting walked away with Best Integrated Campaign (over £100k) for 'The Bigger Picture'; M&S won Best Internal Communications Campaign (over £100K) and DEFRA took the award for Best Press (over £100K) for Act on CO2.

2008 Green Awards will take place on 12 November at The Brewery, London. Iain Patton, Managing Director of Satellite-the green agency founder/producers of the Awards, explains 'The incredible growth of the Green Awards over the last two years is a clear sign that the communications industry is taking sustainability seriously. The increasing standard of work gives the industry a chance to improve business and the environment at the same time.'

For details on categories and submission guidelines visit www.greenawards.co.uk or contact the Green Awards team on 0207 608 5220

- ENDS -

Editor's Notes:

Full list of Green Awards 2008 Categories:

Best Green Audio-Visual (includes TV and cinema)
This award is open to short films and commercials that have been broadcast on TV or in the cinema in the UK. Entries can be of any length as long as they communicate a sustainable or green message.

Best Green Campaigner – NEW

A new category designed to encourage and reward the marketing techniques of small or individual campaigns. Eligible campaigns will be run by individuals or by non-commercial groups with fewer than 4 paid staff. Campaigns will be judged on messaging, momentum and effectiveness, taking originality of approach into account. * Please note there is a special discounted entry fee for this category.

Best Green Direct Mail

Judges will pay special attention to the use of recycled or biodegradable materials and environmentally friendly chemicals and inks, smaller mailing packs and better targeted distribution resulting in reduced quantities of mailed volumes.

Best Green Integrated Campaign

This award is for a campaign that creatively and efficiently communicated a green message across multiple media channels.

Best Green Internal Communications Campaign– sponsored by B-Sustainable

For campaigns driving behavioural change from within the organisation so that your staff can act as brand ambassadors and support the organisation's external positioning. This can take the form of e-mail, personalised mailings, workshops, training days, corporate video, etc.

Best Green International Campaign – NEW

A new category this year open to domestic and cross-border campaigns rolled out internationally in one or several countries and across any media platform. Campaigns will be judged on their originality and effectiveness in communicating on sustainability and environmental issues and the quality of execution. Please note that entries in foreign languages should be accompanied by an English translation.

Best Green Digital Campaign – Sponsored by Propel Earth

This award is open to online marketing, e-shots, advergames, podcasts and virals that have successfully communicated a green message.

Best Green Outdoor (includes Underground) – Sponsored by Clear Channel Outdoor
Entries are invited for any outdoor or underground poster that has communicated a sustainable or green message in a clever, creative way.

Best Green Packaging – sponsored by ASDA

Consumers are increasingly demanding less packaging and materials that can be recycled. Entries must demonstrate effective use of materials (recyclable, biodegradable or compostable) and/or how they have achieved significant packaging reductions. The design should also be exciting and engaging.

Best Green PR Campaign - Sponsored by Planet 2050, Weber Shandwick's sustainability practice

This award is for the best campaign that most effectively uses public relations to generate publicity in order to build awareness of, or support corporate values on community, social, ethical or reputational issues.

Best Green Press Campaign

This award is for any individual advertisement, or part of a campaign, that has been published in the UK, either in the nationals, locals, magazines or freesheets.

Best Green Radio Campaign

Entries should have been aired on a national, or local radio station in the UK, and should communicate a green or sustainable message. Maximum length: 60s.

Best Green Website

For this award the judges will consider the aesthetic of the website, the ease of navigation, its interactivity (flash animations, audio and video content, plugs-in etc), and of course what it's communicating.

Green Awards Grand Prix - Sponsored by the Energy Saving Trust
The Green Awards Grand Prix will be awarded to one of the category winners.

Full list of judges:

Chair - Baroness Peta Buscombe, Chief Executive, Advertising Association

1) Trevor Baylis – Inventor & Designer, Trevor Baylis Brands
2) Rita Clifton - Chairman, Interbrand
3) Deborah Fox - Public Sector Programme, Forum for the Future
4) Nick Gammage - Director of Communications, Waste & Resources Action Programme
(WRAP)
5) Jason Gormley - Creative Director, Wolff Olins
6) John Grant - Sustainability Marketing Consultant/Author, The Greener Marketing
Manifesto
7) David Hall, Campaign Director, Together Campaign
8) Katharine Hamnett - Designer/Campaigner
9) Eugenie Harvey - Founder & Director, We are What We Do
10) Jim Haywood - Business in the Environment Director, Business In The Community
(BITC)
11) Robert Keitch - Director of Environmental Affairs and Media Channel
Development,Direct Marketing Association (DMA)
12) Janey Lee Grace - Radio 2 Presenter/Campaigner
13) Elisabeth Lewis-Jones, President, Chartered Institute of Public Relations (CIPR)
14) Winnie D'eAth – Head of Communications, World Wildlife Fund (WWF)
15) Nick Nuttall - Spokesperson, Office of the Executive Director, United Nations
Environment Programme (UNEP)
16) Amanda Phillips - CEO Proximity London & Chairman of the IPA Sustainability
Working Party
17) Rufus Radcliffe - Head of Marketing, Channel 4
18) Marc Sands - Marketing Director, The Guardian
19) Philip Sellwood - CEO, The Energy Saving Trust (EST)
20) Philip Swindon – Director of Environment Publishing, Haymarket Brand Media
21) Bo Hellberg - Digital Creative Director, Ogilvy One
22) Ade Thomas - Managing Director, Green.TV
23) Adeela Warley - Head of Communications, Friends of the Earth

Presented by:

The awards will be presented by Janey Lee Grace BBC Radio 2 presenter and author of the best seller book 'Imperfectly Natural Woman - getting life right the natural way' will be presenting the Green Awards ceremony on the 12th of November at The Brewery.

This press release was distributed by ResponseSource Press Release Wire on behalf of International Green Awards in the following categories: Entertainment & Arts, Environment & Nature, Consumer Technology, Personal Finance, Business & Finance, Education & Human Resources, Media & Marketing, Public Sector, Third Sector & Legal, Computing & Telecoms, for more information visit https://pressreleasewire.responsesource.com/about.