The Perfect Solution for the No-Space, No-Time Gardener. National Conifer Week 27th September - 5th October 2008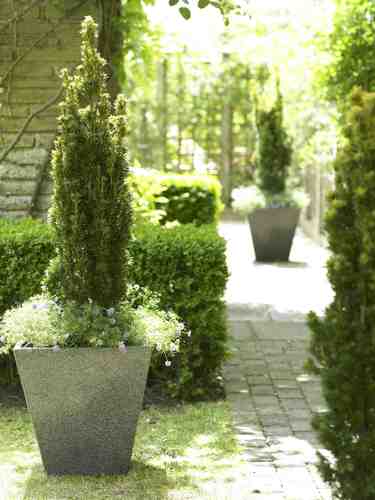 *****Strictly embargoed until 00:01am Monday 22nd September 2008****

CONIFERS – THE PERFECT SOLUTION FOR THE NO-SPACE, NO-TIME GARDENER
National Conifer Week 27th September – 5th October 2008

Today's busy lifestyles and hectic schedules mean that many people are short of leisure time and may struggle to look after a garden. According to PlantforLife, more than one in five people (22%) tend to their gardens just once a month or less, yet 91% of people want to enjoy an attractive or easy-to-maintain garden.

PlantforLife, in conjunction with the Association of British Conifer Growers, found that nearly two thirds (64%) of people want a garden that is easy to care for, with more than a quarter (27%) of those surveyed saying they want to enjoy a great-looking garden. However, looking after the garden is not high on people's list of priorities. One in three (33%) people said they are too busy to tend to their garden so, it seems that low-maintenance plants could be the answer - allowing busy people to enjoy an attractive garden with minimal effort.

The same survey from PlantforLife found that the most popular attributes which people look for in a plant are:

• colour (57% of respondents)
• low maintenance (55%)
• can be used in a container (25%)
• structure (23%)
• stylish (13%)
• not taking up too much space (11%)

Since garden aesthetics are still hugely important and people are short of leisure time, there is a need for plants which are manageable and easy to maintain. However, people still want their gardens to have the same impact as large, well cared-for gardens.

Conifers fit all of the above criteria so they are an ideal solution for many gardens. Conifers are a wonderful way of adding colour and shape to the garden. What's more, they last all year round – unlike many other plants. Many of them change colour throughout the year, giving gardens fabulous splashes of orange, blue or purple in the autumn and winter, when other plants are dormant.

Almost half (40%) of people are not familiar with the benefits of conifers. More than a third (36%) of people described conifers as 'large', a fifth (20%) said they were 'overbearing' and nearly half (44%) of people described them as 'fast-growing'. When thinking of conifers, many people associate them with the large and fast-growing Leylandii conifer. While these can be very useful and magnificent trees, they can be too much for small gardens if not properly trimmed. However, there's a lot more to the conifer family than tall trees. There is a huge variety of shapes and sizes of conifer.

Conifers are also fantastically versatile. They can be used in containers or as dramatic standalone features in the garden. They can give height to borders or create a formal look around a front door. Their beauty is striking when frost or snow covers their shape in winter.

Many conifers are also very easy to look after. As long as they are planted in the right spot, and there are many positions in the garden that would be suitable, conifers only need an occasional trim or prune to keep them looking good. They will need watering to get them established, but once growing will need little attention and will provide year-round interest. They are virtually maintenance-free and great value as they will perform for years to come.

The fourth National Conifer Week takes place from 27th September – 5th October 2008. Roger Ward, Chairman of the Association of British Conifer Growers, comments:

"Many people think of conifers as being very large and fast-growing, but in fact there are lots of dwarf and slow-growing varieties. They are easy to care for and will not grow too large – yet they create a very striking look and have the same impact as a larger feature plant. The range of colours and shapes of the foliage to choose from is second to none.

"Conifers are sadly underrated – they are fabulous plants which are easy to care for. National Conifer Week aims to change perceptions of conifers and give them the recognition they deserve!"

Garden centres and nurseries stock a variety of conifers and are a great source of information. Visit www.plantforlife.info/conifer to download a free Modern Day Conifer booklet and for conifer suggestions, pictures, gardening advice, planting information and your nearest garden centre or nursery.

-ENDS-

For further information please contact The Red Consultancy:

Emily Urban Smith 020 7025 6429 / emily.urbansmith@redconsultancy.com
Fiona Stones 020 7025 6428 / fiona.stones@redconsultancy.com
Hannah Morgan 020 7025 6447 / hannah.morgan@redconsultancy.com
Natalie Fraser 020 7025 6532 / natalie.fraser@redconsultancy.com

Notes to editors:

• PlantforLife was launched in 2004 by the Horticultural Trades Association (HTA), with the aim of helping people make the most of their gardens.

• The HTA is the trade association for the UK gardening industry. It is dedicated to helping develop the industry and its member businesses, including most garden centres and other garden retailers, growers, landscapers, manufacturers and service providers.

• National Conifer Week is organised by the Association of British Conifer Growers, a specialist group within the Horticultural Trades Association. Visit www.conifer.org.uk for more information.

This press release was distributed by ResponseSource Press Release Wire on behalf of The Red Consultancy in the following categories: Leisure & Hobbies, Home & Garden, Women's Interest & Beauty, Environment & Nature, Construction & Property, for more information visit https://pressreleasewire.responsesource.com/about.