Online Dating Escapes the Credit Crunch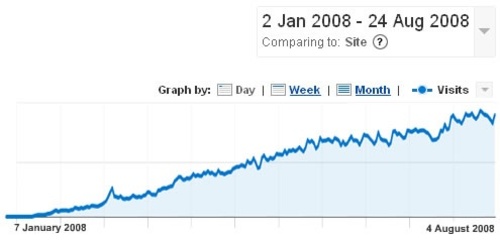 We may be in the grip of a recession but no one wants to give up the simple pleasures in life. As a result, one industry which is not only thriving but continuing to grow through the credit crunch is online dating.

For an illustration one only has to look at the fortunes of the MakeFriendsOnline Group whose expansion has continued unhindered in recent months.

Following the runaway success of Smooch.com, launched as the recession took hold and now securely placed in the Hitwise Top Ten, MFO adapted it's winning formula to develop ManCentral.com in what would appear to be an even riskier market. The immediate and soaring popularity of MFO's latest venture is more than illustrated by the attached Google Analytics graph.

Mancentral has reached operating profit within an unparalleled six months of launch and, with success in the pay-dating, free-dating and gay markets, the only question is which niche the company will target next.

So what is the MFO formula for success? The sites are completely different in design and facilities, but they are all built upon the basic MakeFriendsOnline engine which has served the company's flagship site for almost a decade.

CEO Martin Bysh explained "building a dating website is easy, which is why there are millions of them. The key is in understanding the differences in each market and adapting the software, support and marketing accordingly. Before releasing a product or even making the decision to enter a particular market we research the niche and adapt our software to meet the differing needs and expectations of the end users. MakeFriendsOnline, Smooch and ManCentral all have the same starting point but the end products are very different. Our highly adaptable software makes it easy for us to build comprehensively differentiated sites with all the benefits of white labeling but none of the 'one size fits all' downside."

MFO are currently researching their next site and have a number of different ideas in the pipeline.

Media Contact:

Tina Willoughby
Email: tina@makefriendsonline.com
Tel: 020 8539 2371

About the MFO Group

The MFO Group of companies was set up in 2000 by Martin Bysh and Marcus Hamilton. Martin and Marcus met at a London bus stop at the age of twelve and only spoke to each other because they came from very different communities and each was concerned the other might pick a fight! They went on to become firm friends and on leaving school built a dot com business together. This started with a small site for their friends created in a Paris bedroom and has grown over the past decade into a thriving company boasting four community sites, two gaming sites and Primary Drive, a separate company handling website development and e-commerce consultancy. They are available for interview to discuss their own relationship and/or the business conception, growth and continued success.


This press release was distributed by ResponseSource Press Release Wire on behalf of Woowise in the following categories: Men's Interest, Leisure & Hobbies, Women's Interest & Beauty, Consumer Technology, Motoring, Business & Finance, Media & Marketing, Computing & Telecoms, for more information visit https://pressreleasewire.responsesource.com/about.