Listeners Take Control of Absolute Radio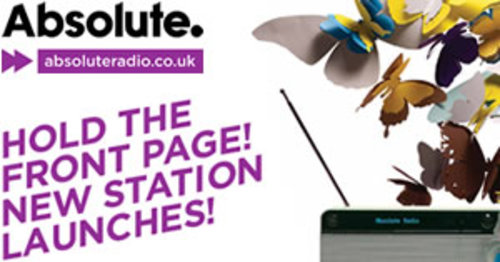 The launch of Absolute Radio was in the hands of listeners this morning as they decided which song would mark the station's arrival on the airwaves.

In a massive online radio vote which saw thousands of listeners cast their choices via the online radio website, the listeners ended up picking the aptly titled 'Absolute Beginners' by David Bowie as the song to launch the station following a weekend countdown of songs going through the alphabet from with song titles starting with the letter V slowly creeping down the alphabet to the letter A.

The top twenty saw a real mix of tracks chosen by the listeners, spanning five decades of real music. David Bowie's 1986 'Absolute Beginners', the theme tune to the film of the same name and a decade that listeners regard with great fondess (perhaps because it reminds them of school discos), narrowly beat 1960's Beatles classic 'A Day in the Life', a classic 'by The Beatles, to 1971's 'American Pie' by Don McLean in the A-list of classic tracks. The nineties and noughties were not forgotten as the listeners picked out Oasis's 1995 hit 'Acquience' and 2005's "All These Things That I Have Done" by The Killers proving that the appreciation for real music - old and new is very much alive and kicking in the top twenty countdown.

The top 20 Listeners countdown in full was:
1 . Absolute Beginners - David Bowie
2. A Day In The Life - Beatles
3. American Pie - Don McLean ( full version)
4. Another Brick in the Wall - Pink Floyd
5. All These Things That I've Done - Killers
6. A Kind of Magic - Queen
7. All Right Now - Free
8. Always - Bon Jovi
9. All Along The Watchtower - Jimi Hendrix
10. Alive and Kicking - Simple Minds
11. Atomic - Blondie
12. A Design for Life - Manic Street Preachers
13. Angel of Harlem - U2
14. All My Life - Foo Fighters
15. Animal - Def Leppard
16. Are You Gonna Go My Way - Lenny Kravitz
17. All The Young Dudes - Mott The Hoople
18. A Thousand Trees - Stereophonics
19. A New England - Kirsty MacColl
20. Acquiesce - Oasis

Absolute Radio's fresh approach has already attracted an A-list following too with Chris Martin from Coldplay, welcoming its arrival live on stage in Munich this weekend. The Breakfast Show will have an exclusive interview with Noel Gallagher and a gig with Kaiser Chiefs this Thursday, listeners can also expect exclusive live performances from a host of massive bands and artists throughout the station's launch month including Kings of Leon, The Kooks and Keane.

Our listeners love real music as much as we do but Absolute Radio is more than just a great iPod. We're embracing presenters who make your jaw drop and cause the station bosses blood pressure to rise… which is just as well given the arrival of Tim Shaw who was famously fired from Kerrang Radio and will now be wreaking havoc every Friday and Saturday night on Absolute Radio. Another new arrival is the multi-award winning Jo Russell who will be firing up your weekends between 10am and 1pm. Christian O'Connell remains at the helm of the Breakfast Show to give you a boisterous awakening every weekday morning with the witty maverick Geoff Lloyd moving to Hometime and Ben Jones holding the fort every weeknight as well as championing the best upcoming new music on the new Absolute Xtreme Show on Sunday evenings.

-ends-

For more information contact:
Natalie Forster - 07973 868834
Cat Macdonald - 07932 746363


About Absolute:

Absolute Radio was unleashed on the airwaves on Monday 29th September 2008 with a mission to help listeners around the UK to discover real music.

Formerly known as Virgin Radio, the station stays true to its rock roots – and it's original frequency – by playing the very best music from the last 40 years which means we don't do manufactured pop or R&B. Absolute Radio is about The Beatles and The Rolling Stones, The Police and Joy Division, Oasis and Blur as well as the latest releases from the likes of Kaiser Chiefs, The Killers and Amy Winehouse.

We're a radio station for real fans of real music and it's all wrapped up with lashings of personality and mischief from DJs who have the freedom to say what they think and tell it like it is.

For more information log on to www.absoluteradio.co.uk or tune in on 105.8FM in London and the South-East, nationally on DAB or 1215AM as well as on Sky and Freeview and Freesat.

This press release was distributed by ResponseSource Press Release Wire on behalf of Absolute Radio in the following categories: Entertainment & Arts, for more information visit https://pressreleasewire.responsesource.com/about.