Leapfrogg hop down the red carpet to win the "best place to work" award!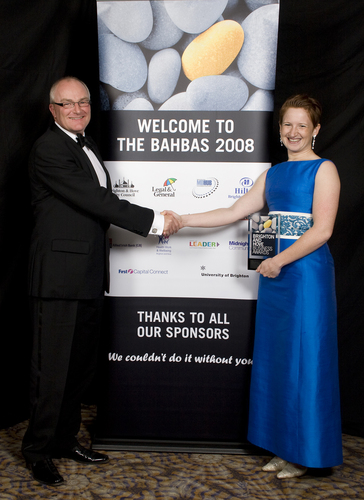 Its official: Leapfrogg is the best place to work in Brighton and Hove!

Friday night saw the Leapfrogg team win the prize for the best place to work at the Brighton and Hove Business Awards. The award-winning digital marketing agency was nominated for three awards and delighted to be recognized for achievements in the business growth category, the best customer service category as well as winning the best place to work award.

In the four and a half years since Leapfrogg was founded, the team have delivered exceptional search-led, digital marketing solutions for established brands such as Neilson, Visit Brighton, Feather and Black and WhizzGo. Their continual dedication to their staff and to providing exceptional customer service has led to 1500% growth in business over four and a half years, as well as achieving an excellent client retention rate. The team themselves are so happy to be working for such a successful company that Leapfrogg enjoy a 100% staff retention rate; with a team close to 20 this is pretty impressive!

Research carried out by Professor Sonja Lyubomirsky and featured in The Guardian newspaper concluded that happier workers are more productive and more successful. Leapfrogg are certainly a case in point, having gained 80% of their business from client referrals, a figure that the Leapfrogg Directors attribute solely to their inspirational and highly motivated team!

Leapfrogg have taken employee happiness very seriously and as such have implemented some brilliant incentives to keep the team happy, bonded and passionate about their jobs. Not only do Leapfrogg provide their team with financial incentives, the team also enjoy free ice-cream and beer days; two 'duvet-days' a year, where Leapfrogg team members can call up after a night out and stay at home without needing to take sick leave; flexi-time; full health care; working from home opportunities; company days out; a £1000 "Leapfrogg got talent" bursary to dip into; Christmas parties; and ad-hoc challenges such as volley-ball with other companies!

The team agrees: "Little perks make working here fun and the bigger ones make us all feel excited about the company we are working with and valued. Then, on top of all the perks, we have a great office, a supportive team, respect, responsibility and an ethical outlook. We really are privileged to be working here, no wonder no one wants to leave!"

Ben Potter; Sales and Marketing Director at Leapfrogg exclaims: "To be recognised with this award is a great achievement to which we must thank our staff for their commitment and passion in living the Leapfrogg dream!"

The team is excited about the future too, with more expansion on the horizon as well as a new website on the way. Leapfrogg are more passionate and motivated than ever to help SMEs increase the visibility of their business online, build their brands and ultimately maximize return on investment for digital marketing.

Rosie Freshwater, Managing Director at Leapfrogg, concludes "We are over the moon to have won this award at one of the top business awards events in the south. It is testament to the great team here at Leapfrogg that everyone works so well together and therefore have such high job satisfaction!"

ABOUT LEAPFROGG

Based in Brighton, Leapfrogg is one of the leading search-led Digital Marketing agencies in the UK helping SMEs to acquire, convert and retain customer's online thereby delivering positive returns to their organisations.

For more information please call our team on 01273 322830, alternately you can email us: enquiries@leapfrogg.co.uk or visit our website: www.leapfrogg.co.uk


This press release was distributed by ResponseSource Press Release Wire on behalf of Leapfrogg in the following categories: Media & Marketing, for more information visit https://pressreleasewire.responsesource.com/about.