INSOURCE & HANNOVER LIFE RE (UK) SCOOP MAJOR AWARD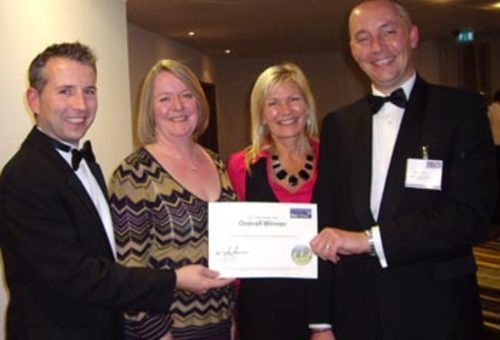 Companies Recognised For Innovative Use Of Technology In Business Intelligence

Insource, along with Hannover Life Reassurance (UK) Limited, one of the UK's leading life and health reassurers, have won the 2008 Obis Omni Champions Award.

At a glittering evening ceremony during the two-day event held at the Park Inn at Heathrow, Insource along with Hannover Life Re (UK) were handed the Champions Award for 2008. The companies won from a large field of candidates, including fellow Insource Data Academy user Heart of England NHS Trust who were also shortlisted.

Each submission was assessed by an independent panel of judges made up of four leading business intelligence experts - Eleanor Windsor, the Obis Omni Advisory Board, Mark Whitehorn, Research Associate, Cambridge University, Philip Howard, Research Director, Bloor Research and Nick Hussey, CEO, SayOne Media Ltd.

The panel judged entries against a number of criteria including:

• Innovative use of technology
• On-time, on-budget delivery
• Evidence of business transformation
• Impact of project on overall business growth or performance.

After careful deliberations the judges were most impressed by the two companies' successful project to deliver quarterly management information packs for staff on a timely and cost effective basis, whilst also overcoming issues in data breadth, depth and quality.

"We are surprised and delighted to receive this award and at receiving recognition from an organisation such as Obis Omni" said Mark Crawley, Head of Systems Development at Hannover Life Re (UK). "We feel it is a vindication of the project methodology and approach employed by both teams."

Jackie Sawyer, Director, Insource added, "I'm delighted for the Hannover Life Re (UK) team, who deserve recognition for the exemplary way in which they have approached this project; they have been model partners for our consultants throughout. I am also thrilled that Insource Data Academy is being recognised in this prestigious forum as the enabling technology."

***END***

About Insource

Insource provide solutions for business intelligence, information management, data warehousing and data management.

We have extensive experience in delivering these solutions to the corporate, public and NHS sectors. Our products and services are geared towards a modular selection of solutions or parts of the solution as required by the client. We bring project management, products, consultancy services, subject matter expertise and a track record in working with complex data sources.

CONTACT:

Peter Crane
eMail: peterc@insource.co.uk
Telephone: 0118 921 1577

About Hannover Life Reassurance (UK) Limited

Hannover Life Re (UK) is part of the Hannover Re Group which is the fifth largest reinsurer in the world.

The group maintains business relations with more than 2,000 insurance companies in over 100 countries. Hannover Life Re transacts business through a network of 12 decentralised offices around the world. We share ideas and resources throughout this global network to provide the best possible services to clients.

The rating agencies Standard & Poor's and A.M. Best have awarded Hannover Re a rating of AA- (Very Strong) and A (Excellent), respectively.

CONTACT:

Ronnie Bowes, Head of Marketing
Email: ronnie.bowes@hannover-re.com
Telephone: 01344 846819

About Obis Omni

Omni has been created as a direct result of extensive research with a wide variety of Business Intelligence professionals. Feedback reflected that there was a strong demand for an independent, dedicated BI Community where learning and networking tools (on and offline) are developed around individuals' ever-changing needs. Obis Omni is this single focal point for BI professionals.

Obis Omni delivers thought-provoking, transparent information through a wide variety of white papers, case studies, publications, news articles, online forums, events and suppliers. Obis Omni is an invaluable resource aiding every member across the BI spectrum. We exist to enable every member to achieve the significant advantages of BI in a dramatically reduced timeframe.

Our members dictate exactly how the Community evolves, from our services and learning tools to the agenda of events. We proactively gain continuous feedback from members on how the Community should grow and develop.

CONTACT:

Dennis Frize
Email: dennis.frize@obisomni.com
Telephone: 020 7401 6033

************ ADDITIONAL INFORMATION ************

The attached image shows from left:

Ian Taylor, Manager Systems Development, Hannover Life Re
Hazel Markou, Group Business Development Director, Insource,
Jackie Sawyer, Partnerships Director, Insource
Mark Crawley, Head of Systems Development, Hannover Life Re

A larger high resolution version of the image along with the press release in RTF format is available from this URL:
http://www.insource.co.uk/press.aspx

The case study behind Hannover Life Re is also attached for further background reading.
This press release was distributed by ResponseSource Press Release Wire on behalf of Insource Limited in the following categories: Business & Finance, Computing & Telecoms, for more information visit https://pressreleasewire.responsesource.com/about.