Mum and Dad in trouble over bad hygiene habits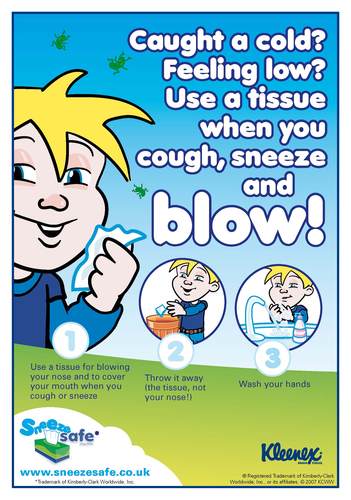 Research from top tissue manufacturer KLEENEX® shows that parents are failing their children by passing on bad hygiene habits to their children. Mum and Dad are prompting a range of bad behaviour from picking their nose to wiping your nose with your sleeve, with three quarters (77%) of their children picking up these bad habits.

Heading the league table of hygiene vices passed on by parents, says Kleenex, is not washing their hands after they cough (52%) followed closely by sneezing into their hands (46%) and picking their nose (35%).

One reason for this might be that almost half of those asked (49%) can't remember being taught the correct procedure for coughing and sneezing into a tissue, whereas 78% recall how to brush their teeth and 59% can remember being taught how to tie their shoelaces.

The Sneezesafe* campaign, aimed at 4-6 years-olds is designed to teach youngsters to use a tissue when sneezing and other ways of avoiding the spread of germs. The research coincides with a similar health initiative recently introduced by the government.
Carrie Longton, co-founder of the UK's leading parenting website www.mumsnet.com acknowledges: "It's almost inevitable that with children heading back to school and winter fast approaching, someone in the family is going to catch a cold, and it's not uncommon for families to pass the cold round all winter. Mumsnet welcomes anything that makes parents' lives easier, and if Sneezesafe* can help families by stopping cold and flu germs from spreading, we're sure everyone will be healthier and happier"
A spokesperson from Kleenex who ran the survey comments: "Unfortunately colds are a fact of life but through the Sneezesafe*programme we aim to teach kids and parents alike how to minimise the spread of cold viruses from child to child".

For more information or to download the free interactive resources, go to www.sneezesafe.co.uk

ENDS

Summary of key findings:

? 52% of parents don't wash their hands after they cough

? 46% of parents admit to sneezing into their hands

? 77% of their children do not wash their hands property after they cough

? 65% of their children sneeze into their hands

For further information please contact:

Helen Shepherd or Jasmine Richards at Mandate Communications
Tel: 020 7379 5000
Email: helen.shepherd@yourmandate.com or jasmine.richards@yourmandate.com

Note to editors:

Sneezesafe* is in line with NHS recommendations on reducing the spread of viruses such as colds and flu:

1. Use a tissue to blow your nose and to cover coughs and sneezes
2. Throw used tissues in the bin as soon as possible
3. Wash your hands as soon as you can

Sneezesafe* also recommends carrying a pocket pack of Kleenex tissues with you.

As a leading health and hygiene company, Kimberly-Clark has years of experience in educating professionals and families about good hygiene practise, whether it be through Infection Control nurses in Hospitals, through Contract Cleaners in an industrial setting, through the work it does with Mothers or, in this latest campaign, through school children.

About Mumsnet:

Since its birth in 2000, www.mumsnet.com has grown to become the leading parenting website in the UK with over a million parents logging on every month to swap advice on everything from teething troubles to post-baby sex. Founded by Justine Roberts and Carrie Longton, who first met at antenatal classes, the Mumsnet philosophy is simple - to make parents' lives easier by pooling knowledge and experience.

About KLEENEX®:

? KLEENEX® is the number one tissue brand in the UK
? It has a 45% value share of the market
? KLEENEX® has driven all the major innovations such as KLEENEX® Anti-Viral, KLEENEX® Ultra Soft, KLEENEX® Balsam, KLEENEX® pocket packs & KLEENEX® Wipes.
? Three packs of KLEENEX® are sold every second in the UK (AC Nielsen, 2007)
? FSC (Forest Stewardship Council) labels will be applied to KLEENEX® packaging starting from December this year and in shops from January 2008

About Kimberly-Clark

Kimberly-Clark and its well-known global brands are an indispensable part of life for people in more than 150 countries. Every day, 1.3 billion people--nearly a quarter of the world's population--trust K-C's brands and the solutions they provide to enhance their health, hygiene and well being. With brands such as KLEENEX®, Andrex®, Huggies®, Pull-Ups®, Kotex® and Depend®, Kimberly-Clark holds the No. 1 or No. 2 share position in more than 80 countries. To keep up with the latest K-C news and to learn more about the company's 135-year history of innovation, visit www.kimberly-clark.com.

This press release was distributed by ResponseSource Press Release Wire on behalf of MHP Communications (Mandate, Hogarth & Penrose) in the following categories: Health, Women's Interest & Beauty, Education & Human Resources, Medical & Pharmaceutical, for more information visit https://pressreleasewire.responsesource.com/about.