Fireplace Heatsaver – Helping British households tackle fuel poverty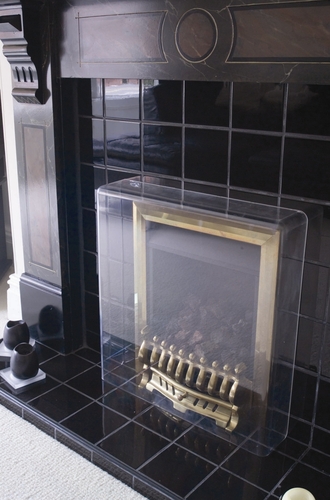 An English mans' home is his castle, or so it seems when it comes to paying for the heating bill! Most hard-pressed British households have just received their latest fuel bills and as winter approaches the need to heat the home becomes more apparent. What more can one do, all the appliances are off but the heating bill is only getting bigger. Help is at hand in the form of a deceptively simple device from Wakefield-based business, Environmental Fireplace Solutions. The Fireplace Heatsaver could save the average household a small fortune on its heating bill – and cut its carbon footprint by as much as half a ton - in just one year.

Over seven million properties in the UK have fireplaces which act as a 'vacuum cleaner', constantly sucking warm air up the chimney and out of expensively heated rooms, drawing cold air in from the outside which then has to be reheated. The Fireplace Heatsaver is a lightweight and totally transparent acrylic shield that sits in front of an open fireplace or fitted gas fire when it is not in use, preventing heat from escaping up the chimney.

Launched in January 2008, the demand for Fireplace Heatsavers is growing daily, and the energy saving product has also been commended in Environment UK Magazine as a "simple and effective way to cut your outgoings and protect the environment".

Alex Stacey, editor of Environment UK Magazine, says: "The Fireplace Heatsaver epitomises the old adage that the simplest ideas are the best. (It) is the best thing I never knew I needed. I am convinced that if this product had a money-back guarantee, no one would ever claim it."

Environmental Fireplace Solutions has applied for a UK patent for the Fireplace Heatsaver, along with product recognition status from the Energy Saving Trust.

The company is in discussion with a number of bodies including Ofgem where it is seeking to have the Fireplace Heatsaver incorporated into the Carbon Emission Reduction Target scheme 2008-2011. Environmental Fireplace Solutions is also supported by business incubator, West Yorkshire Ventures and has teamed up with Green Homes Concierge, a service for London Home owners helping to make their homes more energy efficient and reduce their CO2 emissions. The company is also in discussions with Warm Front which is funded by DEFRA and provides households with grants for heating and insulation.

Daniel Shute, director of Environmental Fireplace Solutions, comments: "Headlines may be dominated by news of the increasing number of households facing fuel poverty through rising energy costs, but the Fireplace Heatsaver is giving householders a much happier - and greener - outlook on their heating bills. It's the quickest, cleanest and easiest way to prevent heat loss up your chimney - making your home kinder to both your wallet and the planet."

For further information, please contact:

Daniel Shute, director, Environmental Fireplace Solutions Limited
Tel: 01924 368899 / 07785 261053
Email: danielshute@fireplaceheatsaver.co.uk
Site: www.fireplaceheatsaver.co.uk

Ends

Notes for editors:

About Environmental Fireplace Solutions Ltd

Set up in January 2007 by George Baker, who has over 25 years experience of working in the flue and chimney industry, Environmental Fireplace Solutions has received expert help and advice from West Yorkshire Ventures, including market research and marketing. The company currently employs three people.

About Environment UK

Environment UK Magazine was launched in November 2006 and has quickly become a driving force in the environmental arena. Environment UK was developed to bridge the communications gap between the environmental professions; as such it is one of the few publications to cover any environmental subject within its remit. As a communications and networking tool Environment UK mailed out to environmental professionals covering all areas of industry including waste management, energy, built environment, water, pollution and transport.

About Ofgem

Ofgem is governed by an Authority, consisting of non-executive and executive members and a non-executive chair. Non-executive members bring experience and expertise from a range of areas including industry, social policy, environmental work, finance and Europe. The Executive members of the Authority are Ofgem's Chief Executive and three Managing Directors.
The Authority determines strategy, sets policy priorities and takes decisions on a range of matters, including price controls and enforcement. The Authority's powers are provided for under the Gas Act 1986, the Electricity Act 1989, the Utilities Act 2000, the Competition Act 1998 and the Enterprise Act 2002.

About Green Homes Concierge

Green Homes Concierge Service is a groundbreaking scheme developed by the London Development Agency and backed by the Mayor of London to help London home owners reduce their energy consumption. The service is a key strand of London's Climate Change Action Plan.
The service, which is being delivered by respected concierge company Ten Lifestyle Management, enables Londoners to make their homes more environmentally friendly with less of the hassle usually involved with home improvements. It was pioneered in a unique pilot scheme and has now been rolled out across London.

About West Yorkshire Ventures

Funded by Yorkshire Forward, West Yorkshire Ventures was formed to support new business ideas in West Yorkshire; those which have the potential to grow rapidly into sustainable high-growth businesses and create jobs and wealth for the region. Since its beginning in April 2003, over 1,000 new businesses have been assisted and those new ventures have created over 1,800 new jobs and raised £41 million in private sector funding.

About the Energy Saving Trust

The Energy Saving Trust is a non-profit organisation funded both by government and the private sector and set up to address the damaging effects of climate change and to cut emissions of carbon dioxide (CO2) by promoting the sustainable and efficient use of energy.


This press release was distributed by ResponseSource Press Release Wire on behalf of Environmental Fireplace Solutions Limited in the following categories: Home & Garden, Women's Interest & Beauty, Environment & Nature, Personal Finance, Public Sector, Third Sector & Legal, Construction & Property, for more information visit https://pressreleasewire.responsesource.com/about.