Cheeky Wipes – Leading the way in a baby bottom cleaning revolution!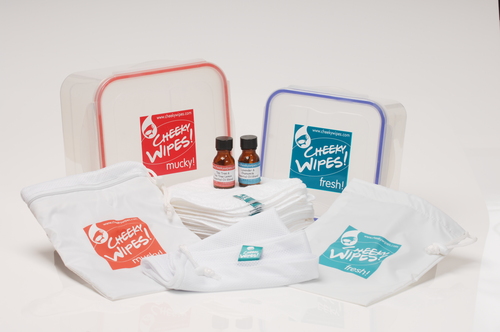 Finally there is a true alternative to disposable baby wipes! Similar to disposable wet-wipes, Cheeky Wipes are a moist, fragrant and convenient way to clean up the messes that our little ones make. However, there are some important differences:
• They are better for your baby. They contain none of the harsh chemicals which are often found in leading disposable baby wipes, some of which have been linked to allergies, reproductive problems and even cancer. Cheeky Wipes do not contain any such nasties; instead they use a combination of water and gentle, fragrant essential oil blends.
• Better for the planet. These reusable wipes won't end up in a landfill site.
• Better for your pocket! Assuming you use a minimum of one pack of disposable wipes per week at £2.49, by the time your child is two you will have spent a shocking £258.96! The Cheeky Wipes All-in-One Kit costs just £29.95, saving you well over £200!

Cheeky Wipes are easy to use and can be cleaned in your normal wash load, with no need to dry them either.

How they work:

Getting Started
• Just add a little water and a few drops of the fresh wipes essential oil blend to the fresh wipes container, then pop in your lovely soft wipes and they are ready to use!
• Do the same with your mucky wipes container but with a few drops of the mucky wipes essential oil blend instead and add the mesh bag ready for dirty wipes.
• Once you've used the wipes, place them inside the clever mesh bag in the mucky wipes container, to neutralise any unsavoury smells, start soaking pre-wash, and avoid any direct contact with poo!

No extra washing or drying required
• Your mesh bag of mucky wipes can go straight into the washing machine with your next load of washing (just loosen the drawstring on the bag) and your wipes come out clean and ready to reuse.
• No need to dry them, just place them back in the fresh wipes box with some fresh soaking solution.

Out and about
• Pop some clean, damp wipes in your waterproof fresh wipes bag and off you go!
• Drop the mucky wipes in the mesh insert in the mucky wipes bag.
• Back home, throw them in the washing machine with a normal load.

The Cheeky Wipes All-in-One Kit costs just £29.95 and is available to buy online at www.cheekywipes.com.

-ENDS-

For further information on Cheeky Wipes or images please contact: Zoe Porteous or Juliette Fleming at Boutique Communications on 01273 699500. Alternatively, email cheeky@boutiquecommunications.com.

Notes to Editors:
Chemicals found in disposable baby wipes include:
Benzoic Acid, Butylene Glycol, Ceteareth 12, Citric Acid, Parabens, Phenoxyethanol, Propylene Glycol and Tartaric Acid.

About Cheeky Wipes
The Cheeky Wipes kit is the brainchild of Helen Rankin, mum of two (nearly three!). She was inspired to create a true alternative to the disposable baby wipe having found nothing on the market to use with her own children.

Cheeky Wipes have already been shortlisted for the BPA Baby & Child Awards Debut Product of the Year 2008.

Cheeky Wipes All-in-One Kit costs £29.95 and is available to buy from www.cheekywipes.com.
The kit includes:
• 25 x lovely soft terry towelling cloth baby wipes, 15 cm x 15 cm
• 1 x fresh baby wipes container
• 1 x mucky baby wipes container - with mesh bag insert
• 1 x fresh baby wipes waterproof out and about travel bag
• 1 x mucky baby wipes waterproof out and about travel bag - with mesh bag insert
• 1 x 10 ml bottle of lavender & chamomile fresh baby wipes essential oil blend
• 1 x 10 ml bottle of tea tree & tea tree lemon mucky baby wipes essential oil blend

Ends

This press release was distributed by ResponseSource Press Release Wire on behalf of Boutique Communicatons in the following categories: Children & Teenagers, Health, Women's Interest & Beauty, Environment & Nature, for more information visit https://pressreleasewire.responsesource.com/about.