New PatientPak helps kill superbugs, viruses and bacteria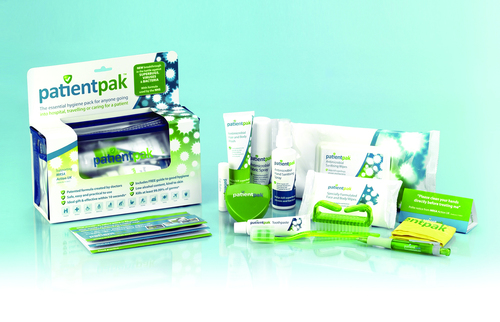 Media information
23 October 2008

New PatientPak helps kill superbugs, viruses and bacteria

PatientPak, the new personal hygiene kit, is a breakthrough in the battle against superbugs, viruses and bacteria. The products contain a patented formula developed by medical doctors that is proven to kill over 99.99% of bugs. This formula has only been available in hospitals to date. PatientPak is specifically designed to be used by patients during their hospital stay. It provides the means by which people can help protect themselves and helps bring peace of mind.

Each PatientPak (www.patientpak.com) contains essential items, all of which are essential for a patient's stay in hospital. You will find an antimicrobial sanitising hand spray and an antimicrobial hair and body wash, both of which are specially formulated to be gentle on the skin whilst killing harmful superbugs, bacteria and viruses.

The comprehensive yet handy kit also includes two types of wipes – powerful antimicrobial surface wipes plus gentle yet effective face and body wipes.

These wipes, sprays and washes contain a patented formula that is already used extensively within the NHS. The formula works in a unique way that stops harmful bacteria building up resistance to the active ingredients.

Also included is a fabric spray - the only one of its kind - that kills germs that can survive on bed linen, curtains and clothing. Cuffs and ties are notorious for carrying germs. The special pH-neutral cleansing soap and nail brush are essential for removing spores and other pathogens. With good hygiene practice, comfort and convenience in mind, there is a toothbrush plus toothpaste, lip balm and pen.

The pack includes a comprehensive leaflet full of advice on good hygiene practices. There's even a polite notice that patients can place next to their hospital bed, which requests that people check that their hands are clean before treatment is given.

Dr Guy Braverman from PatientPak said, "PatientPak is a tremendous breakthrough for those who go into hospital and have felt powerless in tackling superbugs. Although it is impossible to completely eliminate harmful germs, the new pack is designed to help patients and visitors exert control over their own safety. Crucially, when people protect themselves, they are protecting others too."

The PatientPak kit - which should be disposed of after use so that germs are not transferred - is ideal for anyone in hospital, in a care home or someone travelling where they are concerned about hygiene. Pregnant women, visitors to hospitals, parents with young children and those vulnerable to infection are recommended to keep a PatientPak handy.

PatientPak costs £15.99 and is stocked in selected Boots stores, selected Holland & Barrett outlets and can be purchased online from www.patientpak.com and Amazon. This Autumn, it will also be listed in Tesco Pharmacy, Sainsbury's Pharmacy, Mothercare, Jo Jo Maman Baby and Alliance Pharmacy plus many other leading pharmacy outlets nationwide.

www.patientpak.com

- Ends -

PatientPak features:

• Four products contain a strong yet hand-safe antimicrobial formula.

• Antimicrobial Sanitising Wipes – for cleaning surfaces and killing germs on door handles, bed frames, toilet seats, food tables, work surfaces and taps. 40 wipes.

• Antimicrobial Hand Sanitising Spray – easy to apply and allows regular disinfection of hands. Use before handling food, after using the toilet and after any physical contact with others. 60 ml.

• Antimicrobial Fabric Spray – this new product has been developed to kill germs that can survive on fabric. Spray lightly on clothes or bed linen to ensure protection. 60 ml.

• Antimicrobial Hair and Body Wash – specially formulated to kill harmful bacteria, whilst being kind and gentle to hair and skin. 60 ml.

• Face and Body Wipes – designed to be gentle on the skin, leaving you clean and fresh. This formula contains a softener to protect skin during long-term use. 15 wipes.

• Soap and Nail Brush – clean hands are vital to prevent the spread of germs. This antibacterial soap aids thorough washing without drying or damaging the skin.

• Toothbrush and Toothpaste – good dental hygiene is vital for well-being, and this disposable brush ensures bacteria are not carried between hospital and home.

• Lip Balm ¬– lips often dry out whilst staying in hospital. Soothing and moisturising, this balm provides relief to lips, so you feel more comfortable.

• Pen – dispose of this when leaving hospital.

• Guide to good hygiene – this advice leaflet explains how best to combat superbugs, viruses and bacteria. There is also a bedside notice – an initiative suggested by the charity, MRSA Action UK.

The patented antimicrobial formula tested in accordance with European Standards.

Images of PatientPak, lifestyle images and product samples available on request from Tina Fotherby (tina.fotherby@patientpak.com) at the PatientPak press office on 020 7386 8686 or out of hours on 07836 789 655.


This press release was distributed by ResponseSource Press Release Wire on behalf of PatientPak in the following categories: Children & Teenagers, Men's Interest, Health, Women's Interest & Beauty, Travel, Medical & Pharmaceutical, for more information visit https://pressreleasewire.responsesource.com/about.