NetSupport release updated Classroom Instruction and Monitoring with NetSupport School.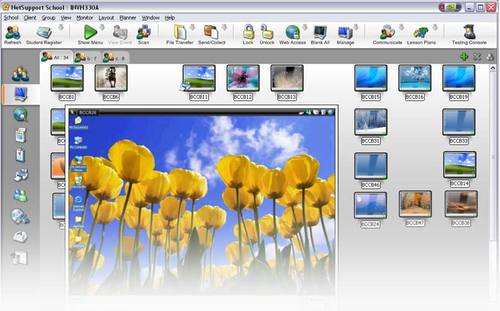 London, UK – October 22nd 2008 – Classroom Instruction and Management specialists announce service release for NetSupport School.

Education specialists NetSupport announce the immediate release of NetSupport School 10.01 containing a host of updates for their current shipping version.

For schools utilising Wireless networking the NetSupport School connectivity server now provides compatibility for Windows Server 2008 and Vista systems.

Internet Metering and control has further been extended including support for https locations and individual page controls for site filtering allowing a full website to be blocked but access to specific pages authorised. Instant Messenger monitoring is further improved providing the option to block access totally for IM products or, where appropriate to allow use, but monitor dialogue.

The crystal clear student thumbnails allow a teacher to maintain a full view of all classroom computers, mouse over any for a real-time "Zoom", see active website and application as an overlay as well as identifying active print jobs in progress.

The unique NetSupport Student Journal, which provides a full digital (PDF) record of all content, images, dialogue and notes for each lesson has been expanded to allow a Teacher to create their own local journal as well as those of the students.

NetSupport School also provides a unique collaborative workspace, similar to a virtual whiteboard where a teacher can draw diagrams and annotate information. The Whiteboard has been significantly enhanced to provide more tools, multiple undo, easier collaborative sharing with students and more.

NetSupport introduced a new docked Teacher Toolbar when the application is minimized, which also provides a single click "request assistance" feature which initiates a direct chat session with any available technician. The NetSupport School Tutor interface features clear and easy to customize feature icons allowing each teacher to display only the features they need, or their favorites, within the UI.

NetSupport School is the only classroom management solution that avoids presenting all of its features and capabilities in a single, congested interface and provides profiled views for each teacher as well as a separate, independent technician's console and as such, maximising its ease of use.

NetSupport School was a winner of the 2008 Bessie Awards recognized as the best Computer Lab Instruction solution in the Teacher Tools category. It was also voted as the District Administration magazines "Readers Choice Top Products" for 2007/8, as well as winning for a successive year the Technology and Learning Award of Excellence.

Visit www.netsupportschool.com for further details or to download a free 40 pc trial copy of NetSupport School 10.01.

Press Contact:

Mr Chris Lovesey
Tel: 01778 382270
Email: c.lovesey@netsupportsoftware.com


This press release was distributed by ResponseSource Press Release Wire on behalf of NetSupport in the following categories: Education & Human Resources, Computing & Telecoms, for more information visit https://pressreleasewire.responsesource.com/about.