The 'Must Have' Toy This Christmas - LeapFrog Tag – A Revolution in Reading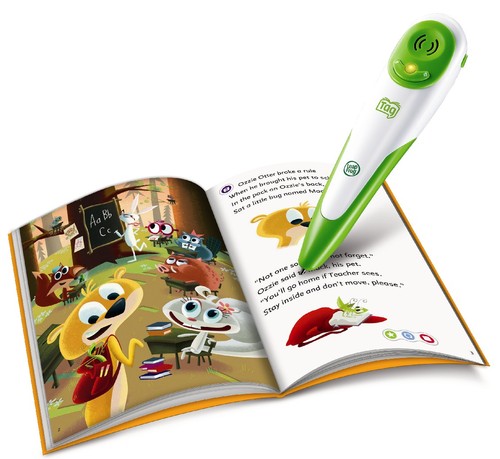 This Christmas, the award winning* new LeapFrog Tag Reading System, will take learning to read to a whole new level. Combining the enjoyment of reading with an interactive learning experience through fun games and activities, Tag has already been tipped by Woolworths and Argos as one of the top new toys for Christmas.
The Tag Reading System consists of an electronic reader which, when used with the range of exciting LeapFrog book titles, makes story time come to life. With every touch Tag's built-in camera reads words and pages aloud, with characters and pictures making noises to enhance the reading experience. The groundbreaking Tag technology helps children learn to read, develop their vocabulary and learn how to spell, through games and activities within the books.
There are more than nine titles in the LeapFrog Tag range, from classics such as Paddington Bear and Dr Seuss, to contemporary characters like Ariel from Disney Princesses and Po from Kung Fu Panda. Exciting titles due to launch in 2009 include Dora the Explorer, Scooby Doo and the eagerly anticipated Madagascar 2. Tag stores up to five titles and is small enough for learning on the go.
A unique benefit of Tag is that it connects to a brand new online Learning Path*: a dedicated website where kids can unlock fun rewards and activities and parents can follow their child's learning progress.
Tag is suitable for 4-8 years old. RRP £39.99 which includes the title Ozzie & Mack





Dr Jeni Riley, LeapFrog Toy Literacy Consultant says "This Christmas LeapFrog has managed to do the impossible with the most popular toy also being an educational one, giving you more value for money. Tag supports the child on their reading journey in a variety of ways and helps to develop the two key skills of print and sound awareness which are so essential to becoming a reader."
The new technology means that children are no longer confined to repetitive books. With Tag, reading becomes a joy and a game! Children are now able to get a sense of independence as they can to read by themselves or with their parent. For more information visit www.leapfrog.com/tag


ClickStart – The First Computer for Christmas
ClickStart – my first computer is ideal for parents who want to introduce their child to a world of computer learning. Unlike most computers for children, ClickStart plugs directly into a television, turning the family TV into the child's very own computer.
ClickStart uses the big screen to help children practice their pre-school and computer skills in a fun and educational way. Recent research shows that 72% of parents state that their child's favourite characters aid their learning** and with the range of software including Bob the Builder, Thomas & Friends, Toy Story, Dora the Explorer and Disney Princesses, ClickStart guarantees to please. Each title in the range builds key computing and pre-school skills including; keyboard familiarity, mousing, phonics skills, counting and more.
• ClickStart is a learning aid that will keep children educated and entertained for years to come
• Available in green or pink, ClickStart console is in the form of a playful dog design which is guaranteed to keep any child interested
• ClickStart comes with a child size mouse with an adjustable mouse pad for left or right handed play
• ClickStart retails at £39.99 and is suitable for ages 3-6 years


For more information on ClickStart and other LeapFrog products visit www.leapfrog.co.uk.
- Ends -
For more information or product images, please contact Grace Power or Samantha Henry on 0207 802 8111 or email grace.p@bravepr.com / samantha.h@bravepr.com
Notes to editors:
*LeapFrog Tag has won the Gold Award from Practical Parenting
** LeapFrog surveyed 6,541 parents on Netmums in June 2008
Complete Tag library
? Disney Pixar Cars
? Disney Princess
? Kung Fu Panda
? Go Diego Go
? SpongeBob Square Pants
? Fosters Home for Imaginary Friends
? Olivia
? Paddington Bear
? Dr Seuss The Cat in the Hat

How Tag works
The Tag system "reads" by identifying dotted media. A small, sophisticated infrared camera works as an imaging system to recognize letters, words, and symbols when written on special dot-patterned paper. Using an optical pattern system and digital processing techniques the Tag reader can determine its precise location within the dot media. This enables a child to jump around within a book, or back and forth between different books in a seamless way.
Complete ClickStart library
? Bob the Builder
? Disney Princess
? Thomas & Friends
? Dora the Explorer
? Backyardigans
? Toy Story
? Finding Nemo
? Animal Art Studio


About LeapFrog
LeapFrog Enterprises, Inc. (NYSE: LF), is a leading designer, developer, and marketer of innovative, technology-based learning products and related proprietary content, dedicated to making learning effective and engaging for all ages, at home, in schools and around the world. The company was founded in 1995 and is based in Emeryville, California. LeapFrog has developed a family of learning platforms which introduce subjects such as phonics, reading, writing, maths, music, geography, vocabulary and more. In addition, the company has created more than 35 stand-alone educational products for children aged 6months +.

For more information, visit us at www.leapfrog.co.uk

LEAPFROG, the LeapFrog logo, TAG and the TAG logo are registered trademarks or trademarks of LeapFrog Enterprises, Inc. Copyright © 2008 LeapFrog Enterprises, Inc. All rights reserved.





This press release was distributed by ResponseSource Press Release Wire on behalf of Brave PR in the following categories: Children & Teenagers, Leisure & Hobbies, Home & Garden, Women's Interest & Beauty, Education & Human Resources, for more information visit https://pressreleasewire.responsesource.com/about.