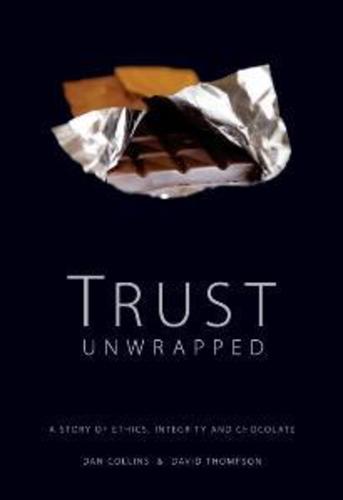 Integrity • Ethics • Chocolate

By Dan Collins & David Thompson
Published on 23rd October by Fresh Publishing at £12.99

"The quickest way to build a business to be proud of is to make sure everymember of the leadership team reads this book"
Ted Smith, CEO, Craegmoor Healthcare

In their new book, Trust Unwrapped, entrepreneur Dan Collins and personal development expert David Thompson introduce a new business concept for the twenty-first century: Trust.

Often over-looked in the management mix, trust is the ultimate renewable resource – increasing every time it is used.

Using the time-tested technique of story-telling to illustrate complicated concepts, half the business management book (the right hand side) is devoted to the story of corporate go-getter Laura Anderson whose attempt to launch a reasonably priced, competitive and ethical chocolate bar leads her on a personal journey to find the value of trust and integrity in both her personal relationships and her business career.

The left-hand side of the book features quotes, case studies, statistics and research to illustrate the lessons that Laura learns on her journey including

• How high trust organisations have higher productivity, profitability and customer satisfaction than their industry peers.
• Trust can reduce stress. When people fail to trust colleagues they have a tendency to attend unnecessary meetings, fail to delegate and don't ask for help.
• Trust has a direct effect on the bottom line.

The innovative left hand/right hand page format means that the 'parable' part of the book can be read in its entirety in a few hours – making it ideal for a business flight - or it can be used as a business tool and dipped into for short and to the point nuggets of useful business management information.

About the authors:

David Thompson has been developing people since 1990. During his career he has worked in organisations including Sainsbury's and Canon, Morgan Stanley, Merrill Lynch, and latterly ABN AMRO, where he held the position of Senior Vice President, Head of People & Organisation Development. David is the author a number of books and has also been the teambuilding expert on Channel 4's Big Brother Little Brother. He is a popular speaker and facilitator, with audiences regularly describing his style as 'engaging and entertaining'.

Dan Collins began his career in a global engineering company and founded Fresh Tracks in 1991. Through a combination of innovative training events and consultancy Fresh Tracks have helped businesses in sectors as diverse as pharmaceuticals, banking and housing to create better workplaces. Fresh Tracks practice what they preach by trusting their own employees to take as much holiday as they wish each year and empowering all team members to contribute with equal voice to the businesses development. Dan regularly facilitates workshops for teams that want to improve their performance and have more fun in the process.

For further information please contact:

Vivienne Pattison on 020 7590 0817 vivienne.pattison@midaspr.co.uk
Zoe Macerlean on 020 7584 7474 zoe.macerlean@midaspr.co.uk

This press release was distributed by ResponseSource Press Release Wire on behalf of Leapfrogg in the following categories: Business & Finance, for more information visit https://pressreleasewire.responsesource.com/about.