FUTEK offers Torque Sensor with USB Output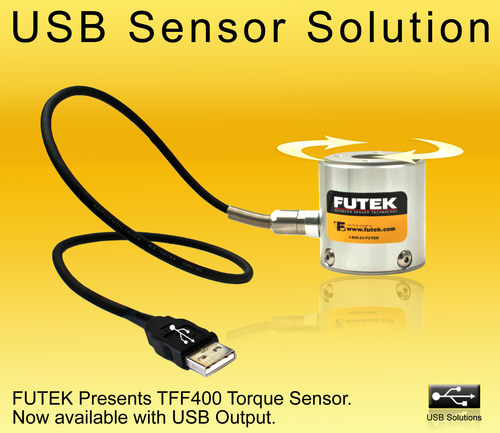 FUTEK Advanced Sensor Technology, Inc.
Irvine, CA — Monday, October 20
Press Release — For Immediate Release
Contact: John Vargas or John Schnell at info@futek.com

FUTEK Advanced Sensor Technology, Inc. is pleased to present its TFF400 Reaction Torque Sensor with a brand new USB Digital Interface with 16 bits resolution. With this improvement, FUTEK has once again shown their innovation by becoming one of the first Sensor manufacturers to offer a USB type solution for Strain Gage Based Torque Sensors. FUTEK's USB Sensor Solution provides an easy "Plug & Play" with basic software making the System Integration even simpler.

FUTEK's TFF400 Reaction Torque Sensors feature a Flange to Flange mounting solution with torque measurements ranging from +/- 5 inch-oz to 500 inch-pounds, (+/-0.04 to 60Nm) and Torsional Stiffness of 325 inch-oz/radians to 199,000 Inch pounds/radians. The TFF400 utilizes Metal Foil Strain Gage technology and features an Overload Protection for the low capacity units to help prevent overload damage that may occur during installation. With the recommended Mounting Plate, a full range of mounting options becomes available. The TFF400 Torque Sensors are made from Aluminum and anodized for optimum durability. Applications include fastener testing, engine testing for automotive and aerospace, automotive break testing, and prosthetic limb testing.

With all of its design features the TFF400 has a Nonlinearity of ±0.2% and an operating temperature of -60° F to 200° F.

Product Highlights:

• Compact sized Torque Sensor Solution
• Available in Aluminum
• USB output in 16 bits resolution
• Thru Hole
• Built In Overload Protection
• Utilizes Metal Foil Strain Gauge Technology
• Weight: 9 oz.
• Several Mounting Options

FUTEK also offers Rotary Shaft to Shaft Type Sensors, Torque Wrench Type Sensors, and Rotary Hex Drive Torque Sensors as additional solutions in the Torque Sensor line. In addition to our Torque Sensors, FUTEK carries over 400 products covering various Pressure Sensors, Load Cells, Force Sensors and related Instruments.

If these standards don't match your precise need, please contact us to see how we can customize this model for you. FUTEK Advanced Sensor Technology Inc. has an in house engineering and manufacturing team. Hence, we can provide full system solution (Load Cells, Torque Sensors, Force Sensors, Pressure Sensors, and Instruments) with standard product or design a completely new model to meet your custom needs. Our team can help you meet your requirements for any test stand, process control application or low cost OEM requirements no matter what industry you're in.


This press release was distributed by ResponseSource Press Release Wire on behalf of FUTEK Advanced Sensor Technology in the following categories: Medical & Pharmaceutical, Manufacturing, Engineering & Energy, for more information visit https://pressreleasewire.responsesource.com/about.