Forgotten Welsh Houses - Buildings at Risk in Wales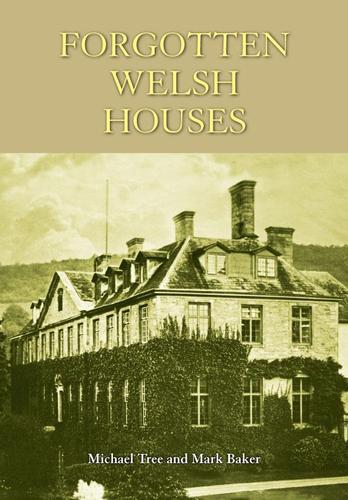 A compendium of 150 heritage properties mostly empty and at risk, with acquisition advice and success stories regarding similar buildings.

To many people Wales is the land of rugby, music, mountains, Eisteddfods and ancient castles. Yet as this book shows it is also peppered with fine architecture that currently appears abandoned, unloved and on the threatened buildings registers. The authors have discovered a fascinating array of before and after photographs which illustrate a phenomenal variety of architectural opportunities that maybe available in due course to those seeking homes of aesthetic merit in spectacular surroundings.

• This lavishly illustrated book chronicles a huge number of derelict Welsh mansions, smaller houses and buildings that are currently at risk of being lost to posterity.

• The book consists of three parts; the illustrated 10,000 word introduction offers some sage advice on the rescue process, secondly over sixty double page spreads detailing individual buildings with before and after photographs, as well as their histories, current problems and potential solutions. Finally, the third section consists of a gazetteer of another eighty properties, all illustrated with brief descriptions of their current status.

• First ever book to tackle the issue of buildings at risk in Wales.

• Foreword by HRH The Prince of Wales

• Uncovers the controversial fact that nearly 20% of all listed buildings in Wales are at risk of being lost

• Sensible advice on most aspects of historic building rescue work.

• Sponsored by the Georgian Group, Victorian Society and SAVE Britain's Heritage.

• Fascinating success against the odds stories

• Of great interest to the general public, historians, estate agents, academics, government, developers and the heritage lobby.

• Profusely illustrated with both modern and archival photographs.

• Significant material import from Royal Commission on Ancient and Historical Monuments in Wales.

• An interesting yet enlightening statement of our time.

The authors:

Michael Tree is a land agent by profession having for many years been Conservation Officer and Asset Manager for the Crown Estate. He rescued Trevor Hall near Llangollen from dereliction, and is currently working on Hendre House, near Llanrwst. He is a Trustee of the Georgian Group and a member of the Welsh Assembly's Historic Buildings Advisory Council.

Mark Baker is currently a PhD student at Cardiff University, who is establishing a strong reputation as an author of distinction. He first started campaigning for buildings at risk as a child and has already written many books on Gwrych Castle, Hafodunos, Plas Teg and Llwynywermod.

For more information, interviews and to request images and review copies, please call or email Hendre House Publishing

Tel: 01492 642 604
Mob: 07950 894 727
Email: hendrehousepublishing@googlemail.com

Out in shops now

Official Launch at the Georgian Group's London Base, 6 Fitzroy Square, on Wednesday, December 3rd 2008 at 1.00pm.
Second launch at Cardiff's Senedd Building of the Welsh Assembly in the New Year.

This press release was distributed by ResponseSource Press Release Wire on behalf of Hendre House Publishing in the following categories: Leisure & Hobbies, Home & Garden, Environment & Nature, Construction & Property, for more information visit https://pressreleasewire.responsesource.com/about.