Hey Big Spender… Spend A Little Time Baking a Pressie For Me!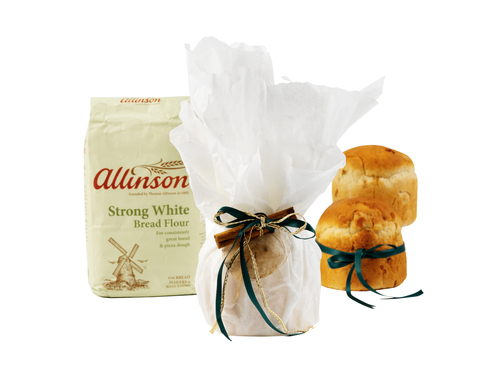 Christmas is the most extravagant time of the year, when we Brits spend on average a whopping £781.86 on indulgent pressies, food and the rest! It's so easy to get carried away and somehow we feel obliged to buy for grans and grandads, aunties and uncles and our kids insist on sending cards to their entire school year! Why not take a step back and assess what's really important.

It shouldn't be about wealth and trying to outdo each other. We should be showing our friends and families we care with something thoughtful – something homemade, that doesn't cost the earth. Why not have a go at baking something special for friends and family, like your own bread or something yummy and sweet with Allinson Flour? When was the last time you enjoyed a beautiful, freshly baked loaf or homemade panetone? The aroma's so delicious, it can literally sell houses!

Baking with Allinson Flour is simpler than you think and who doesn't like to eat gorgeous homemade goodies. If you're baking bread, your efforts can be devoured with butter, a selection of fine cheeses and leftover turkey! With Allinson Flour you can also bake scrumptious cakes and seasonal biscuits, like the Vanilla and Chocolate Spice Angel Biscuits, perfect for hanging on the tree – if they don't get eaten first!

Homemade means it's wholesome and full of honest ingredients with no hidden surprises and that's why home baking is on the rise again. What's more, it's a great activity to get the kids involved in too. The gift of bread, cakes and biscuits won't get thrown into the back of a cupboard or be re-hashed and given to someone else next year.

We're not simply suggesting that you give your friends and families a plain loaf or cake. Packaging it up beautifully will turn it into a thoughtful present and it doesn't have to mean spending a fortune or being particularly arty. With these top tips from Jane Means*, The Gift Wrap Guru, you can create a real masterpiece using bits and bobs you may have lying around. It will cost you next to nothing and look a million dollars. It also means that you're recycling, so you're doing your bit for the planet too!

Expert tips from the Gift Wrap Guru herself:

1) Brown Paper is a real classic and packaging can be re used. If it is heavily creased scrunch it up in to a tight ball then iron out with your hands, this will give an alternative effect which detracts the eye from old creases.

2) Tie in fresh herbs from the garden. these will add a lovely aroma to you gifts Rosemary and Bay (and Lavender) are an ideal choice

3) Collect sticks and feathers on country walks, these make stunning and inexpensive embellishments. Great for men too!

4) Use old tassels from haberdashery fringing. This gives a classic and expensive finish

5) Re use cellophane from bunches of flowers. Once it's tied around the new gift you wont notice the creases

For seasonal recipes, hints and tips from baking experts, why not visit www.bakingmad.com.
Get inspired, get festive, get baking!


ENDS

Recipe for Panettone

Ingredients

450g (1lb or 3 cups) Allinson Strong White Bread Flour
1 tsp unrefined golden caster sugar
1 tsp Salt
grated zest of 1 Lemon
50g (2oz or ¼ cup) Pine Nuts
50g (2oz or ¼ cup) Raisins
50g (2oz or ¼ cup) Mixed Peel
1 x 7g sachet Allinson Easy Bake Yeast
1 Egg, beaten
25g (1oz or 1/8 cup) Butter (melted)
200ml (7 fl oz or 1 cup) warm Water
To Glaze:
25g Butter, melted

Method
1. Place all of the ingredients into a mixer with a dough hook attached.
2. Mix to a soft dough and knead for 5 minutes.
3. If mixing by hand, put the dry ingredients into a bowl, sprinkle on the yeast and mix to a soft dough with the butter, egg and water. Knead on a floured board for 10 minutes.
4. Place the dough into a round, greased tin (18cm/7" diameter x 9cm/3½" deep).
5. Leave to prove until double in size.
6. Preaheat the oven to 190°C/370°F/Gas Mark 5 .
7. Bake at for 30 minutes or until golden brown.
8. Brush the Panettone with melted butter while still warm.

For further information:

Jayne Waterfall/Sian Bevan
Richmond Towers Communications
26 Fitzroy Square
London
W1T 6BT
020 7388 7421
jayne@rt-com.com / sian@rt-com.com

* Allinson Flour has teamed up with Jane Means, who is a regular with the BBC on radio and television and has been featured in many national newspapers for her gift wrapping expertise. She has also judged the 'Gift Wrapper of the Year' final live on This Morning and The Richard and Judy show.

And for more gift wrapping tips, check out Jane's website at www.janemeans.co.uk



This press release was distributed by ResponseSource Press Release Wire on behalf of Richmond Towers Communications (Chrome) in the following categories: Health, Leisure & Hobbies, Home & Garden, Women's Interest & Beauty, Food & Drink, for more information visit https://pressreleasewire.responsesource.com/about.