US PRESIDENT WILL BE DECIDED BEFORE THE "VOTES HAVE EVEN BEEN CAST" - RETAIL SITE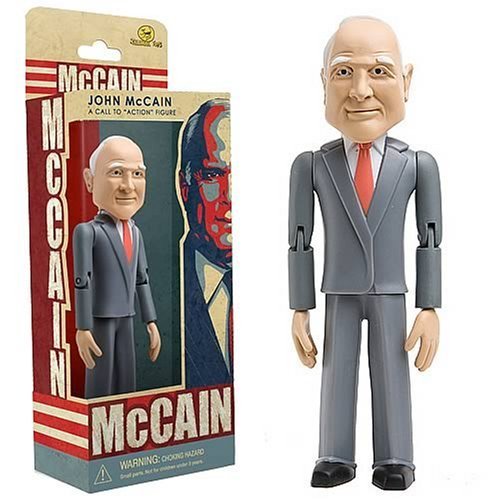 The American elections could be decided before the votes are even counted, as the UK's leading entertainment retail site pits Presidential hopefuls John McCain and Barack Obama against each other in a bidding battle of epic proportions, never seen before on an internet auction site.

On the weekend before the American public cast their votes for the next President of the United States, Senators McCain and Obama will do battle, online auction style.

In a Presidential vote for the digital generation, www.Swoopo.co.uk and will auction off 6 inch action figures of the two candidates, with bids starting at just 7p. Swoopo predict that the winner of the action figure auction face-off will go on to be officially recognised as the new Leader of the Free World.

The American "el-action" figure's auctions will be initiated at exactly the same time, and can be followed from 3am (GMT) on Saturday morning, with another auction battle on Sunday morning at 3am (GMT), so eager members of the public from both sides of the pond can keep track of the race to become the winner of the Presidential auction contest. Please see the Obama figure auction here, and the McCain figure auction here.

Nigel Whiteoak, Country Manager of Swoopo.co.uk had the following to say,

"The elections are huge news the world over and I will stick my neck out and predict that the action figure that goes for the highest amount will be the candidate sworn into office, come Wednesday morning.

"We understand that this is a bit of fun, but it will also be extremely interesting to see whether or not the British public, who have a vested interest in the elections, are thinking along the same lines as American voters. We would like to make clear that we are in no way attempting to sway the vote or imply that Britain should have a say in the election process, as we know from Russell Brand's MTV Music awards performance, the American's don't appreciate that!"

Swoopo auctions tens of thousands of products per month and has over a million registered users worldwide.

ENDS

For more information or to set up interviews with Nigel Whiteoak, UK manager of Swoopo, please call Rich Leigh, 10 Yetis Public Relations Agency, on 01452 348211 or email rich@10yetis.co.uk

EDITORS NOTES

Swoopo as Telebid has been featured in the Daily Express, The Guardian, The Metro and more.

Swoopo is an international platform, running across five countries: the US, the UK, Germany, Austria and Spain.

This press release was distributed by ResponseSource Press Release Wire on behalf of 10 Yetis PR and Marketing in the following categories: Men's Interest, Entertainment & Arts, Leisure & Hobbies, Consumer Technology, Media & Marketing, Retail & Fashion, for more information visit https://pressreleasewire.responsesource.com/about.