Daydream Nation: True cost of Brits 'dappy moments' revealed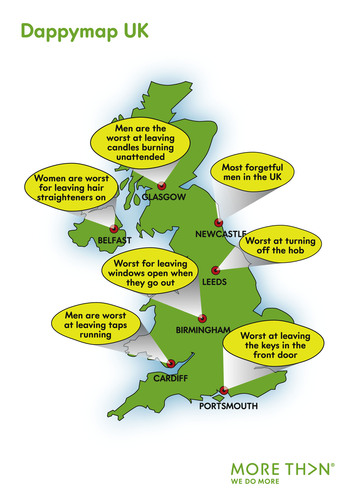 News release
November 7, 2008
DAYDREAM NATION

The cost of Brits "dappy moments" revealed

The average Brit could lose as much as £34,823 in belongings and property as a result of "dappy moments" 1 - those times we forget basic things from locking the door to turning off the gas.

The new research from home insurer, MORE TH>N, reveals that almost every person in the UK (95%) forgets - or THINKS they've forgotten – simple yet vitally important actions every single day.

And as well as pinpointing the "dappy moments" that we're all guilty of, the study also highlights the seriousness of Britain's absent-mindedness, and the potential financial cost to daydreamers. But the cost of Brits' dappiness isn't confined to the wallet, in fact retracing our steps to put our errors right wastes on average five days a year – that's more than a year over the course of the average person's life.

The most common "dappy moment", of which 66 percent of Brits confess, is leaving the iron on after use, while 52 percent say they've left the gas on after finishing cooking their dinner. Seriously running the risk of bathroom ceilings caving in through flooded floors, over one third of people say they've run a bath and then completely forgotten about it during the last year.

Overall, thoughts of work are the number one reason why we forget things (36 percent of respondents), but verifying the old adage that it's men that have sex on the brain, the results show how almost 20 percent of fellas are thinking about nookie when they have a dappy moment compared to just five percent of women, for whom thoughts of food is a particular distraction (16 percent).

MORE TH>N took the results and created the "DappyMap" to show the most forgetful people in the UK – and the real danger points.

· According to the results, don't trust a 30-year-old male shop worker from Newcastle to lock up – they are officially the dappiest people in the UK

· In the regional league of forgetfulness, it's Geordies who claim top spot – they have four dappy moments per day and any one could cost them as much as £31,9022. Close on their heels are those from Cardiff and Portsmouth and the daydreamers of Leeds and Birmingham3. On the flip side, savvy Londoners are most on the ball – most have less than three dappy moments per day

· Women from Northern Ireland are the worst offenders when it comes to leaving hair straighteners on when they've finished using them – one fifth have done it more than once in the last year

· Blowing out candles in the home is the biggest problem north of the border – nearly one quarter of Scots have gone to bed in the past year with flames still burning

· Forgetting they've run a bath is more of an issue for the Welsh than it is for any other UK residents. 48% have flooded their bathrooms in the last 12 months.

Commenting on the findings of the research, MORE TH>N spokesman, Pete Markey comments, "The figures show we're a pretty forgetful bunch on the whole – and that any one of these little mistakes we make could prove extremely costly. With the weather getting colder and the credit crunch really gathering speed, Brits will be spending more and more time indoors over the coming months so our advice to people this winter is to stop thinking about work, food and sex and concentrate on what they're doing!"

To protect against life's "dappy moments", MORE TH>N is currently offering free home contents cover up to £75,000 to consumers who take out buildings insurance with the company. For more information or a quote, call 0800 107 1905 or visit www.morethan.com

-Ends-
For further information:

Nick Dear
MORE TH>N Press Office
0207 337 5602
nick.dear@uk.rsagroup.com

Lana Clements
MORE TH>N Press Office
0207 337 5797
lana.clements@uk.rsagroup.com

Notes to editors:

Research from the following sources:

1. Calculated using MORE TH>N's 'lifesworth calculator' – www.yourlifesworth.com <http://www.yourlifesworth.com> . Figure of £34,823 based on the average 30 year old from the UK

2. Calculated using MORE TH>N's 'lifesworth calculator' – www.yourlifesworth.com <http://www.yourlifesworth.com> . Figure of £31,902 based on a 30 year old from Newcastle

3. People from Portsmouth and Wales have 3.5 dappy moments per day. People in Leeds have 3.3 and Birmingham 3.2

All other statistics taken from consumer research carried out by Fly Research. 1,000 UK adults were questioned on behalf of MORE TH>N in September 2008

About MORE TH>N:

MORE TH>N is the direct financial services arm of RSA. It offers motor, home, pet, life and travel insurance by phone and via the internet. It also offers van, shop, office, business car, hotels, property, club and contractor insurance direct to small businesses.

In December 2006 MORE TH>N, together with its parent company Royal & SunAlliance, became the first insurer in the UK to be carbon neutral. The company has cut its carbon footprint by over half since 2000 and has offset the remainder by purchasing voluntary carbon reductions.
This press release was distributed by ResponseSource Press Release Wire on behalf of Cow PR LLP in the following categories: Home & Garden, Personal Finance, for more information visit https://pressreleasewire.responsesource.com/about.