Payroll Provider switches to carbon neutral company cars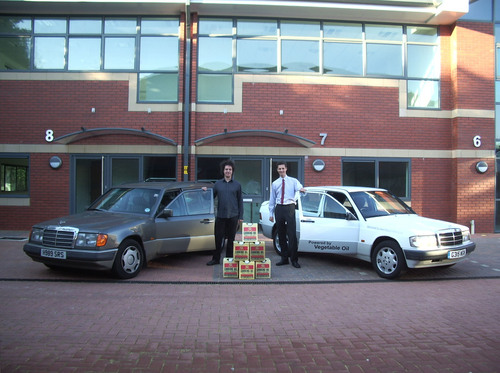 The directors of The Payroll Site Ltd have made a commitment to the environment by running their cars on filtered waste cooking oil. Unlike many alternative fuels, waste vegetable oil is made from 100% waste and no greenhouse gases are produced in its processing or transportation.

Many initiatives that claim to be carbon neutral achieve this using carbon offsetting, where greenhouse gases are produced, but carbon credits are purchased to cancel out the effect. Waste vegetable oil can be a truly carbon neutral fuel (without offsetting) because the only greenhouse gasses released are those which would have been returned to the atmosphere during the normal disposal of the waste.

The Managing Director, Steven Tucker has been driving his Mercedes 190D since May 2007. He said "We want to highlight the fact that some cars can be run, with minor modification, on a freely available, cheap, sustainable and environmentally friendly form of fuel". He added "It is better for the global environment than biodiesel, hybrid or second generation technologies. In a way, vegetable oil can be considered a generation zero biofuel - it was first publicly demonstrated in 1900, many years before cars were in common use".

The company tested the concept in 2007 using clean vegetable oil but has now registered with the environment agency and collects waste cooking oil from local restaurants and take-aways in the Barnet area. The waste oil is then filtered and made available to the directors and staff.

The Technical Director, Kenny Tucker drives his Mercedes 300TD using the fuel. Kenny said "We only had to make slight modifications to the car to enable it to run on vegetable oil, which almost eliminates the car's impact on the environment.". This environmentally friendly fuel has another distinct advantage: It is free.

For more information about The Payroll Site visit www.thepayrollsite.co.uk
To find out more information about carbon neutral cars visit the Kenny & Steven's website at www.carbon-neutral-car.com

-ENDS-

---NOTES FOR EDITORS---

About The Payroll Site Ltd.

The Payroll Site Ltd is a provider of online payroll services for small UK employers, accountants and bookkeepers.

The business was started in 2004 by two brothers, Steven and Kenny Tucker, who are the directors of the company. The service was first launched in April 2004 and the company formed in June 2004.

The Payroll Site Ltd is based in Barnet, Herts. and serves customers spread across the whole of the United Kingdom.

More information on The Payroll Site Ltd is available at www.thepayrollsite.co.uk

---CONTACT---

For further information, please contact:

Steven Tucker
Email: steven@thepayrollsite.co.uk
Tel: 0845 652 6602
www.thepayrollsite.co.uk

-- IMAGE --

The attached photograph shows Kenny Tucker (left) next to his Mercedes 300TD and Steven Tucker (right) next to his white Mercedes 190D. Other photos are available.
This press release was distributed by ResponseSource Press Release Wire on behalf of The Payroll Site Limited in the following categories: Environment & Nature, Motoring, Business & Finance, Transport & Logistics, for more information visit https://pressreleasewire.responsesource.com/about.