HomeServe Keeps Its Promise To Customers With Mobile Technology From 1st Touch.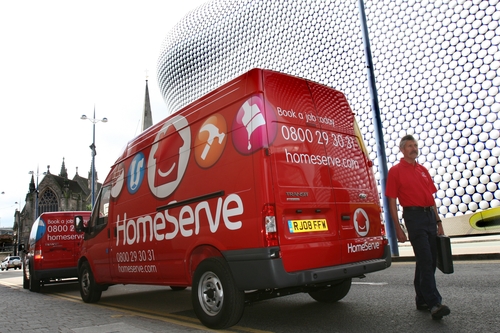 Alton UK, 13.11.2008: HomeServe announces the roll-out of 1st Touch mobile technology across its entire Plumbing and Drainage operations. The contract follows a successful pilot project with a number of HomeServe's plumbers and drainage experts who have been using 1st Touch's handheld technology.

The new mobile solution comprises new dynamic appointment scheduling and 1st Touch's highly adaptable technology, enabling the development and management of tailor-made forms on handheld devices such as PDAs.

Kevin Carter, Programme Manager at HomeServe, commented: "With some policies sold on a quick response promise, we needed a highly responsive back-office system to support our staff and the company's rapid growth. The flexibility of the 1st Touch technology means that we can easily adapt the solution to suit everybody's needs."

In the back office, HomeServe has replaced paper based appointment scheduling with a dynamic scheduler from Servicepower. This means that engineers are notified of jobs one at a time, and if one job overruns, the dynamic scheduler will re-assign later jobs to other engineers, to help ensure that all response times are met.

The engineers use their PDAs and the 1st Touch forms to keep in touch with the office throughout the day. They send back details of jobs done and time completed, sign-off from customers, bookings for future visits, and make phone calls. At the same time they receive details of their next job.

HomeServe's General Manager, Ian Shipley, adds: "We have already enjoyed increased service and productivity, and look forward to realising further benefits as the solution is rolled out across the company."

HomeServe has plans to continue extending the application of its mobile solution, both across its workforce and across its activities. Further developments will include managing reporting of parts used and replenishment more efficiently, and integrating the solution into the company's CRM system. HomeServe will continue to work with 1st Touch to extend and expand the solution.

John Stabler, Managing Director at 1st Touch, says: "We are delighted that HomeServe is reaping such early benefits from the 1st Touch Mobile solution and looks forward to supporting the company in its plans for the further roll-out in the near future. We will work closely with HomeServe to ensure that the solution delivers ongoing productivity improvements, delivering a fast return on investment."

About 1st Touch (www.1sttouch.com)

1st Touch, based in Southampton, Hants, has enabled dozens of field workforce-based organisations to painlessly embrace new mobile technologies and so achieve significant savings, greater productivity and more cost-effective use of resources.

Enterprise mobile technology enables organisations to completely transform existing paper-based working models into dynamic, flexible and efficient mobile working solutions.

1st Touch Mobile delivers three clear and unique benefits:

• Reduced costs to organisations because airtime is minimised and the system is always available – with or without airtime

• Flexibility through simple customer control over forms creation and amendment

• Integration to multiple back office and other enterprise software applications, so that data is entered only once.

The property services market is a key focus for 1st Touch, where best of breed mobile solutions can deliver fast tangible benefits to the business

About Homeserve

HomeServe, www.homeserve.com or 0800 293031 is available 24 hours a day, 365 days a year.

Every 40 seconds a HomeServe engineer comes to the rescue of a British household.

With over 4,600 directly employed and sub-contracted engineers, Homeserve is a national emergency home repair service backed by a 24 hour claims handling and repair network.

HomeServe's new tradesmen service provides households with access to more than 22 trades who are qualified to carry out more than 500 different jobs around the home.

HomeServe tradesmen are guaranteed to turn up on time, to hold the necessary qualifications to do the job at hand, to provide a price before they start the job and will even guarantee their work for a 12 month period afterwards.

HomeServe also offers insurance cover for plumbing, drains, electrical wiring and gas central heating. It has over 6.3 million policy members in the UK and a further 1.8 million in the USA, France and Spain.

For further information, please contact:

Cherry Rance
1stTouch
07800 910420
0871 716 3060

cherry.rance@1stTouch.com

or

Leigh Richards
The Right Image
07758 372527
0844 561 7586

leigh.richards@therightimage.eu

This press release was distributed by ResponseSource Press Release Wire on behalf of 1st Touch in the following categories: Environment & Nature, Business & Finance, Public Sector, Third Sector & Legal, Computing & Telecoms, Transport & Logistics, Construction & Property, for more information visit https://pressreleasewire.responsesource.com/about.