The Nakheel Harbour & Tower offers the ultimate symbol of Dubai's evolution as a commercial and cultural capital, according to project designers Woods Bagot.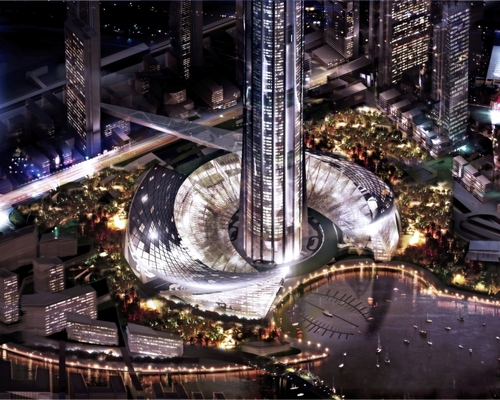 The global architecture practice believes that the design for the 270 hectare masterplan and more than 1 kilometre-high tower will provide the centrepiece for the future of Dubai's development, altering its skyline forever. As a focus for the city's intermodal transport system, the project will create the most progressive mixed-use development in the world offering both functionality and lifestyle, while evolving the city's infrastructure.

The design has been founded on the influence of Islamic tradition to produce an aspirational display for the region. Described as "Dubai's Capital" by its developers, the project is a dramatic demonstration of tower technology with a design that soars over one kilometre above ground level.

Mark Mitcheson-Low, director in charge of the project and Woods Bagot Middle East Managing Director explains: "The Nakheel Harbour & Tower is a feat of design excellence on all levels and across all disciplines – it is truly a mark of the epoch. The project demonstrates Nakheel's drive to provide a reflection of the future Arabia – a modern, global city of significance rightly assuming its place in the world.

"The design is an example of the human ability to overcome the forces of nature and harness them to create a monument dedicated to past, present and future generations of the Gulf. Nakheel and Woods Bagot have pushed the design envelope with a project that will be central to the development of one of the world's most exciting cities."

The masterplan and tower display all the potent cultural imagery of Dubai in thoroughly modern form. The design represents a powerful symbol of change in the region, and has been developed for the future generations of the UAE who will, ultimately, live, work and play within its confines. Taking its inspiration from the geometric patterns instilled within Middle Eastern architecture, these cultural aspects have been absorbed into the design and synchronised with engineering principles.

From a residential, retail and hospitality element perspective Woods Bagot has endeavoured to explore the Middle East's rich architectural language and express Dubai's cultural vernacular throughout the spaces of the public realm.

The tower itself is an advance in skyscraper design not only in terms of height and stature but in function, as it knits together a blueprint for the mixed-use community of the future. The cylindrical tower is 95m in diameter, but in actuality is four towers encircling an internal void, linked at intervals by 'sky bridges'. This design mitigates the effects of the wind load, allowing the air to pass freely through the building.

The individual quadrants of the building allow for structural rigidity against the strong winds usually experienced at the higher building levels. Often limiting engineering possibilities beyond 500 metres, the wind will pass through vertical gills, which have been proven in wind tunnel testing to reduce the windload by three-fold. An added benefit of this design is to allow large floor plates at high levels, as the building does not have to taper to counter the wind effect.

The first tower of this kind to reach these heights, the project has been developed through the design intelligence and research of the Woods Bagot design team. Mark Mitcheson-Low explains: "The future-proofing thought process of the design team makes Nakheel Harbour & Tower a model for a sustainable, vertical community. It has the flexibility to adjust and react to the future demands and requirements of its tenants, owners and operators in the way in which they work, live and play. "

At approximately every 25 levels, the sky bridges will bind the building together and delineate the different uses of the building. This provides a structural integrity which, unlike any building before it, affords the tower greatly increased stability and the opportunity to build higher. They also house mechanical, electrical and plumbing services and would provide safe crossing points if one of the towers were disabled due to an emergency.

Each sky bridge will have its own amenities and facilities, acting as gateways to the transport structure. Functioning as communities, the sky bridges will offer people a space where they can still interact and engage with others regardless of the external environment.

The mixed-use building will contain commercial offices, three sections of residential quarters and hotel accommodation with a two-storey observation deck at the top of the tower.

Ends

About Woods Bagot

International design practice Woods Bagot provides its clients with innovative design solutions that are both functional and inspiring. This is demonstrated by the successful delivery of a range of high profile projects within the commercial workplace, hospitality, mixed-use, education and science sectors.

Established in 2001, Woods Bagot's London studio now has a dynamic team of over 1000. Since its inception, its young, integrated team has developed a diverse portfolio of significant projects including:

· Qatar Science and Technology Park in Doha, part of the nation-building Education City project

· Adelaide City Central, and other major office projects in Australia, setting new benchmarks for sustainability in commercial development

· The Melbourne Exhibition and Convention Centre, the worlds first convention centre to achieve 6 Star Green Star certification from the Green Building Council of Australia

· Europe's tallest residential tower under construction in Manchester (whilst construction has commenced, this project may in fact go on hold following completion of ground works)

· Major mixed use projects in the Middle East Biotechnology and nanotechnology research laboratories at universities in Australia

· Hong Kong University of Science and Technology's new Institute of Advanced Study, won through an international design competition including Zaha Hadid and KPF

· Minthis Hills Resort, Cyprus

For additional information on Woods Bagot please contact John Williams 00 44 7525225949. E-mail: john.williams@yourmandate.com

About Nakheel Harbour & Tower

Nakheel Harbour & Tower will be Dubai's capital– there is nothing like it in Dubai. At the core of the Nakheel Harbour & Tower development is a tower more than a kilometre high and the world's only inner city harbour. Nakheel has focused on creating a true community – a location for working, relaxing and entertaining and for art and culture.

In line with its role in shaping the city's future and creating some of the world's most iconic developments, Nakheel has taken its inspiration from Islamic design and geometry.

Nakheel is inspired by the Islamic principles: inclusion, innovation, diversity, excellence, growth and progress to create not just the building and design of Nakheel Harbour & Tower, but also its community.

It is a precinct that minimises car use and maximises train, bus and water transportation. A complete transportation hub blends into the harbour area with metro transportation combined with a unique water transport interchange, with Abra & Dhow station links.

The development includes canal walks, parks and gardens, and landscaping which will also contribute to wellbeing and increased outdoor activity for those communities. It will have the largest public promenade in Dubai.

Nakheel Harbour and Tower is a sustainable, compact precinct offering an alternative lifestyle built on walkability, choice of transport, variety of public and open spaces including sky gardens, and "living" bridges.

About Nakheel

Nakheel is one of the world's largest privately held real estate developers, and a key player in realising the vision of Dubai for the 21st century: creating a world class destination for living, business and tourism.

Nakheel is developing an iconic portfolio of innovative landmark projects in Dubai, and now in key markets around the globe, across a range of sectors - residential, commercial, hotels, retail, and leisure. Nakheel's projects are conservatively estimated to be worth US$80 billion. Upon completion Nakheel's waterfront projects will have added more than 1,000km of shoreline to Dubai's coastline.

Nakheel's Dubai portfolio currently includes Nakheel Harbour & Tower, Palm Jumeirah, Palm Jebel Ali, Palm Deira, The World, Waterfront, The Universe, Jumeirah Islands, Jumeirah Village, Jumeirah Park, Jumeirah Heights, The Gardens, Discovery Gardens, Ibn Battuta Mall, Al Furjan, International City, and Dragon Mart.

Nakheel is a key entity within Dubai World. Dubai World is one of the world's largest holding companies and supervises a portfolio of businesses and projects for the Dubai government across five continents and more than 100 countries.

Further information can be found at www.nakheelmediacentre.com
This press release was distributed by ResponseSource Press Release Wire on behalf of MHP Communications (Mandate, Hogarth & Penrose) in the following categories: Home & Garden, Construction & Property, for more information visit https://pressreleasewire.responsesource.com/about.