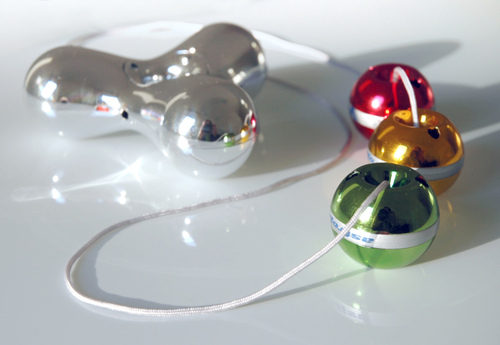 Priceless balls to be won on YouTube video competition

A unique and highly valuable prize is being offered to UK fans of 'skills based games'. Alex Hochstrasser the designer of Astrojax has created a unique and priceless metallic Astrojax which is being offered as the top prize in a competition launched today in the UK.

Astrojax has 1000's of fans, many of them have posted videos of their Astrojax tricks on the youtube website. Now Astrojax fans can post their videos at a new site www.myastrojax.com . All videos posted will be entered into the competition to win an exclusive and priceless Astrojax along with one of 10 Astrojax goody bags.

Astrojax is a skills based toy which combines the creativity of juggling balls and the precision of a yo yo to create a unique and fascinating toy. The three balls on a piece of fun enable the 'player' to create endless tricks and is both fun to watch and play.

Phil Jones of Wind Designs the UK distributors of Astrojax said " It's fantastic that we are able to offer such a unique prize in the UK when normally such prizes are offered to fans state side. Astrojax has proved a big hit with people of both sexes and of all ages. Whether you are trying to master the basic tricks or are an expert creating your own tricks the fun is never ending. With the basic Astrojax retailing for less than £7 it is a fun toy that all the family can try out."

Why not challenge your family to the Astrojax this Christmas and have fun attempting to tame the Astrojax and you never know posting a video of your Astrojax trick could land you with one of the most converted prizes around.

For more information visit http://www.myastrojax.com

ENDS:

Notes to editor:

Wind Designs - UK distributor of Astrojax

Wind Designs Ltd is a UK distributor of leisure products specialising in children's kites, sport kites, power kites, extreme sports and the inspirational active product market. You'll find a huge range of products to suit all ages and skills on our website along with up to date information on all of the products. Stocking a number of top brands we support and distribute to a wide network of dealers across England, Ireland, Scotland and Wales and we strive to provide the highest level of service. For further information about Astrojax stockists or the product please contact Wind Designs.

CONTACT:

For further media information please contact:

Jane Thompson @ Cerco Communications
Tel: 01727 847407 Email: jane@cercocommunications.com § Mob: 07795557094

Phil Jones @ Wind Designs
Tel: 0870 870 6065 Email: phil@wind-designs.com

27 Regal Drive, Soham, Ely, Cambridgeshire, CB7 5BE






This press release was distributed by ResponseSource Press Release Wire on behalf of Cerco Communications in the following categories: Children & Teenagers, Leisure & Hobbies, for more information visit https://pressreleasewire.responsesource.com/about.