Lily Allen immortalised in online game to promote forthcoming album "It's Not Me, It's You"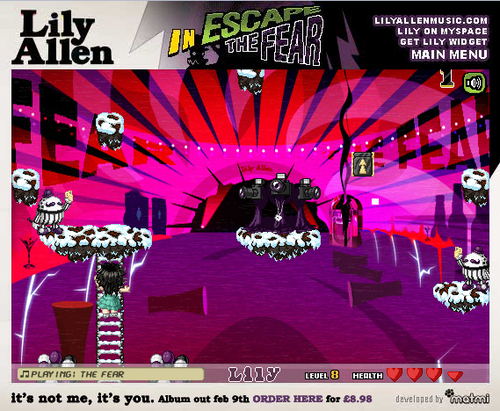 Parlophone has released an online game to promote the launch of Lily Allen's new album, "It's Not Me, It's You" due out on 9th February 2009 on the Parlophone label.

The concept of the online game, "Escape the Fear", created by branded entertainment specialist Matmi, is based on content from the album and the initial single, "The Fear". Lily features as the main character in an archetypal musician's career escaping rising fear to achieve their dreams. Starting on a red carpet, players must negotiate Lily's character through ten tricky, classic platform levels avoiding obstacles such as paparazzi cameras, rabid handbag dogs, evil bankers throwing credit cards, alcohol, demonic puzzles and various other obstacles which make play more difficult.

Dan Duncombe, Digital Director at Parlophone, says the game is part of an integrated online launch for Lily Allen's new album: "We wanted to find a way to reach a new audience for Lily on her second album. We have numerous, successful touch points with her existing fanbase and we needed a vehicle to expand on these and reach those unaware of Lily and/or her second album

"There is a huge, relevant demographic out there who don't regularly explore music so we are using the game as a tactic to introduce the new single," continued Dan. "The instant gratification of this type of game makes it inherently viral and with the new single as its soundtrack we are potentially reaching a new audience who are not listening to the radio or reading the music press. Parlophone's digital marketing efforts have always been ground breaking and this kind of campaign takes our approach to a new level."

Jeff Coghlan, MD at Matmi, has high hopes for the game: "This game is a retro platform game featuring pixelated graphics that we really love; in fact, we think it's our most addictive game ever. This is the first time we've combined our seeding database - which is probably the best in the world - with an artist who is an online phenomenon herself. We're hoping for some stunning results in player numbers, pass-on speed, geographical reach and play time. Watch this space!"

Lily's second album is released on February 9th 2009 following the release of the single 'The Fear' on Monday 26th January 2009. Check out more about the album on Lily's website.

About the game

Classic vertical scrolling screen action sees Lily Allen's character jumping manically from platform to platform to outrun the rising fear which, if players are not fast enough, will swallow them up. The ten tricky levels include enemies and obstacles such as rabid handbag dogs, spikes of fear, credit card tossing bankers, jack-in-a-box springs and a really nasty end boss.

The character can also be affected by alcohol which impairs the game's controls and other diversions. Levels increase in difficulty and lead to some demonically difficult puzzles to solve for Lily's character to finally reach freedom from the fear!

- ends –

For more information, please contact:

Jeff Coghlan, big cheese, Matmi New Media Designs, 07921 620499 / jeff@matmi.com.
Penny Lines, Matmi's marketing maid, 07932 158845 / penny@matmi.com.
Jon Bills, Infinite PR for Parlophone & Lily Allen, 0207 290 9590
Dan Duncombe, Digital Director, Parlophone, dan.duncombe@emimusic.com

About EMI Music

EMI Music is one of the world's leading music companies, representing artists spanning all musical tastes and genres. Its record labels include Angel, Astralwerks, Blue Note, Capitol, Capitol Nashville, EMI Classics, EMI CMG, EMI Records, EMI Televisa Music, Manhattan, Mute, Parlophone and Virgin.

About Parlophone

EMI Music UK label Parlophone boasts a rich heritage of world renowned artists, from The Beatles, Queen and Paul McCartney, to Coldplay, Gorillaz and Kylie Minogue. For more information visit the Parlophone website.

About Matmi

Established in 2001, Matmi is a branded entertainment specialist whose work is fresh and challenges everyday standards. Our latest projects include a DADI Award winning Christmas viral chart topper, a Golden Awards of Montreux winner and a BIMA nominated viral for Comic Relief responsible that's been played over 21 million times worldwide.

Matmi has been breaking new ground in branded entertainment since 2001, well before online tracking facilities were available. Our highly advanced seeding database enables clients to reach millions of potential buyers worldwide. Take a tour of our website or call us for a chat. Enjoy. Thank you!

This press release was distributed by ResponseSource Press Release Wire on behalf of Matmi in the following categories: Men's Interest, Entertainment & Arts, Leisure & Hobbies, Women's Interest & Beauty, Media & Marketing, Computing & Telecoms, for more information visit https://pressreleasewire.responsesource.com/about.