Women have a merry 'Thriftmas' whilst men get festively frivolous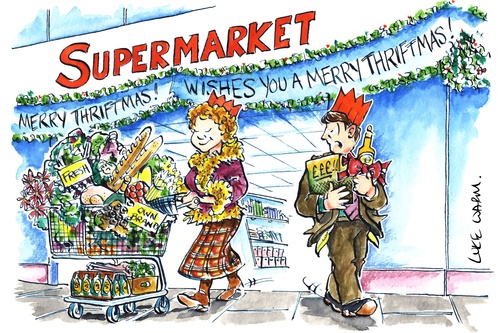 Women will be taking control of the family purse strings for a Merry Thiftmas whilst men are more likely to carry on with the traditional increase in seasonal spending, reveals new research from Waitrose.

Over 70% of women will be watching their budgets more closely this year compared with just 50% of men. The remaining 50% admitted they fully intend to eat, drink and be as merry as usual.

Despite the stereotype of UK women being a nation of spendaholics, the research reveals further surprising differences between the sexes in attitudes towards festive frugality:

• Almost half of the women in the UK (47%) are planning a credit crunch Christmas by monitoring the amount of food they buy and throw away compared to just over a quarter of men (27%).
• A quarter of British women will be limiting the amount of alcohol they purchase over the festive season, compared only 19% of men. (Even Santa is going to feel the pinch this year, as 5% of the UK intends to leave an economy brand of whisky out on Christmas Eve rather than single malt!)
• Nearly half (47%) of women will be spending less on gifts compared to 33% of men.
• One in six (16%) women won't be using as many Christmas decorations compared to only one in eight men(12%).

The statistics came to light after Waitrose researched festive shopping habits in order to create the best customer experience during the busy Christmas period.

Psychologist Judi James comments: "The business acumen of the homemaker is often overlooked but these stats show that the women of the nation are at the front line of this credit crunch and - instead of being penny-pinching - are taking it all in their stride.

"Although men might comfortably employ their 'hunter/gatherer' team-building and leadership skills when times are good, they do appear to have a far more fatalistic and less practical view of the current financial crisis.

"The credit crunch, however, seems to be bringing out the Alpha Female 'warrior' side of women. Instead of compromising on quality they are clearly using their fiercely competitive and strategic skills to ensure that smart shopping and less wastage means Christmas is kept as merry as ever.'

Richard Hodgson, Waitrose Commercial Director comments, "We are constantly trying to make the shopping experience easier and more rewarding for our customers and in the current climate it's essential customers feel they are getting the very best for their money. Whilst looking into product selection and store layouts it became very apparent that this year there is a clear divide between the attitudes of men and women when it comes to stocking the Christmas larder."

"We're seeing a trend towards women choosing more affordable options like cava or gravy granules, whilst men are going for the more extravagant choices such as champagne and ready-prepared gravy."

A comparison of mens and womens festive shopping baskets showed a price difference of around £70*, based on the same type and number of items included.

-ends-

*Price difference between baskets was £71.83. Luxury basket was £124.57 and the standard basket was £52.74, based on 19 festive items at Edgware Road Waitrose, 10 December 2008. www.waitrose.com

For further information and photography please contact:

3 Monkeys Communications:
Helen Prowse 020 7009 3124 helen@3-monkeys.co.uk
Becky Lockett 020 7009 3111 becky@3-monkeys.co.uk

Waitrose Press Office
Liana Griffiths 01344 825586 liana_griffiths@waitrose.co.uk
Nina Arnott 01344 825165 nina_arnott@waitrose.co.uk

Notes to Editors

Waitrose has 198 branches across Britain, combining the convenience of a supermarket with the expertise and service of a specialist shop.

Waitrose is dedicated to offering quality, value and customer service. This year it was recognised as top supermarket in the Verdict Customer Satisfaction Report, coming second overall behind John Lewis, and scooping more major wine awards than any other supermarket. Waitrose also came top in the latest Marine Conservation Society (MCS) League Table, which examined the main UK supermarkets' commitment to sourcing fish from responsibly managed fisheries.

As part of the John Lewis Partnership, Waitrose is a very different kind of company, belonging to the 69,000 Partners of the John Lewis Partnership. Each year all Partners share the profits that would normally go to shareholders, producing a very high level of commitment amongst those who work in Waitrose shops, and allowing the retailer to offer the highest levels of customer service.
This press release was distributed by ResponseSource Press Release Wire on behalf of 3 Monkeys Zeno in the following categories: Men's Interest, Leisure & Hobbies, Home & Garden, Women's Interest & Beauty, Food & Drink, Retail & Fashion, for more information visit https://pressreleasewire.responsesource.com/about.