Cybit's Telematics and Tracking Technology Assists Road Safety During Cold Snap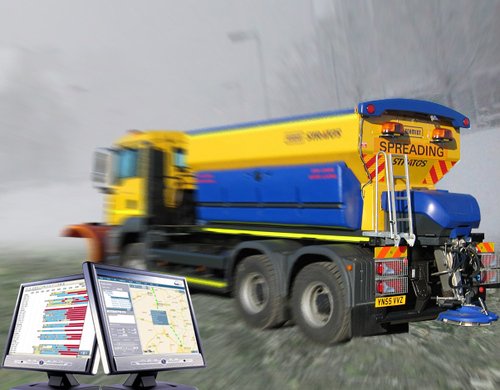 Cybit's vehicle tracking Technology Monitors Road Gritting Network

Location, Flow and Spread of Salt-grit Monitored in Real-Time

Whilst sub-zero temperatures are forecast for the remainder of this week, gritters throughout the country are working to keep the UK's road network clear of snow and ice to protect motorists and limit disruption during peak traffic periods.

Telematics and gps fleet tracking technology is deployed to assist wider maintenance organisations to manage their specialist winter maintenance vehicles. Over 1,000 of the UK's gritting vehicles are now equipped with Cybit's fleet-tracking solution that monitors and reports on a range of location-based information to control and manage the safety of the road network. This includes information on planned versus actual activity, and data that checks the rate and pattern of spreading, width and lane position. This instantly available information enables the user to remotely monitor the roads to check if they have been adequately treated to provide protection to the motorist.

Testament to the success of the technology, The Highways Agency, responsible for all of the UK's motorways and major trunk roads, has employed Cybit's services to monitor and track over 400 winter maintenance vehicles. . Other organisations utilising the vehicle telematics tools provided by Cybit include Colas PLC, Carillion, Enterprise, May Gurney and Councils including as Powys, Wrexham, Argylle & Bute, Milton Keynes and London based local authorities.

John Wisdom, Sales & Marketing Director said:
"The Cybit vehicle tracking solution provides real-time management of critical winter maintenance vehicles. The reports produced by the system provide managers with instant proof that gritting work has been carried out and allows them to see which areas need further attention and why - critical data when responding to unpredictable weather patterns."

Joseph Hart, Senior Services Director of the Highways Agency commented:
"Cybit's Government & Local Authority Division was able to demonstrate total focus and understanding of the needs of our organisation. The Company's scale and experience of working on similar projects gives us confidence that they will deliver what will be Europe's leading winter maintenance solution and enable us to deliver a world-class service."

Councillor Geraint Hopkins, Board Member for Fleet Management, Powys County Council said:
"By installing GPS we can carry out in-depth route reviews for all operations and collect asset information, which will help us further optimise the use of our fleet and increase our efficiencies."

For further information, please contact:

Graham Gordon
Marketing Manager
Cybit Ltd
www.cybit.co.uk
ggordon@cybit.co.uk
Telephone 01480 423972

Notes to editors:

Cybit operates within three core sectors: Vehicle Telematics Solutions; Maritime Solutions; and Private Mobile Radio (PMR) based tracking and precise positioning solutions. Its products and services enable companies to monitor and position mobile assets, manage service level agreements, enhance employee duty of care and comply with legislation.

In the Vehicle Telematics sector, Cybit is one of Europe's leading Telematics Service Providers. Approximately 2,000 business-to-business clients use its fleet and asset management solutions to manage in the region of 50,000 mobile assets. Solutions include in-vehicle technologies, workflow management and internet-based monitoring and reporting software. The Company also provides consulting services to advise on legal issues such as duty of care and working hours.

Cybit's Maritime Solutions business, BlueFinger, is recognised as one of the world's leading suppliers of Fisheries Vessel Monitoring Systems. BlueFinger provides the fisheries authority with the necessary tools for managing their licensed fishing fleets and coordinating the activity of the fisheries patrol vessels that enforce national fisheries policy throughout the EEZ. BlueFinger's Saffire vessel tracking system is ideal for race organisers to track the position, direction and speed of each yacht and vessel in ocean going or inshore races.

Its PMR business, Cybit Positioning Solutions, provides asset-tracking and security solutions for both maritime and land-based applications including exploration and mining. Its precise positioning solutions assist in the location and exploitation of oil, gas and mineral reserves around the globe.

This press release was distributed by ResponseSource Press Release Wire on behalf of Cybit in the following categories: Motoring, Travel, Public Sector, Third Sector & Legal, Computing & Telecoms, Transport & Logistics, for more information visit https://pressreleasewire.responsesource.com/about.