Climate Change Festival Hots Up Third Runway Debate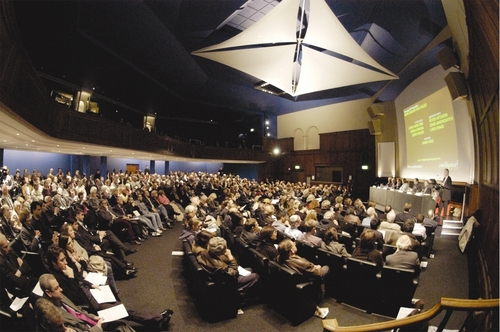 the Third Runway at Heathrow go ahead has raised the 'environment versus the economy' debate to a fevered pitch
PRESS RELEASE
The Intelligence Squared Green Festival on Climate Change
Sunday January 25 2009 – 10.45am-8.00pm
The Royal Geographical Society


Climate Change Festival Hots Up Third Runway Debate


At a time when the Third Runway at Heathrow go ahead has raised the 'environment versus the economy' debate to a fevered pitch and when Boris Johnson is challenging Gordon Brown to a public debate on the matter, the Intelligence Squared Green Festival on Climate Change is bringing over 30 of the most powerful and expert voices on climate change, (including Head of Environment at British Airways, Jonathon Counsell) representing every point of view, to go at each other hammer and tongs on Sunday January 25th at the Royal Geographical Society and make the debate even hotter.


Countdown to Armageddon – how long have we got?
Of the four main debates throughout the day, the first could be the most explosive. Professor Mohan Munasinghe, Vice Chairman of the Intergovernmental Panel on Climate Change (IPCC) who shared the Nobel peace-prize with Al Gore in 2007 will be up against Viscount Monckton, an aide to former Prime Minister Margaret Thatcher, famously severely critical of the IPCC and of Al Gore's film, An Inconvenient Truth. Add to that combative mix, Tony Juniper, Bob Watson of Defra, Sir David King and Spiked Online's Frank Furedi and the debate will get even hotter.


Can Asia Go Green? Next the question of the countries where rapid development, many in the West assume, is being prioritised over all other concerns will be discussed by Asia 21 Young Leader, Malini Mehra, TIME Magazine Hero of the Environment, Christine Loh of China, and Svati Bhogle, social entrepreneur for sustainable technology with Michael Keating in the chair.


Can technological innovation save us from disaster? Major leaders of the industrial world: Jonathon Counsell (Head of Environment, British Airways) and Dr Steve Koonin (Chief Scientist at British Petroleum) will go head to head with Doug Richard, clean technology investor, Jeremy Leggett Founder of Solarcentury, and former Director of Friends of the Earth, Tom Burke.


Bioperversity: Is it time to write an obituary for the world's rainforests? This will be no doubt hotly debated by Sir David Bellamy, committed environmentalist and at the same time climate change sceptic, who will be up against Stanley Johnson, UN environmental ambassador (and father of Boris), author and law professor, John Kunich and Professor, Ian Swingland, biologist and Founder of the Durrell Institute of Conservation and Ecology.

Other debates and seminars will run throughout the day including - UK political parties aren't serious about climate change? How can the government say it's serious about climate change and allow a third runway? Political campaign consultant, Simon Bryceson, will look at this charge together with Martin Horwood, Liberal Democrat Shadow Environment, Energy, Food and Rural Affair Minister, MP for Cheltenham, with Camilla Cavendish, Award-winning Times campaigning columnist and leader writer for The Times, in the chair.


Extra curricular activities at the non profit festival include the chance to test drive a G-Wiz and the world's first ever luxury electric sports car, the Tesla Roadster, check out new sustainable energy inventions, see award winning photos from prix Pictet and an after event party in a jungle. Also see the world's first super plug-in Prius taxi.


A group of sixth formers, chosen with The Royal Geographical Society, will run the first debate of the day, debating the motion 'Climate change is the Greatest threat facing humanity' – an event chaired by polar explorer Ben Saunders.


Tickets for individual sessions cost £10.00 or £15.00. Day passes are £50. The event is free for those aged 18 years and under and students.
http://www.iq2greenfestival.com
For more information call Harriet Earle on 020 7221 6356 / 0207 221 9080 / 07968 940084
or email info@iq2greenfestival.com or edie@iq2greenfestival.com.



This press release was distributed by ResponseSource Press Release Wire on behalf of The Intelligence Squared Green Festival on Climate Change in the following categories: Children & Teenagers, Environment & Nature, Public Sector, Third Sector & Legal, Transport & Logistics, for more information visit https://pressreleasewire.responsesource.com/about.