Warehouse Temperature Control by Data Logging is a Good Investment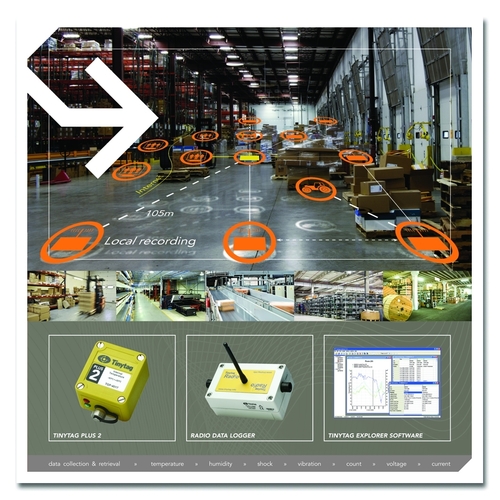 setting up a basic temperature monitoring system is caring for the quality of the stock and adding value to the customer.
A system of wireless or conventional data loggers to monitor warehouse temperature and humidity offer enormous benefits for relatively little investment. Inertia over temperature and humidity monitoring in buildings storing goods is commonplace, particularly if the customer takes responsibility for their own temperature or humidity sensitive cargo. However, a backup temperature monitoring system, proactively set up by the owner of the warehouse or storage unit, will deliver basic but essential quality control benefits and help gain more business in an extremely competitive and fluid marketplace, where discerning customers look increasingly for added value and high standards of service.

Data logging does not offer the visible impact of a new lighting system or state of the art roof. However, being able to offer the customer, a regulator or a quality official a set of neatly presented data on the temperature and humidity of your building is professional and satisfying, as well as obligatory in meeting quality standards or other specialist regulations for some businesses. Knowing your building, having pride in your storage offering and setting up a basic temperature monitoring system is caring for the quality of the stock and adding value to the customer.

Customers of the Tinytag brand of data loggers by Gemini Data Loggers Ltd comment on their ease of use, stability and reliability, cost effectiveness and toughness in withstanding any accidental rough handling. Conventional standalone temperature and humidity data loggers are a cost efficient way to monitor a few suspected hot or cold spots on a small site. If 20 or more points would benefit from being monitored, then intelligent wireless data loggers will save time and money. The advantages encompass an easy, do-it-yourself set up, avoiding the costly involvement of technical help. Subsequent management time is then minimal, as each data logger self-configures and sets about monitoring temperature and transferring the data directly to a central receiver connected to a PC or to another data logger to pass onto the receiver. The need for manual download of each data logger is eliminated altogether as the wireless option offers remote and fast access to the data at any time via the internal network or Internet. Remote alarm signalling, via e-mail or SMS, can warn the user of problems even if no one is on the site and means that fast, corrective action can be taken.

The wireless data logging system consists of a receiver which is connected to a PC and a number of self contained, battery-powered radio loggers arranged in a mesh or network formation throughout the warehouse. The network of data loggers are self-healing, so that if a temporary interruption to the radio signal is experienced, such as a fork lift truck obstruction, the data hops to another logger within range, or stores it until the obstruction clears. Monitoring warehouse temperature and humidity saves time and money and helps sell a warehouse solution.

For more information on the Tinytag brand,visit www.geminidataloggers.com or email sales@tinytag.info



This press release was distributed by ResponseSource Press Release Wire on behalf of Finkk Marketing in the following categories: Environment & Nature, Food & Drink, Medical & Pharmaceutical, Manufacturing, Engineering & Energy, Transport & Logistics, for more information visit https://pressreleasewire.responsesource.com/about.