OSS Group launches revolutionary Parts Washer that recycles own solvent - reducing waste, hassle & cost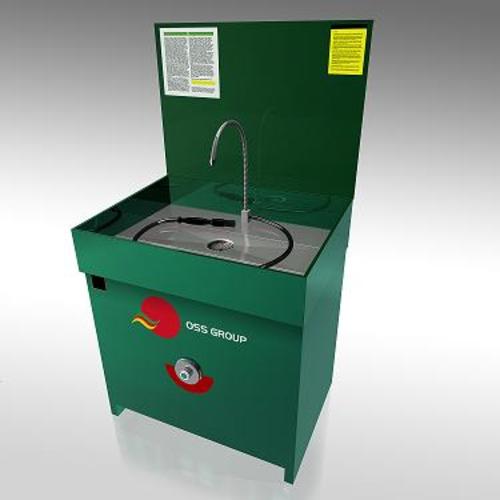 A new economic and revolutionary parts washer, that re-uses its own cleaned solvent, has been launched in the UK by OSS Group.

The unit incorporates a self-contained "micro-refinery" cleaning system in which used solvent passes through a distillation process that removes dirty residue. This is drained into a separate tank and the now totally clean solvent is reused.

The key benefits are that the solvent is always clean, there is very little waste residue - what there is can be drained off once a week into the waste oil container - and the solvent tank does not need regular refilling other than topping up, usually monthly.

This is a major advancement on other models on the market. It moves away from the sink and drain method where the solvent is dirty after the first wash and where the total content of the tank has to be emptied and replaced on a regular basis.

On fixed price rentals for up to five years - no capital outlay - the OSS Type 501 has a standard sized sink, an integral washer pump and a 15-gallon solvent tank. Initial delivery includes a full solvent tank. OSS can also collect waste residues - together with other workshop wastes - as part of its HazTech haz waste collection service.

A portable brake parts washer - the OSS Type 110 - is also available as part of the contract arrangement. Smaller, lighter and with an adjustable sink height, the Type 110 does not need an integral micro-refinery as used solvent can easily be transferred to the Type 501 for the cleaning process.

According to OSS Group Sales and Marketing Manager Mark Bridgens, "We're importing the product, under an exclusive agreement, from the USA where it is one of the top selling brands. Our field trials in this country have also been very successful with excellent reports all round."

More information on the OSS parts washers can be found on the OSS Group website at www.ossgroupltd.com or from OSS sales at 0870 2401 055.

- ENDS -

For further media information please contact John Dresser
on 07831 196404 or jdresser@ossgroupltd.com

About the OSS Group

The OSS Group specialises in waste oil collection, oil recycling, hazardous waste collection and parts washers. OSS also produces and sells NexGen CFO, CFO (Clean Fuel Oil) and RFO (Recycled Fuel Oil).

The OSS Group can trace its history back over 30 years but was formally founded in 1987. The company initially focused on its waste oil collection and recycling services.

From this base the company has expanded its range of services to cover the full spectrum of hazardous waste solutions and now offers a range of other hazardous waste services to complement its waste oil collection and fuel oil sales.

The company is now seen as a leading authority in the field of hazardous waste management and its business and reputation continue to grow through a determination to exceed the expectations and demands of its customers.


This press release was distributed by ResponseSource Press Release Wire on behalf of Kestrel Worldcom in the following categories: Motoring, Manufacturing, Engineering & Energy, for more information visit https://pressreleasewire.responsesource.com/about.