Fudoso set to change online shopping by bringing real life shopping experience to the web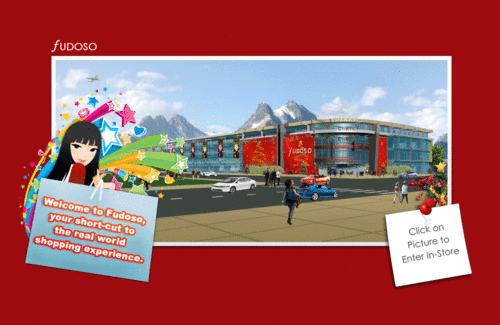 London, 4th February 2009 - A new approach to online shopping is about to be launched, where a real-life-like shopping experience in a hybrid supermarket and shopping mall setting will be brought online.

No longer will online shoppers have to trawl through endless product titles and descriptions to find what they want. They'll see the product ranges set out in aisles in 3D formation as they would see them if they entered a supermarket or shopping mall.

Shoppers will be able to identify the real differences between products, and a 20" TV will be easily distinguishable from a 40", a change from the usual online display.

Alan Mak, Fudoso's founder created the concept when he realized that online shopping was almost as exhausting and time-consuming as traveling from one retail outlet to another.

Realising the major differences between the real-life activity compared to online shopping, Alan envisioned a place on the Internet where the enjoyment of real life shopping can be more accurately replicated, and now Fudoso is set to bring more fun and excitement to the online shopping experience.

Fudoso will be launching its website initially offering a range of TV and DVD products, while testing the response from online shoppers before rolling out a wider range of product categories and offerings.

"We have created a website which depart from the typical web-commerce format where hundreds of products can be easily uploaded onto a website using a typical CMS software, and brought in a highly engineered design and graphic based website which we hope will appeal more to the online browser," said Alan.

Instead of having to battle with the inconvenience of going to a local supermarket in the future, the website will look into bringing the supermarket to the front door, not only in terms of delivery but in the way the website is presented.

In terms of design, the website has utilized the idea of simplicity to cater even for the elderly population, where it is as easy as clicking on arrows to browse from one aisle to another and from a rack to the next to view items available.

The launch of Fudoso will offer a real boost to the economy in difficult times. Not only will shoppers be able to find good deals on a range of products, the new business will create new innovations and jobs in the UK and encourage consumer spending in a fun and novel manner.

For further information, please contact:

Alan Mak, Founder
Email: a.m@fudoso.com
www.fudoso.com; Prototype website at: fudoso.spanlogic.info

About Fudoso.com:

Fudoso is an online department store, with a website architecturally designed to be like a large retail outlet such as Tesco or Argos. Online shoppers will select a trolley before entering the store, which is arranged in aisles of different product ranges. Shoppers will navigate through the aisles to browse products as they would in a real department store, or they can simply jump to a different aisle. Products will appear as they would in real life, helping shoppers to select the products they want.

This press release was distributed by ResponseSource Press Release Wire on behalf of fUDOSO.com in the following categories: Children & Teenagers, Men's Interest, Entertainment & Arts, Leisure & Hobbies, Home & Garden, Women's Interest & Beauty, Food & Drink, Media & Marketing, Retail & Fashion, Transport & Logistics, for more information visit https://pressreleasewire.responsesource.com/about.