Arriva plc selects Icomera in-vehicle Internet for Luton Airport express buses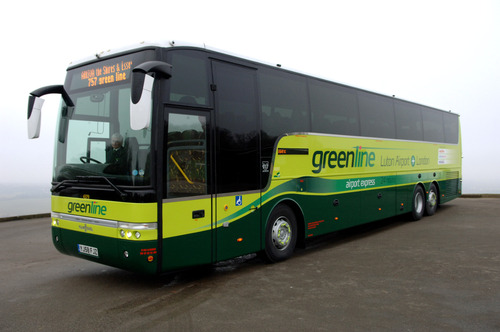 Gothenburg, Sweden, February 10th 2009 – Icomera AB, the world's leading provider of cellular broadband gateways, and Arriva plc, one of the largest transport services organisations in Europe, have announced the installation of free Internet access and real-time vehicle tracking on the Green Line express coach service between Luton International Airport and Central London. The fleet of buses has been equipped with Icomera's award-winning Moovbox M Series mobile broadband gateway that provides Wi-Fi connectivity on the move with actual download speeds in excess of two megabits per second. The Green Line vehicles also leverage the Moovbox for GPS-based location, enabling Arriva staff to monitor and track the fleet's vehicles in real-time. The Green Line airport express operates a direct 24-hour service between Britain's fourth largest airport and London's Victoria Station terminus. Luton Airport serves almost ten million passengers a year to international destinations, with a year-on-year growth rate of over 5%.

"International travelers expect Internet access at the airport and in hotels, so it was only natural for us to provide free Wi-Fi to and from the airport as well," said Brian Drury, Commercial Director at Arriva The Shires & Essex. "Icomera's Moovbox technology not only provides a cost-effective solution for passenger Internet access but also enables us to keep track of our fleet's precise location at any given moment. This helps Arriva achieve operational efficiencies as well as increasing customer satisfaction."

The Moovbox mobile broadband gateway acts as a bridge between a vehicle and high-speed cellular data networks, providing Wi-Fi access and an Ethernet-based local area network (LAN) for connecting on-board systems such as CCTV, automated announcement, and e-ticketing. The Green Line service utilizes Vodafone's 3G HSPA network which has excellent coverage on the highway route between Luton and Central London. The Luton deployment follows other successful Moovbox-based passenger Wi-Fi installations by Arriva, including the Glasgow Flyer bus service between Glasgow Airport and the city centre, and Arriva Scandinavia's train services throughout Denmark.

"Equipping airport express buses and trains with Internet connectivity is a common sense decision for public transport companies such as Arriva," said Frederik Gustafsson, Executive Vice President of Business Development at Icomera. "As Wi-Fi equipped handheld and portable devices continue to proliferate, so passenger Wi-Fi will be increasingly in demand. But the operational benefits of having a vehicle connected to the Internet – such as passenger security and vehicle location – are very often the key drivers upon which a fleet operator makes that investment decision."

The Moovbox mobile gateway is a ruggedized Wi-Fi access point and cellular router, offering multiple wide area network (WAN) radios for automatic failover and bandwidth aggregation between carriers, and featuring built-in GPS for real-time positioning. Moovbox products also offer multi-port secure Ethernet for IP-CCTV, DVR and telematics equipment with remote in-bound access for device control, and supports plug-and-play upgradability to future technologies such as WiMAX and LTE. The multi-user MoovManage service provides real-time device tracking, schedule adherence monitoring, remote device configuration, and Wi-Fi portal and usage statistics. More information is available online at www.icomera.com.

For further information, please contact:

Jim Baker, Chief Marketing Officer
Icomera AB
+44 (0)7834 551206
jim.baker@icomera.com

Linsey Frostick, Marketing
Arriva plc
+44 (0)7961 034324
linseyfrostick@arriva-shires.com

About Icomera AB

Established in 1999, Icomera is the world's leading provider of cellular broadband gateways delivering Internet connectivity for passenger transport, public safety and enterprise applications. Icomera technology bridges wide-area cellular networks such as 3G/HSPA and WiMAX with local Wi-Fi and Ethernet access. Icomera's award-winning Moovbox devices are deployed on rail, road and sea serving millions of Wi-Fi connections, and providing real-time high-speed access for fleet tracking and mission critical on-board systems. Icomera reported over 3.7 million sessions by over one million passengers in the twelve months to October 31st 2008 on its in-vehicle Moovbox systems worldwide, a 272% increase over the period. Icomera is headquartered in Sweden with offices in the United Kingdom, and channel partners worldwide. For more information visit http://www.icomera.com.

About Arriva plc

Headquartered in the United Kingdom, Arriva plc is one of the largest transport services groups in Europe, providing more than one billion passenger journeys every year. With more than 40,000 employees and 15,600 vehicles across twelve countries, Arriva operates an extensive range of services including buses, trains, commuter coaches, water buses and airport related transport services. For more information, visit http://www.arriva.co.uk.

This press release was distributed by ResponseSource Press Release Wire on behalf of Icomera UK Ltd in the following categories: Consumer Technology, Motoring, Business & Finance, Travel, Computing & Telecoms, Transport & Logistics, for more information visit https://pressreleasewire.responsesource.com/about.