Men use credit crunch to dodge Mother's Day, but what Mums want most is time.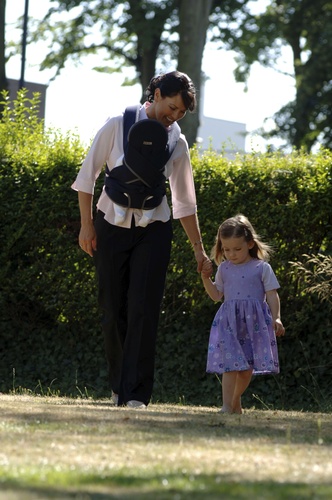 It should be reassuring for people to know that what Mums want most is to feel special on Mothering Sunday.
Men across the country will be using the credit crunch as an excuse to get out of Mothers Day this year. Nearly 1 in 6 men have revealed they won't even bother giving their mum or partner a card because they claim they can't afford it. Many of those who are planning to make an effort say they will spend less than last year to save money.

But thrifty men should be reassured because a poll of 482 adults also found that what mums and wives want most on Mother's Day cost very little at all. The survey, by www.WilkinetBabyCarrier.com, revealed a home-made card topped their list of preferred ways to be treated on Mother's Day. Breakfast-in-bed came second, with the more expensive option of a bought gift or flowers coming in third and fourth.

With cost-cutting going on around the country this will come as good news for hard-pressed families. 24% of people say they are spending less on a gift or card this year, with money-saving ideas ranging from getting kids to make a crafty collage through to creating a 'spa day at home' experience for Mum.

A spokesman from www.WilkinetBabyCarrier.com said: "It should be reassuring for people to know that what Mums want most is to feel special on Mothering Sunday. It seems the best way to do that is not to spend lots of money, but to take time making a gift or a meal. These results should also be a message to men who are trying to wriggle out of doing anything for their mums and partners that they can use the things they have at home to make something, instead of ducking out entirely."

It's not just mums and grandmas who are hoping for a special day. Women currently pregnant with their first baby would like a Mother's Day gift from their partners, even though they haven't given birth yet.

The survey found that while around 25% of mums-to-be don't want a fuss made, 3 out of 4 are hoping for a show of appreciation from their partners. But a lot of them are set to be disappointed with only a quarter of prospective Dads planning to do anything for them. But men can redeem themselves by getting to work on something crafty or by doing their baby product shopping early. 16% of first time pregnant women also said they would like to be given a combined gift for them and their baby, such as a baby carrier, on Mother's Day.

In the UK and Ireland Mothering Sunday happens three weeks before Easter Sunday. It is thought to originate from a 16th Century tradition of the working classes in servitude getting a day off to go back to their mother's church annually meaning they would be reunited with their mother at least once a year. Mothering Sunday is on 22nd March this year, but can fall anywhere between 1st March and 4th April each year (depending on Easter).

Top 10 treats on Mother's Day (as voted for by Mums):

1. A home-made card
2. Breakfast in bed
3. Bought gift
4. Flowers
5. A bought card
6. A home-made gift
7. A gift of 'time'
8. Get pampered/spoilt all day
9. Spend the day together as a family
10. Taken out for a meal

For over 80 ideas for a low cost Mothering Sunday visit: http://www.wilkinetbabycarrier.com and click on the Mother's Day link.

These ideas were all suggested by Mums. They include ideas for adults who want to make older parents feel special, suggestions for younger children wanting to treat their mum and ideas for Dads on how to pamper their partner.

- ENDS -

Editors Notes:

For more information contact: Gideon Wilkins, gideon@wilkinet.com, 01926 812880, 07952 598670

Gideon Wilkins, who is available for interview, runs Wilkinet Ltd. The Wilkinet baby carrier was designed for him and his 7 siblings (and 11 grandchildren) by his Mother Sally around 30 years ago. As a result of this survey Gideon will be making sure his mum and wife both get a gift of time this year and will save the rest of his money for the mortgage!

Gideon, 30, is married to Helen, 28 and has three children: Lucy, 5 ½, Timothy, 4 and Jay 2.

The Wilkinet baby carrier is stocked by Mothercare Online, Babies R Us, independent retailers and is available to buy direct from www.wilkinetbabycarrier.com

Market Research Company Insight Counts Ltd conducted an online survey of 482 UK Adults for WilkinetBabyCarrier.com on 3rd-5th February 2009.
This press release was distributed by ResponseSource Press Release Wire on behalf of WilkinetBabyCarrier.com in the following categories: Children & Teenagers, Men's Interest, Home & Garden, Women's Interest & Beauty, Food & Drink, for more information visit https://pressreleasewire.responsesource.com/about.