Hitwise 2008 Top 10: Congratulations To – Totaljobs, Reed, Jobsite, CV-Library… And US!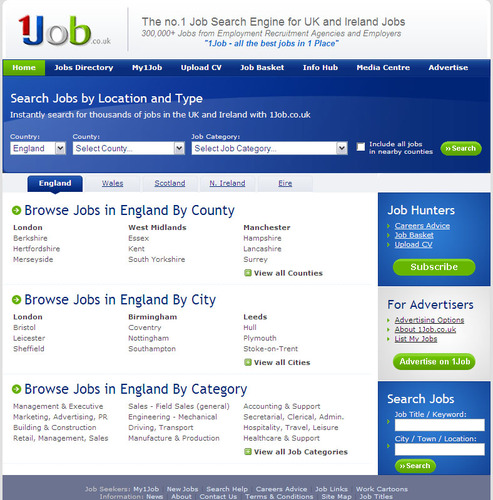 Hitwise have just announced their Top 10 most visited Employment and Training websites in the UK for the year 2008.

And the results are:

1. Jobcentre Plus (No surprise there); 2. Jobs NHS (The UK's top employer); 3. Total Jobs (pleased to help your sister sites Caterer, CW Jobs, Salestarget etc); 4. Reed (pleased to help); 5. Monster; 6. Jobsite (pleased to help); 7. Guardian Jobs; 8. CV-Library (pleased to help); 9. S1 Jobs … And at number 10… the UK's number 1 search engine - www.1Job.co.uk

Julian Felstead M.D. of 1Job said,
'It's great that we're again recognised as the best job search engine in the UK. The fantastic Hitwise accolade award is great to receive. What's really gratifying though, is to have helped 4 of the top 7 commercial Job Boards in the UK achieve Top 10 status too. 1Job is a great source of candidates to the jobs on their sites and we're pleased to help them do the best for their job advertisers.

'In 2008, 1Job.co.uk sent over 12 million candidate click-thrus to Job Boards and Recruitment Agency sites. Our "Google, but for jobs service" helps candidates go directly to the vacancies they're looking for in the UK's internet job advertising space. Our clients receive high quantities of great relevant candidate applications and CV registrations.

'2009 is going to be an important year for Job Boards and Agencies. Those that can exceed their clients expectations will be the winners. Our service helps them to do that by getting candidates to the right jobs faster.

'We charge on a low cost performance pay-per-click basis and our vertical jobs search engine gives our clients far better results at lower costs than any other job, or generic search engine in the UK.'

For more information contact 1Job on: 0870 3500 230 or email: sales@1job.co.uk

1Job.co.uk Site URL: www.1JOB.co.uk
### Ends (317 words)

About www.1Job.co.uk - Jobs Search Engine:

The 1Job - Jobs Search Engine displays over 300,000 job opportunities each day. Over 1 million candidate referrals are sent to the job sites it lists each month. The business is operated by Direct Recruit Ltd, Swindon, Wiltshire. The search engine technology and algorithms were custom built in the UK and offer a unique job searching system for job hunters and a unique job advertising and traffic acquisition system for job advertisers in the UK and Ireland.

Contact:

Julian Felstead – Managing Director
1Job.co.uk 7 Basepoint, Rivermead Drive, Westlea, Swindon, Wiltshire SN5 7EX, UK.
E: julian@1job.co.uk T: 0870 3500 230 W: www.1Job.co.uk

About Hitwise

Hitwise is the leading online competitive intelligence service. Only Hitwise provides its 1,500 clients around the world with daily insights on how their customers interact with a broad range of competitive websites, and how their competitors use different tactics to attract online customers.

Since 1997, Hitwise has pioneered a unique, network-based approach to Internet measurement. Through relationships with ISPs around the world, Hitwise's patented methodology anonymously captures the online usage, search and conversion behavior of 25 million Internet users. This unprecedented volume of Internet usage data is seamlessly integrated into an easy to use, web-based service, designed to help marketers better plan, implement and report on a range of online marketing programs.

Hitwise, a subsidiary of Experian (FTS: EXPN) www.experiangroup.com operates in the United States, United Kingdom, Australia, New Zealand, Hong Kong and Singapore. More information about Hitwise is available at www.hitwise.com.

For up to date analysis of online trends, please visit the Hitwise Intelligence-Analyst Weblogs at http://weblogs.hitwise.com and the Hitwise Data Center at www.hitwise.co.uk/datacenter.
This press release was distributed by ResponseSource Press Release Wire on behalf of 1Job.co.uk in the following categories: Men's Interest, Entertainment & Arts, Health, Women's Interest & Beauty, Food & Drink, Business & Finance, Travel, Education & Human Resources, Medical & Pharmaceutical, Media & Marketing, Retail & Fashion, Public Sector, Third Sector & Legal, Manufacturing, Engineering & Energy, Computing & Telecoms, Transport & Logistics, Construction & Property, for more information visit https://pressreleasewire.responsesource.com/about.