"Creation II - An insight into the mind of the modern artist-jeweller" through jewellery and film - an exhibition at Goldsmiths' Hall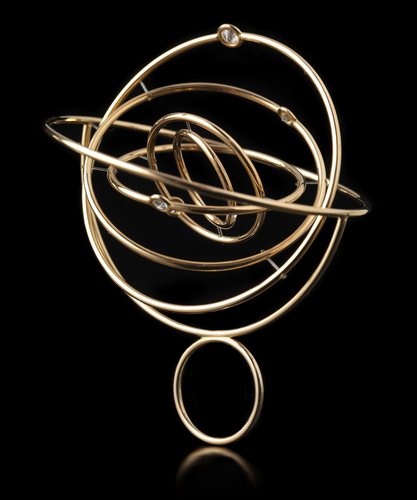 An insight into the mind of the modern artist-jeweller through jewellery and film
PRESS RELEASE:

Press Office Contact: Amanda Stücklin
Tel: 020 7367 5913
Email: Amanda.stucklin@thegoldsmiths.co.uk

Creation II- An insight into the mind of the modern artist-jeweller through jewellery and film

The summer exhibition at Goldsmiths' Hall, London EC2
Friday May 29 to Saturday July 11, 2009
Admission Free

THE CREATIVE talent of 12 of the United Kingdom's most distinguished and exciting contemporary artist-jewellers is the subject of the Goldsmiths' Company's summer exhibition.

Entitled "Creation II – an insight into the mind of the modern artist-jeweller", the exhibition at Goldsmiths' Hall is open to the public free of charge from Friday May 29 until Saturday July 11, 2009. It follows on from Creation I held in 2004, which concentrated on the work and creativity of a group of silversmiths.

The jewellers featured in Creation II represent an elite group of artist-jewellers whose work is admired and collected both at home and abroad. The practitioners are Vicki Ambery-Smith, Malcolm Betts, Susan Cross, Charlotte de Syllas, Dorothy Hogg, Daphne Krinos, Andrew Lamb, Catherine Martin, Susan May, Wendy Ramshaw, Kamilla Ruberg and David Watkins.

Mary La Trobe-Bateman*, curator of the exhibition explains: "My choice of jewellers illustrates the diversity in the field – in design, technique, and individual creativity. It celebrates the experience and influence of key teachers as well as the younger jewellers who have also found an individual voice in their work, making one-off pieces that are instantly recognisable through their personal style."

The exhibition explores the multi-faceted process of creativity by showing a selection of pieces by each jeweller – some of the works have been specially made for the exhibition while others show the development of their talents and individual styles. The result is diverse and startling.

Aside from the stunning pieces of jewellery on display, another important and exciting element of the exhibition is the series of short documentary films on each of the designers, which play throughout vividly illustrating the creation process. The films, which were commissioned by the Goldsmiths' Company as part of its educational remit, were made by students from Goldsmiths' College, University of London, the International Film School of the University of Wales at Newport and Edinburgh College of Art. The students were selected by the renowned documentary filmmaker and winner of the BAFTA Life-Time Achievement Award 2008, Paul Watson, who directed the project in liaison with their tutors.

These documentaries transport the visitor into the minds and souls of the artist-jewellers and present visual evidence of how their creativity is subsequently translated through skilled craftsmanship into intriguing and stylish jewels.

One of the most well-known among the featured 12 is Wendy Ramshaw, considered to be the doyenne of British women jewellers and described by the V & A as one of "our living treasures". Wendy has work in more than 70 public collections around the world and her creativity is brilliantly broad encompassing designs for textiles, screens, gateways and sculpture, as well as jewellery which include her highly individual signature ring sets.

Making a formidable design duo, Wendy's husband David Watkins, has made an equally significant contribution to the development of modern jewellery design through his teaching. As Professor of Goldsmithing, Silversmithing, Metal work and Jewellery at the RCA for more than 20 years David has influenced and nurtured many of today's younger jewellers, as has another distinguished artist-jeweller Dorothy Hogg at Edinburgh College of Art. Both alongside their teaching made and continued to make their own distinctive jewellery.

Among the jewellers two are previous winners of the Jerwood Prize for the Applied Arts, Charlotte de Syllas and Susan Cross. Charlotte, who won jointly in 1995, is renowned for her sensuous jewellery made out of semi-precious stones, which is laboriously and exactingly carved and shaped. Susan, in contrast, who was also a joint winner of the Prize in 2007, combines jewellery and textile techniques such as wrapping, binding and coiling precious metals in a spontaneous and evolved manner.

Catherine Martin's distinctive, intricate and rhythmical jewellery is also based on a textile technique – kumihimo – the Japanese art of braiding. Instead of using silk threads, she painstakingly hand-weaves fine gold and platinum wire, often incorporating tiny gold beads, or recently diamonds, to make her exquisite pieces, which are both classic and yet very contemporary. As a classically trained musician, music is the starting point of all Catherine's creativity.

Lengths of silver, gold and platinum wire are similarly manipulated with great skill by the youngest exhibitor in the show, Andrew Lamb. Andrew's jewellery comes to life when worn as movement and light catch the different metals and create subtle, rippling textures and colour changes. Movement is also an all important element for Kamilla Ruberg's innovative kinetic jewellery and many of her delicate geometric compositions explore the possibilities of balance and movement.

In contrast to Kamilla's deceptively fragile creations, Susan May explores abstract linear form to produce jewellery which makes a dramatic, bold statement. Heavy metal wire is manipulated into shapes to wrap a finger, arm or neck in a way which is both visually exciting and sensual to wear and observe.

For Daphne Krinos the focal point of her creations is highlighting the raw nature of stones, which she combines with flat strips of precious metal and angular settings to contrast with the soft form of the body. Gems are also the starting point and inspiration for Malcolm Betts, who sources antique stones from all over the world – a particular favourite is the old cushion cut diamond. Malcolm then mounts the stones in a thoroughly modern way thus successfully combining antique and contemporary.

A jeweller who has created her own highly individual and distinctive niche is Vicki Ambery-Smith. Her pieces are based on architecture and, as a subject everyone can relate to, they never cease to cause marvel and delight. Cityscapes, grand palaces, monumental bridges through to more modest dwellings, have all been uniquely interpreted into small scale three dimensional images sculpted into rings, brooches and neckpieces.

The exhibition, through the combination of jewels and the fascinating documentaries, successfully shows how each of the featured jewellers have developed and are continuing to develop creatively over the years.

For anyone interested in contemporary jewellery and are fascinated by exemplary skill and talent this is a must-see exhibition.

Details on each of the jewellers featured in the exhibition are available on request, as are images of them and their work.
Please contact Amanda Stücklin, Press Office, Tel 020 7367 5913,
Email: amanda.stucklin@thegoldsmiths.co.uk
www.thegoldsmiths.co.uk
www.whoswhoingoldandsilver.com

NOTES TO EDITORS:

PRESS PREVIEW:
Thursday, May 28 from 4.00pm to 6.00pm

EXHIBITION CURATOR: MARY LA TROBE-BATEMAN OBE MDes RCA

A freelance writer, curator and consultant in the applied arts; Mary is an experienced designer and project manager with an extensive knowledge of exhibiting and commissioning craft.

Mary practised as an interior designer for many years. After running her own gallery in Somerset she was appointed Director of Contemporary Applied Arts, the UK's leading gallery for the crafts. Under her leadership, CAA moved from Covent Garden to the architect designed space in Percy Street - one of the first lottery-funded projects. Here she established a new vibrant gallery and built on the organisation's reputation of more than 50 years by expanding the exhibition and education programmes.

Mary has served on many committees and selection panels including the Crafts Council, Collect at the V&A and The Goldsmiths' Company. She has lectured at many institutions worldwide, including the Royal College of Art and Sotheby's Institute of Art London. She is a Council Member of Arts Council England, South West, a trustee of The Making, based in Hampshire to promote art, craft and design and Patron of Stroudwater Textile Festival.

In 1995 she was elected a RSA Fellow. In 2001 she received the OBE for services to contemporary craft and in 2004 was a finalist in the European Women of Achievement Award (Arts & Media).

FILMMAKERS:

Students from:

Goldsmiths' College, University of London – Course tutor: Tony Dowmunt
International Film School, University of Wales, Newport - Course tutor: Christopher Morris
Edinburgh College of Art – Course tutor: Emma Davies

Paul Watson studied at London's Royal College of Art in the sixties and has been working in television ever since. His "fly on the wall" documentary The Family (1974) established his reputation and he has subsequently worked on more than 200 films including The Fishing Party, Sylvania Waters, White Lives and Rain in my Heart and latterly the controversial documentaries Malcolm and Barbara. After nine previous BAFTA nominations, in April 2008 Paul Watson received the Academy's Special Award in recognition of his "outstanding creative contribution to television".

COUTTS LONDON JEWELLERY WEEK
8 to 14 June, 2009
www.londonjewelleryweek.co.uk
A series of jewellery focused events held around London.

DAY OF KNOWLEDGE
Friday June 12, 2009
At Goldsmiths' Hall, London EC2

TICKETS AT £10 PER PERSON (including catalogue and refreshments)
As part of Coutts London Jewellery Week, the Goldsmiths' Company is hosting a fascinating "Day of Knowledge" in the splendid surroundings of Goldsmiths' Hall.

The day, which is open to the public, will comprise a series of four timed illustrated presentations by jewellers featured in the Company's summer exhibition "Creation II – An insight into the modern artist-jeweller". Guests will also have the opportunity of meeting and talking to the speakers directly.

CATALOGUE:
An illustrated catalogue with full details on each exhibitor and with a foreword by the exhibition curator, Mary La Trobe-Bateman, will be available together with a compilation DVD of all of the accompanying documentaries. Price £7.

VENUE:
Goldsmiths' Hall, Foster Lane, London EC2V 6BN,
Tel: 020 7606 7010
www.thegoldsmiths.co.uk

EXHIBITION DATES:
Friday, 29 May – Saturday, July 11

OPENING TIMES:
Monday – Saturday 10.00am – 5.00pm (excluding national holidays)

ADMISSION:
Free

GROUP VISITS:
Group visits for adults and children above the age of eight are welcome by prior arrangement with the Promotion Department
promotion@thegoldsmiths.co.uk

UNDERGROUND STATIONS:
St Paul's, Mansion House, Barbican
BUSES:
8, 11, 25, 100, 242, 56

The Goldsmiths' Company is one of the Twelve Great Livery Companies of the City of London. Dedicated to promoting excellence in the design and craftsmanship of silver and jewellery, the Goldsmiths' Company is also responsible for the statutory function of hallmarking gold, platinum and silver articles by operating Assay Office London, a function, which began in 1300.

www.whoswhoingoldandsilver.com

The Goldsmiths' Company's on-line directory for jewellery, silver and works of art enables the public to browse on line to make contact with the maker of their choice. With more than 240 craftsmen, all approved by the Goldsmiths' Company, the website is the ultimate resource for any requirement in precious metal.






This press release was distributed by ResponseSource Press Release Wire on behalf of The Goldsmiths Co. in the following categories: Entertainment & Arts, Women's Interest & Beauty, Retail & Fashion, for more information visit https://pressreleasewire.responsesource.com/about.