we20.org launch a publicly produced G20 roadmap to economic recovery – wikipedia style planning.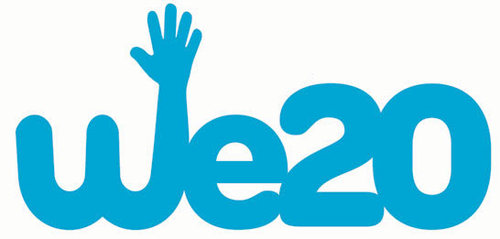 we20.org, a new website, is allowing people anywhere to host their own G20 meeting. This timely initiative launches in the run up to the London G20 Summit and amid concern about violence as protestors take to the streets of London. we20 is offering people a refreshing approach; large scale community involvement in planning economic recovery, using the power of the internet and face to face meetings.

People visiting we20.org can organise their own meeting to make action plans to fix their economy. Plans are voted on at we20.org and the top we20 plans have the chance of appearing on the official G20 London Summit website official G20 London Summit website.

Lord Malloch-Brown, the UK's Foreign Office G20 Minister, has given his encouragement and advice to we20 meetings through this we20 YouTube video. we20's twitter, Facebook and LinkedIn Communities are growing fast.

Visitors to we20.org can either find or set up a meeting to discuss a local, national or global challenge; or read and vote on plans from other we20 meetings. Each we20 user gets 20 votes to award to the best recovery plans. Early we20 meetings have produced a shop-sharing plan to help shop-keepers, an idea to create a CO2 monitoring website and a plan from Sweden to change the global economic system. The organisers of we20 hope they can help we20 Plans become reality as we20 develops in the future.

There are we20 meetings being added all the time and meetings are pledged in USA, Australia, Sweden, Belgium, Germany, Sudan, Thailand, Nigeria and a number are taking place in the UK including meetings of media industry, local government, students and healthcare workers. There is a flagship we20 event at London's Nesta on Monday 30th of January. we20 hopes thousands of we20 meetings will take place around the world this year with a goal of 1,000 to take place by the end of April.

Who is the team behind we20?

we20 has been produced by volunteers in London who want to help people through the recession. The idea for we20 was hatched on 6 January this year. Everything you see at we20.org has been built since then for £0 so far. The current website is only the start of we20 which its organisers hope will grow to be a public engagement platform alongside the G20.

we20 is independent and neutral.

Quote: Paul Massey, an internet lawyer, is one of the volunteers organising we20 in his spare time. He said;

"The initiative is called we20. It's a neat idea which helps people organise their own G20 meetings of up to 20 people. There is speculation about what the London G20 Summit will achieve but we have already seen we20 meetings produce some great action plans to fix the economy. we20 sees the Summit as a rallying call for everyone to work together to pull ourselves out of this economic mess.

We have learned a lot from Barack Obama's use of the internet in his election campaign. He demonstrated how everyone can get involved in making change happen by connecting on the internet and then meeting face to face. we20 involves community face to face meetings to produce economic plans relevant to the people actually there. The we20 meetings hosted by Chain Reaction in London, Stoke and across the UK are a great example. The we20 initiative and the website we have made for nothing proves what you can achieve with a great team.

we20 is set up so that people's we20 meetings and recovery plans are directed towards, local, national or global challenges. For example, we20 plans may cover global issues such as the IMF, World Bank or climate change or local economic issues such as response to redundancies, or plans for local shops, sports teams or growers' initiatives. we20 is driven by volunteers and word of mouth and we are constantly amazed by the support we are receiving from across the board."

After the G20 Summit…

After the G20 Summit, we20 will assess its impact in consultation with members, continue to encourage the implementation of we20 plans and work towards future goals including the United Nations Copenhagen Climate Change Summit. we20 seeks to develop collaborative partnerships to help implement appropriate local plans. we20 hopes to strengthen the policies produced by the G20 through ensuring transparency and good governance. Whatever comes out of the London G20 Summit, we20 looks set to stay as a force of community empowerment for the longer term.

Contact Public: paul@we20.org
Dateline City: London
Date: 27 March 2009 (for immediate release)
Source: we20




This press release was distributed by ResponseSource Press Release Wire on behalf of we20 in the following categories: Children & Teenagers, Men's Interest, Entertainment & Arts, Women's Interest & Beauty, Environment & Nature, Consumer Technology, Personal Finance, Business & Finance, Education & Human Resources, Media & Marketing, Farming & Animals, Public Sector, Third Sector & Legal, Computing & Telecoms, for more information visit https://pressreleasewire.responsesource.com/about.