Talking sex, drugs and relationships – New Fink Cards get teens to open up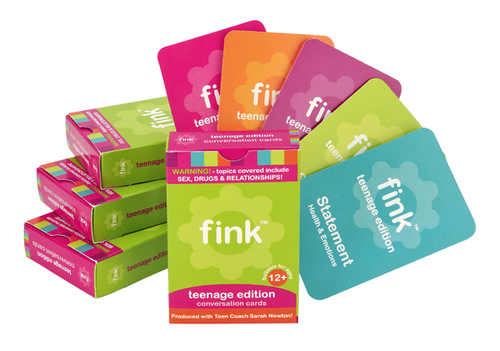 Developed in collaboration with teen expert Sarah Newton

31 March 2009 – Sex, drugs and relationships are just some of the issues parents and teachers should be discussing with teenagers. Yet many avoid it because they don't know how to break the ice or find it too awkward. Now Fink Cards™, a company dedicated to getting people talking, is making it easier with the launch of new Teenage Edition Conversation Cards.

Designed in collaboration with teen expert, author and TV presenter Sarah Newton, the pack of 50 colourful cards contains questions, statistics, headlines and statements that are guaranteed to get conversations and debates started without the normal toe curling embarrassment.

The cards cover five key areas: Sex & relationships, health & emotions, citizenship, drugs & substances, and education. Some of the questions are purposefully provocative, designed to shock, but they're cleverly written so that answers and opinions can be given in the third person. This makes teens feel less like they're being accused of something and gives them insight into their parents views too, serving as an educational tool.

Questions and statements include things like:

What is the 'right' age to start having sex?
Girls in short skirts and high heels are up for it. Boys can't control themselves. (Discuss)
Who is more important, friends or family?
Parents are too lenient on their children. (Discuss)
What is the most dangerous drug?
What subjects should be taught at school?
Do exam results really matter?

"Take one look at teen pregnancy rates and binge drinking statistics and it's clear that we're not communicating well enough with our teens," explains Lisa Warner, mum to four teenagers and founder of Fink Cards. "We created these cards to help teachers and parents tackle conversations that aren't easy, but which are vital for young people."

Teen expert Sarah Newton explains further: "It's very easy to sound accusatory when trying to discuss difficult subjects with teens. Instead of asking a teenager outright whether they're using drugs or are playing truant at school, these cards ask the child and the adult to give their opinion on an issue. This gives the adult insight into what the child is thinking, but it also provides an invaluable opportunity for an adult to give the teen information they might be too embarrassed to otherwise ask about.

"When a teen ventures their opinion on one of the subjects, parents and teachers shouldn't jump to any conclusions or close down the conversation if they don't like the answer. They should expand the conversation, provide information and give examples of what they were like at the same age."

Depending on how good the communication is between parent and child, parents can either show the pack of cards to the child and agree to regularly discuss a topic. Or they can simply pick a single question/statement and slot it into a conversation without the child ever feeling under pressure to have a 'deep discussion'.

While the cards are expected to be a godsend for many parents wondering how to tackle the difficult topics, they also make excellent teaching aids for schools as part of the Personal, Social and Health Education (PSHE) curriculum.

The cards cost £6.99 per pack and are available from www.finkcards.com.

~ENDS~

Notes for Editors:

About Fink™ Cards

Fink™ Cards where created by Lisa Warner (aged 38). Lisa lives in Northampton with her husband Glenn and their four children Naomi (18), Beth (15), Chloe (13) and Harry (12). The family started using 'home made' question cards to encourage conversation at meal times when Harry was just 2, resulting in a group of confident, lively, happy communicators.

In September 2008, Lisa put her original idea into action by creating the Fink Cards Family pack that encourages everyone in the family to chat over dinner, while relaxing or travelling. The cards were an instant hit so Lisa expanded the range. In March 2009, the company will be launching The Fink Teen edition, Goal Posts (a motivational tool for teens), The Fink Wedding Edition and Fink Christmas Crackers.

About Sarah Newton

With 14 years experience working with Generation Y, Sarah Newton helps parents, schools and companies to connect, engage and motivate young people in a way that gets long lasting results. A recognised thought leader in this field, Sarah is passionate about presenting her thinking and ideas in practical and useful ways that allow people to guide the behaviour of the next generation without crushing their spirits.

Regularly appearing in the media, Sarah is best known for her 8-part TV series, 'My Teen's a nightmare – I'm moving out'. She's been seen by 1 in 4 UK television viewers. Her first book, "Help! My Teenager is an Alien - the everyday situation guide for parents" was launched in March 2007 and rarely drops out of the top ten parenting teenager books.

For more information:

Both Lisa and Sarah are available for interview, as is the whole Warner family – they're a lively, chatty bunch! High resolution images of the family and the cards are available. Contact Melissa Talago of Peekaboo Communications on 01635 248 496 or melissa@peekaboocoms.co.uk for further information, images or interview requests.


This press release was distributed by ResponseSource Press Release Wire on behalf of Peekaboo Communications in the following categories: Children & Teenagers, Men's Interest, Women's Interest & Beauty, Education & Human Resources, for more information visit https://pressreleasewire.responsesource.com/about.