Martial Arts Expert Launches the Warrior Health & Fitness Regime That Cured His M.E.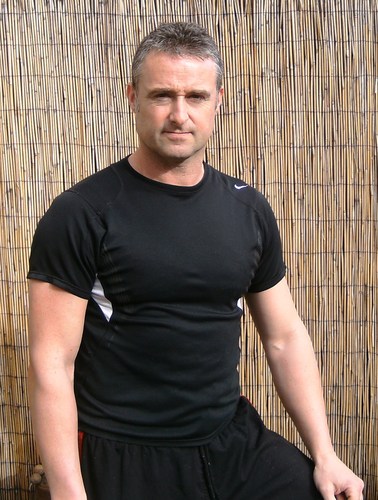 "When bodybuilder champion Simon Lee contracted M.E. he suffered 5 years of debilitating illness. Having failed to find a conventional cure, Simon turned his attention towards the dietary and fitness regimes of ancient civilizations. He then combined the Chinese self- healing martial art of Chi Kung, with elements of ancient Viking and Greek warrior nutrition and his health was restored. After beating M.E. Simon gained 6 black belts, becoming an expert in Martial Arts, and went on to become the Founder and Director of the health and nutrition site Arete4Life http://www.arete4life.co.uk Simon is now eager to spread the word about his unique regime. The bi-monthly online Warrior Health Journal, is the ultimate guide to nutrition and exercise. It is available on his website from July, and is aimed at anyone who wishes to improve both physical and mental performance, by utilising the philosophy of martial arts and warrior health practices."

"The Journals will cover a whole range of topics about ancient warrior lifestyles and explain how to apply this philosophy to modern life for increased energy, awareness, stamina and strength. There will be in depth articles about the nutritional, exercise and holistic principles of the Arete4Life practices," Simon says.

"People will find the warrior nutrition section particularly interesting. The ancient Vikings and Greeks often ate only two meals a day. Breakfast and dinner were and still are, the two most important meals, with small easily digestible snacks consumed during the day. This was so that hard physical activities, which included battle and hunting, were not impaired by digestion and energy slumps during the day. This method of eating actually results in more energy, better concentration and physical recovery, whether you need if for the boardroom, running track or just to feel better than normal. However, there are some important principles people will need to know to follow the programme effectively. The order in which the food is consumed in the main meals, and the content of the daytime snacks are extremely important."

"Very few nutritionists share Simon's unique background and such an empowering story. Simon started working out when he was 14 and won the UK SE Bodybuilding Championship at 20. But it was when he lost his health that he learnt his biggest lesson about nutrition. Simon explains,"

"I turned to Chi Kung when I fell ill due to over training in various physical pursuits. I believe M.E. is a condition of complete burnout of the nervous system, which can often be the result of prolonged glandular fever, which is the path that led me to M.E. This condition made me realize and investigate the necessity for a balanced training routine. This type of exercise was originally part of traditional regimes of countries such as China, India, Japan etc but the West have a habit of dissecting and removing parts of systems that should have equal importance. Chi Kung, with its graceful movements and controlled calm breathing methods, promotes a calming and restorative effect on mind and body, which is helpful for M.E. sufferers. China is making amazing claims regarding Chi Kung and there must be good reason for it to be used, widespread through so many of its hospitals. I have no doubt that my extensive practice of Chi Kung was paramount in my full recovery of M.E. Whilst I was teaching Chi Kung to others, I also witnessed improvements in people with not just M.E. but arthritis, high blood pressure and other conditions. Recovery from M.E. is not easy but Chi Kung and good nutrition can definitely be a way forward."

Simon believes that the Warrior Health Journal is needed now more than ever. Despite a huge promotion in healthy eating and regular exercise, child and adult obesity levels in the UK remain a major problem. The UK has one of the highest prevalence rates of overweight children in Europe. Illnesses such as heart diseases, high blood pressure and diabetes are now common ailments, which can't be cured with quick fix diets or fads.

Simon says, "So which way is the healthiest diet? Vegetarian? High protein? High fat? Separating protein and carbs? The answer is all of them! We were just not designed to follow any of these regimes indefinitely. The secret is in successfully blending these methods of eating to promote an outwardly strong healthy body, and inner strength of mind."

Simon believes that the UK's mental health is also in a state of crisis with alarming rates of young male suicide, which are reaching epidemic levels. Also, he is concerned that in an age of supposed female empowerment, women are struggling to fit in with the size zero ideal. He says that real strong, fit women do not have this emaciated look. His believes the only way forward is to encourage positive eating patterns and the right physical training, to produce deep changes in both men's and women's attitudes, personalities and mental strength, rather than the current negative nutritional trends that are destroying so many people's confidence, health and even their lives. Simon says,

"A standout, free thinking, strong individual was the ancient epitome of a warrior, male or female, someone who takes responsibility for their own well being, and this is what Arete4Life http://www.arete4life.co.uk and the Journals are all about."

"The warrior health and fitness regime is most definitely not a fly by night momentary fad, but the culmination of 25 years of 'hands on' experience and dedication, which has resulted in this unique regime. In addition to studying Chi Kung, Simon has studied: Thai Boxing, Boxing, Jung Fu, Judo, Jujitsu, Karate, Tai Chi Chuan, Bagua, Sombo and Eskrima. Most impressively, he has studied with the greats and gained his Jujitsu Black Belt from Olympic Medalist and original TV Superstars Champion, Brian Jacks." Marnix Wells, PhD SOAS (University of London), Vice Chairman of Tai Chi Union Great Britain) and Author of Scholar Boxer, says.

"Simon is a dedicated dietician. He is an experienced practitioner of physical training and consultant for enhanced health through healthy lifestyles and eating. I have known Simon for over ten years and have the highest regard for his personal integrity and standards. I have received valuable advice and information from him on diet, including the hazards of certain commercial additives, which has been of great benefit to the health of myself and family."

Simon's personal story and adaptation of ancient health and nutrition to resolve modern ills makes publication of the Warrior Health Journal an eagerly awaited launch. The Journal will be available through Simon's Arete4Life http://www.arete4life.co.uk online Health and Nutrition website. He chose the ancient Greek name Arete, as it means 'The Mastery of Ones Chosen Craft, and there's no disputing Simon has mastered the art of optimum health and fitness.

Contact: Simon Lee
Telephone: 0845 643 1065
Email: simon@arete4life.co.uk
Website: www.arete4life.co.uk

Notes for Editors:

Simon is currently available for interviews and is happy to talk about the following topics:

Advice on, training and nutritional programmes which include: weight loss; sports performance for top athletes or those just wanting to increase current sport or workout performance; recovery, immune boosting, strengthening and energy; detox; health enhancing advice on high blood pressure, arthritis, low energy etc; increase sperm count and basic or advanced exercise for the beginner, the regular exerciser or the elite.


This press release was distributed by ResponseSource Press Release Wire on behalf of Dot PR in the following categories: Men's Interest, Health, Leisure & Hobbies, Women's Interest & Beauty, Sport, Food & Drink, for more information visit https://pressreleasewire.responsesource.com/about.