Avoid the Red By Turning to Blue!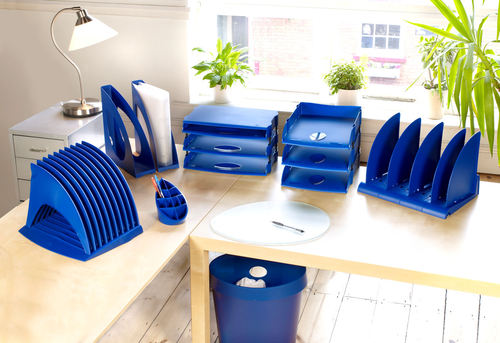 The colour 'blue' proven to help you avoid stress and help you think clearly

People may be surprised to find out that one way to ensure that they remain calm despite the stressful economic situation across the country's homes is to display the right colours. Psychologists are now saying that the colours we choose can make all the difference to helping us get through difficult situations. At a time when homes across Britain are trying to avoid their finances dropping into the red, psychologists are advising them to turn to the colour blue in an effort to take control and think more clearly about how to deal with stress.

The idea that colour choice makes a difference to your wellbeing may turn some of us pale in the face, but expert psychologist Donna Dawson can explain: "Using colour in a conscious, informed way can go a long way to creating a more positive environment. Displaying a cool colour like blue not only calms us down by lowering breathing and heartbeat rates, but also makes us appear more calm, relaxed and in control, as we will tend to move, think, and talk more slowly."

In other words, colours affect the way we think and act, and can be the difference between us making a rash and over-emotional decision or taking the time to think things through.

Blue sky at night, peoples' delight!

Surprisingly, this is not a new phenomenon and many industries have been making use of colours like blue for years. Donna Dawson describes: "It is no accident that most airline stewardesses and bank employees wear a shade of blue, as 'flying' and 'finance' are areas where clients can become 'emotional'. Such clients need a calm role-model in front of them!"

So what's the science behind it all? "All colours in the colour spectrum vibrate at different frequencies: colours at the 'warmer' end of the spectrum, such as red, vibrate at a higher frequency. Colours at the 'cooler' end of the spectrum, like blue, vibrate at a lower frequency. Tests have shown that colour affects bodily functions because it affects brain waves and the functions of the autonomic nervous system. This in turn regulates the body's internal environment and hormonal activities, affecting us mentally and physically."

Blue is the new Green!

Pretty amazing stuff! So what can we all do to create a little calm in our own homes? Apart from the colours we choose to wear, the little things around our homes can quite easily be changed to help us. From screensavers to magazine racks, from letter trays to desk tidies, we all have things that we can turn blue.

For example, office-expert Avery has a fantastic range of EcoFriendly Desktop Accessories that come in the colour blue allowing you to be environmentally responsible and effortlessly efficient in one simple step. The stylish and sturdy range will not only help us to think more clearly, but as the products are fully-recyclable and made from 96% post-consumer waste, using them will take the stress out of helping the environment too!

For more information, log on to www.avery.co.uk

- ends -

Notes to Editors:

Avery

Avery Dennison Office Products markets products under the well-known Avery brand name and is the leading manufacturer of self-adhesive labels and paper products, labelling software, office accessories, trimmers, guillotines, index dividers and a wide range of other products for both consumer and industrial markets. Avery Dennison Office Products Europe, a business unit of Avery Dennison Corporation, has manufacturing operations in UK, Germany and Italy and sales and marketing offices in more than ten countries across Europe. For more information about Avery products, consumers can visit the Avery Dennison Office Products Europe site at www.europe.avery.com

For further information, quotes, product samples or images, please contact: Steve or Yiannaki on Yiannaki@footprint-comms.co.uk or on 01962 738718.

This press release was distributed by ResponseSource Press Release Wire on behalf of Footprint Communications in the following categories: Men's Interest, Leisure & Hobbies, Home & Garden, Women's Interest & Beauty, Environment & Nature, Retail & Fashion, for more information visit https://pressreleasewire.responsesource.com/about.