Leading Lights in the Educational Sector Receive Prestigious Royal Award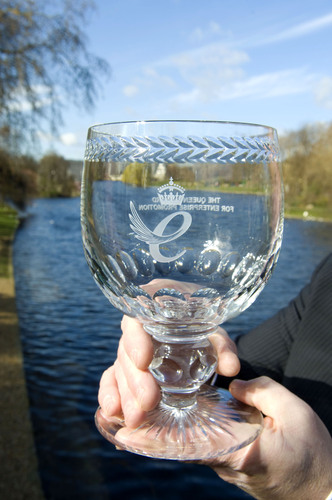 Individuals working to promote enterprise in schools and universities are amongst eleven people nationwide honoured today (21 April 2009) with The Queen's Award for Enterprise Promotion (QAEP) – the UK's most prestigious Award for individuals helping to unlock Britain's entrepreneurial talent.

Professor Allan Gibb, OBE, former director of the Small Business Centre at Durham University, leads the field of honours with a Lifetime Achievement Award. Professor Gibb has made a profound contribution to enterprise education and enterprise support in the UK for more than 30 years. He has acquired a national reputation for his innovative and practical approaches to eductional and business development programmes for new and existing entrepreneurs, educators and policy makers. The National Council for Graduate Entrepreneurship say that he has had a greater impact on the way we think and deliver enterprise learning opportunities to others than any other UK individual.

Other figures working in the educational sector to receive the QAEP include:

Miss Karen Arnold – Chief Executive, The Enterprise and Skills Company Limited, Dorset. She has made a major contribution to enterprise promotion for the 14 to 19 age group in the South West. Her activities have included producing and delivering novel programmes in schools, working with 20,000 students over 11 years. She has been particularly successful in obtaining donations of time and money from a wide range of local businesses in support of enterprise activities for young people.

Professor John Thompson – Roger M Bale Professor of Entrepreneurship, University of Huddersfield, he has developed some ground breaking schemes and written several books taking enterprise teaching forward. In particular, his BA (Hons) Enterprise Development Degree, which requires students to start and run a real business as an integral part of their studies.

Mrs Angela Wright – Chief Executive, Solent Skill Quest Limited has been promoting enterprise in the Southampton city region since 1995. She introduced to Hampshire schools the notion of involving business volunteers as mentors for under-achieving young people. Through her small not-for-profit organisation she has helps employers to achieve their corporate responsibility by supporting local schools, reaching out to 15,000 young people a year.

Mrs Charlotte Young – Chair of Board of Trustees, The School for Social Entrepreneurs (SSE), she is helping to supporting grass-roots entrepreneurs committed to solving problems in their communities. The SSE has been particularly effective in working with ethnic and other communities from disadvantaged backgrounds.

HRH The Duke of York, said:

"My congratulations to all this year's recipients of The Queen's Award for Enterprise Promotion for their exceptional achievement in gaining this prestigious Award. Each one of them has played an outstanding role in supporting new generations of entrepreneurs, from all walks of life."

The eleven QAEP recipients will now be invited to Buckingham Palace in July to be presented with their Award personally by Her Majesty The Queen.

The Queen's Award for Enterprise Promotion is one of four categories in the annual Queen's Awards for Enterprise, and the only category honouring individual achievement. The other three categories are for outstanding business success in International Trade, Innovation and Sustainable Development. This year, a record 194 Business Awards have been won by companies ranging in size from two to 20,000 employees.

For a full list of QAEP recipients and Business winners of The Queen's Awards for Enterprise, visit the Queen's Awards website (www.queensawards.org.uk) from 21 April 2009.

ENDS

Notes to editors:

1. The Queen's Awards for Enterprise are the UK's most prestiguous Awards for business success. There are four categories of Queen's Awards – three for business success (International Trade, Innovation and Sustainable Development) and one for individual achievement in encouraging UK entrepreneurship (The Queen's Award for Enterprise Promotion). Companies apply for the Business Awards, but individuals must be nominated for The QAEP.

2. The Queen's Awards were originally established in 1966, when they were known as The Queen's Awards to Industry. In 1976 they were replaced by two separate Awards – 'The Queen's Award for Export Achievement' and 'The Queen's Award for Technological Achievement'. A third Award was added in 1993 – 'The Queen's Award for Environmental Achievement'. In 2000, the Awards were renamed The Queen's Awards for Enterprise, and the three categories changed to International Trade, Innovation and Sustainable Development. The Queen's Award for Enterprise Promotion was added in 2004.

3. Additional details on the 11 QAEP recipients are available from Highlight PR. A separate press notice has been issued with additional details on the 194 Business Award winners.

4. The Queen's Awards Office is part of the Enterprise Directorate of the Department for Business, Enterprise & Regulatory Reform (BERR).

5. A selection of hi-res imagery including The Queen's Awards Emblem is available for press to download on the official Queen's Awards Image Library at www.prshots.com/queensawards. Alternatively contact Highlight PR.

For further press information, please contact:

Kate Woodward Highlight PR
01453 889294
kate@highlightpr.co.uk

or

Nick Vellacott/Ellen Durrant, Highlight PR
01225 444268
nick@highlightpr.co.uk / ellen@highlightpr.co.uk

The other six QAEP recipients are:

Mr Charles Cracknell – Youth Enterprise and Employment Manager at Hull City Council, who has gone well beyond the scope of his paid role to help young people set up businesses in Hull.

Mrs Jackie Frost – Enterprise Projects Manager at Rotherham Metropolitan Borough Council, who has dedicated her working life to supporting and enabling young people to set up their own businesses in Rotherham.

Mr David Irwin – a Consultant in enterprise and economic development, who was the first Chief Executive of the UK Government's Small Business Service and has a long history of enterprise promotion.

Mrs Beverley Pold – Business Development/Policy Manager at Chwarae Teg/Fair Play in Cardiff, who has been promoting enterprise in Wales since 1984, and has done a considerable amount of work to promote entrepreneurship by women, including lone parents and those in disadvantaged areas.

Mr Jamie Murray Wells – Founder and Executive Chairman of Glasses Direct, a successful young entrepreneur who started his own company at 21 (2004), which is now the world's largest online retailer of prescription glasses. He has won multiple awards for his enterprise, acts as a role model for potential young entrepreneurs and undertakes a wide range of voluntary enterprise promotion activities.

Mr Gerry Ford - Director & Chief Executive of Advantage Northern Ireland Ltd, who has played an outstanding role in promoting the growth of business enterprise and entrepreneurial skills and attitudes in others, particularly young people, people with disabilities and those in deprived areas of Northern Ireland.

This press release was distributed by ResponseSource Press Release Wire on behalf of Highlight PR in the following categories: Education & Human Resources, for more information visit https://pressreleasewire.responsesource.com/about.