65th Anniversary of D-Day remembered onboard HMS Belfast with dramatic family activities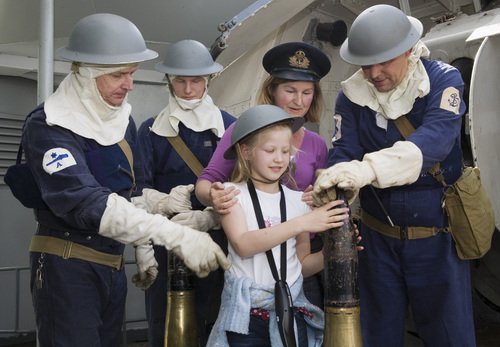 Monday 25th May to Saturday 30th May 2009

- Dress up as crew members and witness Royal Navy punishments
- Actors bring to life tales from D-Day from the ship's Admiral to the War
Correspondent

12 May 2009 – To commemorate the 65th anniversary of D-Day and celebrate the role HMS Belfast played in supporting the Normandy landings, a week of family activities will be hosted onboard the ship from Monday 25th May to Saturday 30th May 2009. These half term events will dramatically bring to life the sights, sounds and smells of D-Day.

A group of professional actors and The Wavy Navy living history group will re enact scenes and recount the stories of the ship's crew members who landed in Northern France, marking the turning point towards victory for the Allies in the Second World War.

HMS Belfast was one of the very first ships to open fire on German positions at 5.30am on 6th June 1944, 65 years ago. A series of dramatic 4-inch gun drills will be carried out by the Wavy Navy living history group in commemoration throughout the day, so visitors can relive the sounds of the gun fire that targeted enemy troops and protected the ship from enemy aircraft.

Visitors will be called to 'action stations' as the ship prepares for attack from enemy fire. They will see the Damage Control exercises essential to save the ship if damaged by enemy action and witness the crews skilfully shore up HMS Belfast to prevent her and her 950 crew members from sinking.

The group will also perform 'Captain's Defaulters' - the recreation of punishment in the Royal Navy, and visitors can also see what life was like inside the sick bay during the landings.

Actors positioned at different stations around the ship will play different crew members including an Admiral, War Correspondent, Engineering Officer and Seaman. They will talk about what they did, how they felt and what they saw during Operation Overlord, each one a true story from the ship's real-live veterans and hear history as they saw it happen. Visitors can collect a 1944 date stamp from each character to post in the Second World War security pass they will receive on arrival.

Children under 16 can visit the ship free of charge and can dress up as crew members in full naval uniform or battledress.

Video footage and newsreels depicting the landings will be shown and there will be displays of D-Day artefacts used by the troops 65 years ago, as well as original documents relating to the ship's involvement with D-Day and Operation Overlord.

Brad King, Director of HMS Belfast, commented: "It is 65 years since the remarkable events of the D-Day invasion of German-occupied Europe. We must never forget the bravery of the Allied troops as they undertook the largest amphibious assault ever launched."

"To commemorate this very special anniversary, and the role HMS Belfast played in the landings, we are bringing history to life with a week of interactive and educational activities for all the family. Our professional actors will take visitors back in time to June 1944 so they can witness scenes, sounds and smells from the Normandy invasions. This slice of wartime naval history will help people understand the historical significance of the landings, the immense bravery of the troops, and remember the thousands of men who lost their lives fighting for the Allied victory 65 years ago."

For more information and photos, please contact:

Kathryn Hughes
Mabox
0203 249 1072/07801 823839

Address:
HMS Belfast, Morgan's Lane, Tooley Street, London, SE1 2JH
HMS Belfast is moored on the Thames between London Bridge and Tower Bridge

Nearest Tube:
London Bridge or Tower Hill

Opening Times:
1st March – 31st October: 10.00am - 6.00pm – (last admission 5.00pm)
1st November – 28th February: 10.00am – 5.00pm (last admission 4.00pm)

Admission prices:
Adult £10.70
Children (under 16) FREE – must be accompanied by an adult
Discounted rates available for senior citizens, concessions, students, groups, carers.

About HMS Belfast

HMS Belfast is a cruiser, the last remaining big-gun armoured warship from the Second World War left in Europe. She was built by Harland and Wolff in Belfast, and was launched on St Patrick's Day, 17 March 1938.

On Boxing Day, 1943, she played a leading part in the destruction of the German battle cruiser Scharnhorst at the Battle of North Cape.

In June 1944 HMS Belfast took part in the D-Day landings as the flagship of Bombardment Force 'E' of the Eastern Naval Task Force, providing gunfire support to troops landing on Gold and Juno beaches. After the war, she supported United Nations forces in Korea and remained in service with the Royal Navy until 1965, after which she became a Harbour Accommodation Ship.

In May 1971, after 32 years service, HMS Belfast was 'Reduced to Disposal', in preparation for her sale and destruction by the ship's breakers. With the encouragement of the Imperial War Museum, an independent trust was formed, led by one of HMS Belfast's former captains, Rear-Admiral Sir Morgan Morgan Giles. The trust succeeded in bringing her to London where she opened to visitors on Trafalgar Day, 21 October 1971. HMS Belfast has been part of the Imperial War Museum since 1978 and is the first ship to be preserved for the nation since Nelson's Victory.




This press release was distributed by ResponseSource Press Release Wire on behalf of Kayak PR in the following categories: Children & Teenagers, Entertainment & Arts, Leisure & Hobbies, Women's Interest & Beauty, for more information visit https://pressreleasewire.responsesource.com/about.