FEAR OF FLYING tackled in major new book - 20% of Brits afraid to fly, 5% will never fly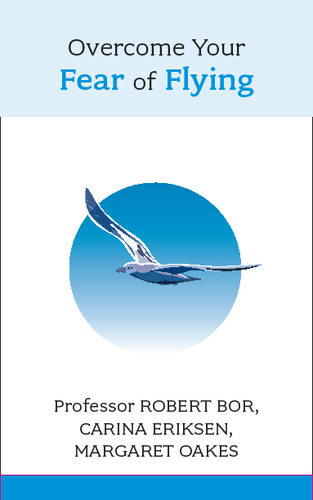 (Authors & real-life case studies available for interviews. Review copies & images available.)

STRICT EMBARGO: NOT FOR PUBLICATION OR BROADCAST BEFORE 00.01hrs ON WEDNESDAY 01 JULY 2009

'OVERCOME YOUR FEAR OF FLYING'
A major new self-help book for millions of UK sufferers

It's the time of year when many Brits are thinking about jetting off on their summer holidays to far-flung, sunnier climes. However, for an estimated 20% of the population, the thought of boarding a plane fills them with dread and as many as 5% will never fly as a direct result of their fear. Overcome Your Fear of Flying is a major new self-help book, written by two psychologists and a pilot, which provides effective skills and techniques for sufferers to use to help reduce the anxiety commonly associated with flying.

Fear of flying is a surprisingly common problem. For some, flying is unpleasant but manageable, while for others it is an incapacitating fear. There may be serious and potentially disastrous social, financial and professional consequences for anxious flyers – a fear of flying can spoil holidays, damage careers and put relationships under stress. However, it is one of the most treatable psychological problems which almost everyone should be able to overcome.

Co-author of Overcome Your Fear of Flying, Professor Robert Bor, explains, "Our collective experience with people who have a fear of flying shows that, although some books provide useful information about flight safety, they fail to explain the full range of psychological techniques which are known to help overcome fear and anxiety. Helping sufferers to master these techniques is the main focus of the book; it brings together the latest, proven methods for overcoming a fear of flying and helps the reader select and implement the techniques most likely to help them overcome their fear. We also outline the way in which a fear of flying can become a problem in the first place and how different people are affected."

Interspersed with case studies demonstrating how a fear of flying can manifest itself in various different ways, Overcome Your Fear of Flying approaches treatment of the problem differently from many others. It will not baffle readers with statistics about flight safety, nor will it 'argue' with the sufferer's fears. The book facilitates a tailored approach to self-help, built on a solid foundation of clinical practice and research. The aim is to motivate and empower readers to confront and overcome the different elements that characterise their fear of flying.

Topics in the book include:

• what exactly is fear of flying
• phobia triggered by flying itself, or traumatic experiences in the air
• what reinforces anxiety
• understanding flying, including the effects of flight on the body
• challenging and managing anxious thoughts
• addressing your 'worst fears'
• tackling unhelpful behaviour such as safety rituals or excessive use of alcohol
• techniques to help you relax
• FAQs – e.g. how safe is flight? What is turbulence?

Overcome Your Fear of Flying is also a helpful companion for people who have previously undergone Fear of Flying courses, such as those offered by some airlines, as they need to keep up-to-date with the latest skills and techniques. Friends, colleagues and relatives who accompany fearful flyers will find the book useful too, as it'll provide them a useful perspective on the issue.

The book has been written by a highly experienced and uniquely qualified team of experts who are committed to helping people overcome their fear of flying. Collectively, they have over 50 years of experience and have published their research findings on treating fear of flying in many specialist medical and psychological journals and books and are often invited to talk about their work at conferences around the world.

Overcome Your Fear of Flying is published by Sheldon Press on 23 July 2009, priced at £7.99.

-ends-

For further information:

For all press enquiries, author interview and review copy requests and access to case studies, please contact Lesley Singleton at LS Media on 01234 752 663 / 07852 451 093 or email Lesley@lsmedia.co.uk.

Notes to editors:

Overcome Your Fear of Flying is published on 23 July 2009
Price: £7.99
Publisher: Sheldon Press
Specifications: Paperback, 216 x 135mm, 128 pages
ISBN: 9781847090829

About the authors:

PROFESSOR ROBERT BOR is an internationally renowned clinical psychologist with expertise in the specialist area of aviation clinical psychology. Drawing on his experience as a practising psychologist and a qualified pilot, he and his colleagues provide an assessment and treatment service for helping people to overcome their fear of flying. They have developed innovative therapeutic methods based on modern psychological approaches. Robert enjoys excellent clinical and research links with the Royal Free Hospital Travel Health Clinic, the Fleet Street Clinic and Chase Lodge Health Centre, all in London. He also has expertise in passenger and crew behaviour. He consults to several leading airlines and to international civil aviation authorities. He teaches on the MSc in Air Transport Management at City University as well as on the MSc in Travel Health and Medicine at the Royal Free and University College Medical School. He is also involved in the selection of airline pilots, helping airlines develop mental health policies and training crew to deal with fearful passengers and for managing 'air rage'.

DR CARINA ERIKSEN is a Chartered Counselling Psychologist with many years' experience of the cabin crew profession. She holds a BSc in Psychology, a Master's degree in Psychology from London Metropolitan University and a doctorate in Counselling Psychology. Carina works in the NHS as well as in private practice. She provides therapy to adults, adolescents, children and families, drawing on her speciality within cognitive behavioural therapy and systemic orientations. She also offers psychological support within organizational settings, including stress management and work-life conflict. She is a visiting lecturer on the MSc in Air Transport Management at City University. Her work has been published in books and scientific journals. She is a chartered member of the British Psychological Society.

MARGARET OAKES is a pilot with extensive experience flying for a UK scheduled airline. She currently operates the Airbus A320 series of aircraft on short haul and medium haul routes in Europe, Africa and Asia. Before joining an airline, she spent several years as a flying instructor teaching technical subjects at an advanced level as well as practical flying skills to commercial pilots, one of fewer than 100 instructors qualified to do this in the UK. After completing a Master's degree project on the psychological perspectives of fear of flying, Margaret became a research student in the Department of Psychology at City University, London. Her current research is focused on developing new and effective psychological approaches to treating fear of flying. She also teaches part of the Aviation Psychology modules in the MSc in Air Transport Management programme at City University.
This press release was distributed by ResponseSource Press Release Wire on behalf of Playtime PR in the following categories: Children & Teenagers, Men's Interest, Health, Leisure & Hobbies, Women's Interest & Beauty, Travel, Medical & Pharmaceutical, for more information visit https://pressreleasewire.responsesource.com/about.