MALTA PROPERTY CONTINUES TO ATTRACT BUYERS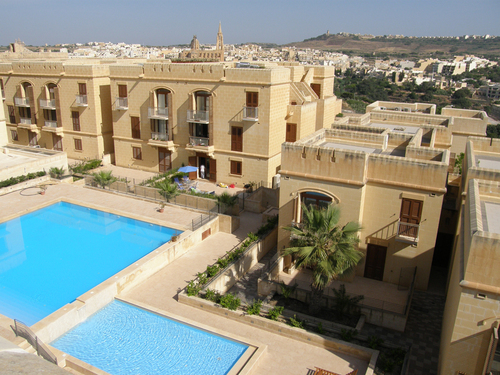 Despite the almost total collapse of some property markets around the World, one small Country is still attracting foreign buyers.

In Malta, overseas as well as domestic buyers can still get 90% mortgages. UK Buyers are even being offered interest only loans for up to 5 years - using their UK homes or sterling deposits as collateral!

Ray Woods of UK-based www.maltabuyproperty.co.uk said,
"Malta's accession to the Euro helped to focus attention on this small Mediterranean island; low cost airlines like Ryanair appeared and property prices rose rapidly. More recently, prices have stabilised after those heady days.

Land is in short supply however and its location near to both the European and African mainlands is continuing to attract overseas investors interested in good long term investments in a politically stable environment.

Malta has always been a magnet for UK and Irish investors as well as those in France, Germany, Scandinavia and even the US.

Only 3 hours travelling time from the UK and Ireland means that week end breaks are a real possibility without the fatigue associated with longer haul destinations.

English is a joint first language on Malta - being taught from the first days at school.

A growth in inward investment has meant that we have seen an increase in long term property rentals of over 70% in the last year.

The domestic situation in the UK has of course affected demand particularly at the lower end of the market. However, together with our associates Frank Salt Real Estate in Malta, we are able to offer interest only loans from HSBC Malta to those still trying to sell UK properties - or those who have capital available, but are awaiting a recovery in sterling.

The recent improvement in the value of sterling is also beginning to re-stimulate demand and on Malta, there is always scope for haggling – even in the best of times!

The great thing about Malta is the diversity of property available - with luxury developments like Fort Chambray in Gozo, (Malta's sister island) Tigne Point in Sliema and solid investment opportunities at an affordable price like those at Savoy Gardens in Gzira near the capital Valletta.

The traditional holiday spots at the north of the island such as Mellieha, St Paul's Bay, Bugibba and Qawra remain popular but less well known southern coastal towns, such as Marsascala offer good value for those looking for long term value."

Stunning views are the major feature of a unique development at the historic Fort Chambray which overlooks the main harbour that links Gozo with Malta. The Fort provides an amazing backdrop and is over 300 years old. Prices here range from 175,000 euros for apartments and maisonettes to over 466,000 euros for a semi detached villa.

A number of the best properties are sea-facing with private pools.

The development also offers all the facilities that you would expect including communal pools, a casino and business facilities.

Gozo remains an undiscovered haven for many potential investors and those looking for a retirement or holiday home. Its quiet rural location does not appeal to everyone, but for those who seek privacy and relaxation, it is well worth a visit.

Savoy Gardens by contract is a few minutes away from the popular waterfront destination of Sliema on the Maltese mainland - and is also attracting a lot of interest from those interested in a second home at an affordable price, with good long term investment potential.

The development consists of spacious one, two and three bedroom apartments surrounding large professionally designed and landscaped gardens. The apartments are being finished to very high standards of finish by leading suppliers on the island. A number of these apartments are now finished and ready to move into. Most of the apartments in Savoy Gardens enjoy views over the central gardens and those in the upper level also enjoy panoramic views of the sea facing capital Valletta and Sliema Creek itself. Here you can get a finished two bed apartment for 119,000 euros or a penthouse for 162,000 euros.

Not far way in a highly prestigious location Tigne Point is a 30 acre, car free peninsula offering a mixed-use development, including a mix of exclusive apartments, cafes and restaurants, clubhouse, business centre, premium health and sports facilities and much more. The site also hosts a number of historical attractions, including the 18th century Fort Tigne.

Ideally situated on the waterfront of the eastern tip of the peninsula, the development faces the harbour mouth, enjoying a variety of views including Valletta and the Grand Harbour entrance, Fort Tigne, and the open sea. A mix of 2 and 3 bedroom apartments and penthouses are available at prices starting at 464,000 euros for a 2 bed apartment.

www.maltabuyproperty.co.uk was founded by Ray and Elaine Woods who own their own property on Malta and provide advice and guidance to others aiming to do the same. They arrange escorted viewings but without the 'hard sell' associated with some Countries.

For more details, go on line to www.maltabuyproperty.co.uk. or Freephone: 0800 718 1898.

ENDS
Issued by: Ray Woods of www.maltabuyproperty.co.uk Tel +44 121 373 2440 in association with Frank Salt Real Estate of Malta.
High Res photos are available of the above developments. Bona fide journalists wishing to undertake fact finding visits are welcome to contact us.

This press release was distributed by ResponseSource Press Release Wire on behalf of Marathana Marketing and PR Ltd in the following categories: Men's Interest, Home & Garden, Travel, Construction & Property, for more information visit https://pressreleasewire.responsesource.com/about.