International Money transfer set for radical transformation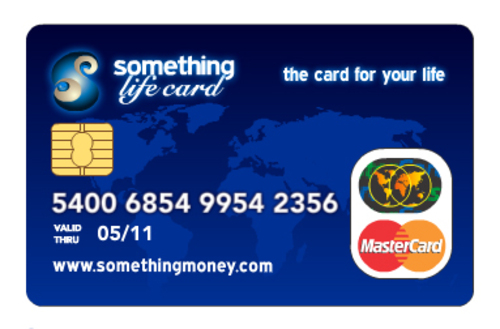 New pre-paid MasterCard will allow cost-effective money transfer via SMS for the first time

London-based Something Mobile Ltd has today launched Something Money a unique global payment and remittance service. The service is aimed at anyone wishing to transfer money quickly and cost effectively within the UK or abroad. Initially the service will offer online UK and international money transfer where users can send or move funds either from the web or by simply texting the amount they wish to send via their mobile phone.

Soon to be added to the service will be the Something Life card, a pre-paid MasterCard which will allow the user to pre-load money for use as a payment card, to transfer money or to withdraw cash from an ATM. Other money transfer services offer pre-paid cards where users can pre-load money, transfer it to a recipient who in turn visits an agent to collect the funds. With the Something Life card, however, money can be transferred directly to a bank account, or another Something Life card, making the money available for instant withdrawal from an ATM or ready for use as a payment card anywhere in the world that MasterCard is accepted.

The Something Life card works by the user having an e-wallet on their PC which can be controlled by their mobile phone using a standard SMS; something which is currently not available by any other means. Users can also set a minimum balance replacement where the card is automatically topped-up when it reaches a set remaining value. The significant benefit is that the user does not have to be in front of their PC, visit an agent location or download any cumbersome applications in order to set up the service and send money.

The Something Life card is aimed at all consumers as well as those wishing to transfer money abroad or those who do not, or are unable to, hold a credit card due to poor credit history as there is no credit check required to obtain the card and there are no age restrictions.

The service will cost £29.99 per annum, which will include free money transfer within the UK. International money transfers will be charged at a low cost, flat rate per transaction regardless of the amount being transferred making the service one of the most cost efficient methods of transferring money internationally.

The service will initially launch in the UK and Malaysia and the intention is to rollout to additional destinations.

Commenting on the product's launch, Something Mobile's CEO, Duncan Ward adds: 'Imagine that dreaded phone call late at night when your son or daughter has run out of cash to get a taxi home – with the Something Life card a parent could simply text £20 to their child's Something Life card and then, in the time it takes to receive that text, the money is available for withdrawal from the nearest ATM. This service really will revolutionise the way we transfer money. It's fast, simple to use and extremely cost effective – there are no hidden charges. Users have the additional benefit of being able to use the card as a payment card making it incredibly flexible – we are really excited about the launch of this service."

Something Life users will also benefit from additional discounts in major stores and online retailers when they use their card.

The Something Money service has been developed in conjunction with Mint Technology, a Canadian-based pioneer in prepaid and financial services products and services worldwide and was the first provider of prepaid card programs in Canada. Mint delivers innovative payment program solutions that address the faltering credit market. As a MasterCard® Member Service Provider, Mint works with business partners to customize prepaid credit card programs that are tailored to meet a company and its card holder's needs.

- ends –

About Something Corporation Plc

Something Mobile is the mobile division within Something Corporation Plc, a single digital lifestyle service provider. Something Corporation Plc offers a range of solutions including television on demand, broadband, wireless, telephone and radio. Something Corporation Plc is headquartered in London, UK and has presence in Hong Kong, Shenzhen (China), Turkey, Cyprus, Kuala Lumpur (Malaysia), Brunei and Seattle (USA). Something Mobile's research and development office is based in Kuala Lumpur, Malaysia.

For further information please visit: http://www.something-mobile.com

Duncan Ward
CEO
Something Mobile

Tel: +44 (0)20 7183 2418
Mobile: 07802 256256
E-mail: duncan.ward@something-mobile.com

Nigel Wesley
Executive Director
Something Corporation
Mob: 07860 477777
E-mail: Nigel.Wesley@somethingcorporation.com

Adele Wilkinson
Mob: 07976 740946

About Mint Technology Corp.

Mint Technology Corp. is a pioneer in prepaid financial products and services and is Canada's first provider of prepaid credit card programs. As a MasterCard® Member Service Provider, Mint works with business partners to customize prepaid credit card programs that are tailored to meet a company and its card holder's needs. Mint has developed a secure, robust payments platform that provides an improved means to handle and manage financial transactions. Mint also provides services for those clients looking to move towards 'next generation' payment methods that include chip, internet, data mining and mobile phone load and remittance technologies. Mint's prepaid card products include general spend for the underserved, youth and employee payroll. Stock Symbol: MIT on the TSX Venture Exchange.



This press release was distributed by ResponseSource Press Release Wire on behalf of Something Mobile in the following categories: Children & Teenagers, Men's Interest, Entertainment & Arts, Leisure & Hobbies, Home & Garden, Women's Interest & Beauty, Consumer Technology, Motoring, Food & Drink, Personal Finance, Business & Finance, Travel, Media & Marketing, Retail & Fashion, Computing & Telecoms, for more information visit https://pressreleasewire.responsesource.com/about.