HAMPTON COURT GARDEN DESIGNER CREATES 'TUDOR ROSE' PLOT WITH A SENSE OF FEELING FOR LESS-ABLED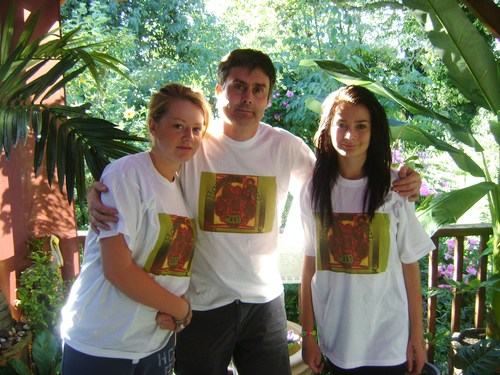 WEST SUSSEX garden designer Chris Burns, an MS sufferer, has created a "senses" garden for the RHS Hampton Court Palace Flower Show (July 7-12) with less-abled people in mind.

Three charities will be promoted on stand D40 – the MS Society, the RNIB (Royal National Institute for the Blind) and the NBCS (National Blind Children's Society).

Chris (45) turned to local companies for support, including AVS Fencing Supplies Ltd - for all the timber on the stand - and the Camelia Botnar Foundation for the special clay materials being used.

Among the 1,500 plants on the stand – chosen for fragrance, feel and sound (rustling in the breeze) will be roses grown by UK Roses Ltd.

"Having suffered from multiple sclerosis myself for 23 years I have an instinct for what people with a disability want from a garden," says Chris, who is being helped on the project by his garden design colleague Marianne Luckham – who was on the same Brinsbury College course which awarded them the City and Guilds Advanced National Certificate in Horticulture.

Also building the Hampton Court garden is construction manager Laurie Barker with other helpers including Chris's wife, Susan.

Chris and Susan, who met while they were working for the same IT company, have three children – James (19), Vikki (17) and Bea (14), who are all students at the Weald College in Billingshurst, where the family live.

"I have always been an artist," says Chris, "and artistic endeavours in painting, IT software creation and garden design have all been put to use over the years.

"I really wanted to do a garden for Hampton Court because I had seen what others did during my many visits to the show. The RHS have been very supportive."

WHY TUDOR ROSE?

The Tudor Rose Garden is so-named because this year is the 500th anniversary of the crowning of Henry Eighth as king and the RHS has many features around the show ground with this theme in mind.

"Looking at the garden from above it will look like a Tudor Rose," says Chris, "with timber decking paths and raised timber borders from AVS Fencing, together with a central wooden structure for climbing plants.

"All the plants have been specially grown and chosen for their qualities of promoting the senses with scent, texture and sound. All the labelling is in Braille and has been printed by the RNIB, so even those without sight can experience the plants and read about them.

"Special non-slip paint has been used on the walkways and the raised beds show how disabled people can more easily tend plants that are higher off the ground."

Among the supporters of Chris's Hampton Court garden is local Horsham MP Francis Maude who says: "This is exciting for Chris and he is proud of his innovative design focusing on disability awareness.

"I wish him many congratulations and good luck with this and other fundraising events he is organising for charity."

At the end of the Hampton Court show Chris hopes to sell the entire garden to raise funds for the charities involved.

"It will be sold in its entirety as one complete lot and we hope to raise a good deal of money from this," says Chris.

AVS Fencing marketing director Mark Whiting said: "We were delighted to be able to help. Chris has real charisma and vision and is very focused on the charities and raising awareness of gardening possibilities for the less-abled.

"All the fence posts used have special long-life treatment and the decking and planters being used are finished with safety in mind."

PRESS CONTACT: Mike Beardall at Oakfield Media on 01273 495619 or 07889 707807. E-mail: editor@mikebeardall.com

CHRIS BURNS: 01403 783032 or 07710 589191. E-mail: chris.burns@hcs.org.uk

AVS Fencing: www.avsfencing.co.uk
01403 740200


ABOUT AVS FENCING

With branches across the South of England, AVS is a major supplier to the fencing and groundscare industry - including professional fencers, landscapers and builders.

Retail customers can conveniently buy online at

www.avsfencing.co.uk/retail/

"We pride ourselves on a very personal service and supply every type of fencing need," says Mark, from the head office at West Grinstead near Horsham in West Sussex.

Managing director Ian Faires and purchasing director Richard Norton have years of experience in the fencing industry and AVS is a major supplier to corporate clients and the construction industry.

Here the company is renowned for its timber fence posts (with a new ACQ treatment giving a 15-year guarantee) as well as concrete fence posts used extensively in the housing industry for new build and maintenance.

Timber for decking and decking boards together with railway sleepers also form a significant part of AVS business.


AVS Fencing offers easy solutions for procurement officers, quantity surveyors and buyers looking to purchase security fencing and all types of fencing and gates for:

• Industrial security fencing
• Leisure Fencing
• Business premises
• Public Sector
• Transport Security
• Infrastructure Security

Six fully-stocked branch outlets are located at Henfield near Brighton (West Sussex), Guildford (Surrey), Lewes (East Sussex), Rudgwick (West Sussex), Peterborough (Cambridgeshire) and Wokingham (Surrey).

Orders go out daily across London, Sussex, Surrey, Kent, Hampshire, Middlesex, Buckinghamshire, Hertfordshire, Berkshire, Cambridgeshire, Northamptonshire and Lincolnshire.

Large shipments are also made as far afield as Ireland and Scotland using dedicated hauliers with articulated vehicles.

The company's large delivery fleet includes 7.5-tonne trucks, 16-tonne crane self-off-loading lorries and transit pick-ups.

With a highly-qualified team throughout the organisation, all fencing inquiries and requirements can be met by AVS Fencing Supplies Ltd.

www.avsfencing.co.uk

Details: 01403 740200


PRESS CONTACT: Mike Beardall, Oakfield Media on 01273 495619 or 07889 707807. E-mail: editor@mikebeardall.com

PICTURES: All types of fencing and timber in garden situations available. Call 01273 495619.



This press release was distributed by ResponseSource Press Release Wire on behalf of Oakfield Media in the following categories: Health, Leisure & Hobbies, Home & Garden, Environment & Nature, for more information visit https://pressreleasewire.responsesource.com/about.