NEW RUBIK'S 360 PUZZLE LAUNCHES 15TH JULY - you're invited to the photocall/party!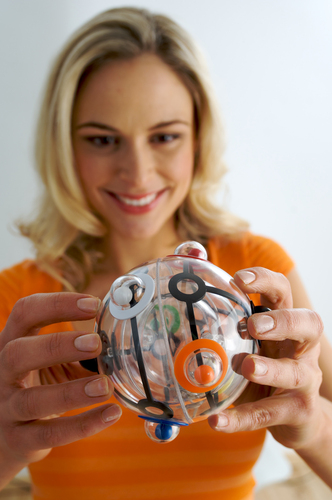 The new Rubik's 360 – everybody's 'must-have' for Christmas!

The new Rubik's 360 (age 8+, rrp £14.99) launches on 15th July at Hamleys, Regent Street, London and you're invited to the photocall there, starting at 12.00 noon (1st floor), followed by a party (see details at the end of this release)

PLEASE RESPECT EMBARGO – this information is for print publication on or after 6th July 2009 (TV, radio and websites w/c 13th July, please)

The 360 is the puzzle that everyone in the family will be clamouring for this Christmas. And because it's from the same stable as the all-time gazillion best-selling Rubik's Cube, you know that it's going to be intelligent, innovative and exciting, with hours and hours of highly compulsive enjoyment guaranteed.

Here's the new Rubik's puzzle that everyone wants to play with… and no one can put down. Says Professor Erno Rubik: "The Rubik's 360 is one of the most innovative and exciting puzzles we've developed since the Cube – adopting elements of my original design, challenging the solver to use concentration, skill and dexterity. But it's a more kinetic challenge, more physical, because gravity is involved."

The latest craze ready to hit the streets is most definitely… spherical. To be more precise, a sphere within a sphere within a sphere. Like the Cube, Rubik's 360 (from Drumond Park Games) is irresistible playing – but the technique for solving it is kinetic rather than physical. How? The answer lies in harnessing centrifugal force… and the way you make the spheres interact, when you whirl and twirl the puzzle in your hands. Let us explain…..

Have you got the balls…?

The Rubik's 360 is a very, very clever development of the popular hand-held puzzles of yesteryear which required you to carefully manoeuvre small balls into little holes. The 360 pays homage to that concept, but takes the process to a completely new dimension. It consists of a 10cm diameter clear plastic sphere with six coloured domes positioned at intervals around the circumference. At top and bottom are two black domes which operate an internal 'locking' mechanism. Inside the outer sphere is a second one, also transparent, with two holes. Inside this is a third sphere, containing six coloured balls. It also has a hole through which the small balls must pass.

The object is to rock 'n' roll, whirl and twirl (or otherwise strategically manipulate) the Rubik's 360 to navigate the orange, yellow, green, blue, white and red balls through both spheres to their matching coloured domes on the outer sphere – then lock each one into place by twisting the black dome. Easy!

But as this puzzle is from the Rubik's stable, there is – of course – a twist. The two inner spheres are weighted, so they are constantly pulling towards their original position as you turn the puzzle.

Just when you think you've got a ball in the right position, chances are the inner spheres will succumb to gravity and confound you! The idea is to confound gravity in return… and whirl, twirl and spin through 360 degrees to get all those little balls positioned in the outer sphere. Like the Cube, there is knack to solving the Rubik's 360 – but it could take any number of tries, a great deal of fun and quite honestly, a lot of perseverance… to get you there!

Everyone aged about 8 upwards will want to be the first to get their hands on the Rubik's 360.

Leave it lying around for a moment and you can guarantee that someone – from the younger members of the family to Granny and Grandad - will pick it up and have a go. And once they've got into the spin of things, who knows, perhaps they'll be well on the way to becoming 360 experts in their own right!

Drumond Park's stockists' information number is 01506 855577
Or visit their website: www.drumondpark.com

A new Rubik's star is born!
RUBIK'S 360 – LAUNCH INFORMATION

The official UK consumer launch event (photocall followed by party) will be at Hamleys, Regent Street, London W1 at 12.00 noon on Wednesday 15th July, when the first 360s will go on sale to the public (Hamleys is already taking pre-orders).

RSVP

If you'd like to come along, please let us know.

We have a limited number of upfront review samples available. If you'd like one, get in touch straight away.

If you need HR pics or more information, please get in touch.

EMBARGO: We'd appreciate it if you would please respect our embargo on coverage for the 360:

Press – w/c 6th July (August issues) - first appearances and reviews
TV, radio and websites – w/c 13th July

We have several interesting UK-based interviewees available, plus teenagers to demonstrate the 360, but please note that Erno Rubik does not give individual interviews.

Please contact RAY HODGES at HPS-PR
Direct line: 01628 894793
Email: r.hodges@hpsgroup.co.uk

To discus media promotions/product as prizes/subscription offers etc.

Please contact JO RAYMENT at HPS-PR
Direct line: 01628 894767
Email j.rayment@hpsgroup.co.uk
This press release was distributed by ResponseSource Press Release Wire on behalf of HPS Group in the following categories: Children & Teenagers, Men's Interest, Leisure & Hobbies, Women's Interest & Beauty, for more information visit https://pressreleasewire.responsesource.com/about.